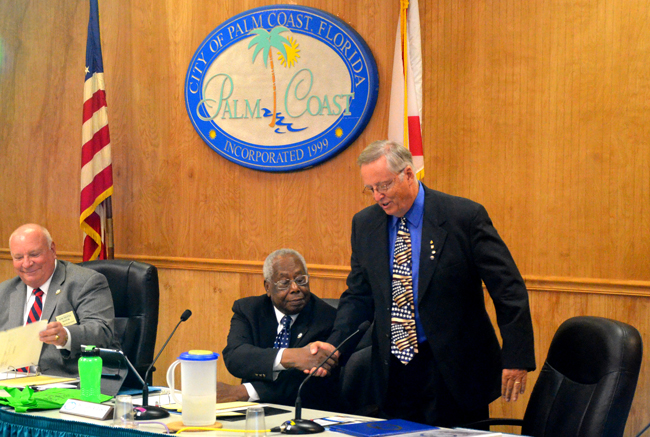 Both Jason DeLorenzo's and Bill McGuire's voices broke as the two newest members of the Palm Coast City Council offered a few words of thanks this morning after taking the oath of office with City Clerk Virginia Smith.
Their honeymoon lasted a few minutes before city business—appointments, land swaps, gadflies, and stories of vicious pit bulls conveyed by angry residents—obliterated the sweetness. (Mayor Jon Netts, who was also sworn in for his second term as mayor, kept to his task, running the meeting and abstaining from speeches: he was reelected in September.)
The first two people who addressed the council were its most frequent spectators and highest-mileage public speakers—Lewis McCarthy and Jack Carrell. "I am absolutely disgusted with the people of Palm Coast," Carrell told the council. "When you have an election with only 5,000 people voting, it is absolutely disgusting." He was referring to the lowest and second-lowest turnout elections in the city's history, for mayor and for the council seats. He was briefly applauded, very possibly even by a few people who didn't vote. McCarthy said this: "For 11 years I've come to city council meetings, to workshops, to observe, and to give a sense of direction. I will continue, an I'll be watching you all. At the same time I wish to congratulate you both, but remember this: our eyes are on you."
DeLorenzo sat straight, his hands folded in front of him, throughout the meeting. McGuire reclined. They'd each been given a moment to put a book-end to their campaign and set another for what will be five-year terms for each (and for the mayor as well). That's a 365-day quirk of the voter-approved change in the city charter to move elections to coincide with the federal cycle, to save money and avoid embarrassingly low turnouts.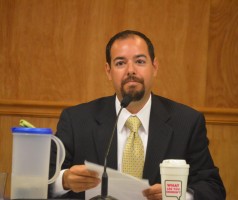 "From the moment my wife Rebecca and I made the decision to run for Palm Coast City Council, we learned that the journey to the destination has grown us as a family in unexpected and exciting ways," DeLorenzo said, reading from prepared remarks. He thanked his supporters and acknowledged missteps along the way. "Because we were new to the process we made a few mistakes and there were some disappointments along the way, but overall, it was a very positive experience. Rebecca and I learned so much about you, your families, your concerns. We learned that it's important to run a grass-roots campaign. In our grass-roots efforts we were touched by your stories and humbled by your willingness to engage on our behalf." His voice wavered, struggling with emotion. "From the beginning we vowed to run a clean upstanding campaign with a focus on the issues, and I'm proud to say we never wavered. I pledge to you that in the next five years, I will be your advocate. I will be a good steward of your tax dollars work to bring new jobs to our community while assisting our existing businesses to expand and make every effort for you, your children and your grandchildren to enjoy living in one of the best cities of our size in the county." He was roundly applauded.
"Mr. McGuire, your turn," Netts said.
"What he said."McGuire continued: "Thank you your honor, thank you city council, thank you citizens of Palm Coast for the opportunity to serve this wonderful city that we live in." And this is where McGuire's voice faltered: "Thank you to all those who worked very hard in my campaign. Thank you to Mr. Moorman for conducting himself like a gentleman and fighting hard. Somebody has to win, somebody has to lose, but certainly he should be recognized for his contribution. I as Mr. DeLorenzo said, I pledge I'll do my very best to do what I can for the citizens of this community. I made pledges during my campaign. I have those rack cards available. They're still free. And I'm going to do my very best to fulfill those."
Both new members' spouses were in the audience. Bill Lewis encouraged the two new members to take the city's five-week citizen's academy. He was then chosen vice-mayor by as close to acclamation as the council allows itself, taking over for Frank Meeker. Then began the small conflicts.
Frank Meeker nominated himself to serve on the Tourist Development Council. Lewis also nominated himself. The seat had been held by Mary DiStefano, whom DeLorenzo replaced. So right off, the city council had its first little contest over an appointment. The TDC is the most powerful and highest-visibility panel other than their own that local politicians get to serve on. The TDC wields a $1.3 million budget (though all its recommendations have to be ratified by the county commission). It's gained increasing prominence under the chairmanship of commissioner Milissa Holland—a chairmanship other commissioners are angling for, for the same reasons.
Netts asked for a roll-call vote on Meeker's self-nomination. After Meeker voted for himself and DeLorenzo supported him, it was Lewis's turn. He withdrew his nomination, on the condition that he could serve as the city's representative to the Flagler County Chamber of Commerce. But when it was time to take care of that appointment, McGuire threw his name in the ring, too. It proved to be his first defeat on the council, which voted 4-1 to give the appointment to Lewis. Netts kept his position as the city's representative to the Flagler League of Cities, a quarterly gathering of the county's mayors and, at times, Flagler Beach city commissioners.
The council also made a new appointment to the Juvenile Justice Council, which meets quarterly, and the Flagler County Department of Juvenile Justice Council, which meets monthly. The two panels have been more talk than action: their impact on local government is minimal. DeLorenzo took up the post. When Netts put forward representation to the St. Johns Water Management District and the Stewart-Marchman Center, the mental health and addiction-recovery provider, only one council ember was left without an appointment. "I would consider it a wet and wild honor" to serve.
There was still the matter of the chamber of commerce's Business Issues Committee. Netts had been attending those meetings. So had DeLorenzo. Now that DeLorenzo is a council member, both Netts and DeLorenzo can't attend at the same time without the committee meetings becoming public: the city would have to advertise the meetings as such, so would the chamber. Some chambers might not have a problem with that. This chamber would: it likes its doors closed. Netts and DeLorenzo left the question of who will attend to another day, though that decision, too, would have to be made in the open: In compliance with the state's Sunshine law, DeLorenzo's days of having private conversations about city business with the mayor or any of the council members are over.
That portion of the meeting over, the council had nothing else of significance on its agenda other than the public comment period, which was taken up by a half dozen residents from  Farraday and Fawn lanes, where the residents of a duplex have drawn criticism–and anger–over at least one pit bull that had its home there. The pit bull attacked and killed a young boy's dog on Farraday earlier this month. The pit bull was euthanized last Thursday. Another dog attack took place in July, biting a resident and her dog. That dog was never recovered. Residents claim it had been housed at the duplex, too. The duplex residents, who were not at the meeting, have also been criticized for keeping odd hours and drawing an unusual amount of traffic. But the sheriff's office, which has the address under observation, has so far determined that there is no illegal activity going on there.
Residents were not quite satisfied by the meeting's outcome today. They wanted the city to put pressure on the duplex's owner, in writing, to get rid of the tenants, who have been there about two years. The city has no such jurisdiction, however, and the most it can–and will–do, for now, is keep urging law enforcement and its own code enforcement staff to keep an eye on the place. Should another dog happen to be housed at that address, then the city would ensure that it's licensed. But there are no grounds for anything like legal action against the property owner or the tenants in the house.