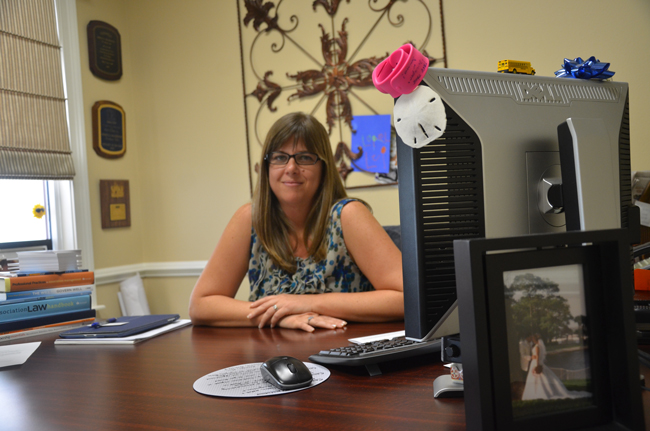 There may—or should—have been little doubt that Rebecca DeLorenzo would be the next president of the Flagler County Chamber of Commerce and Affiliates. On Thursday, the chamber board made it official, dropping the "interim" preface to her title, which she'd had since assuming the post after Doug Baxter resigned it in late November after five years at the helm.
The appointment is a change of personality for the chamber—from Baxter's more flamboyantly promoting, and at times strikingly self-promoting, energies, to DeLorenzo's earthier, matter-of-fact approach and more modest demeanor: she can be eloquent at a microphone, but she doesn't seek it, preferring instead to exercise her managerial and networking skills behind the scenes. Overt politics don't interest her.
She is married to Jason DeLorenzo, the second-year Palm Coast City Council member and government affairs director at the Flagler Home Builders Association, which works closely with the chamber on most business and political matters. But she herself has characteristically showed no interest in a more public track. The chamber's presidency, however, takes her there somewhat.
One of her aims, she said in a brief interview Thursday afternoon, was to have a "more open and transparent organization." Neither principles were lacking at the chamber, in DeLorenzo's view, but it's one of the perceptions she'd like to change.
"I think there's quite a bit of a misconception with a bunch of different people for a bunch of different reasons," she said, citing as one example the notion that the chamber is funded by government. It's not: the chamber is a private organization, run like a private business, though it has a non-profit component.
One segment of the chamber's staff—the tourism bureau and its three full-time employees–is funded by county government on a contractual basis, but those staffers' budgets and salaries are public record, subject to the state's open-record law, and the budget itself must be approved by the county's tourism council and the county commission.
"Rebecca has led the Chamber from an operational standpoint for several years," Scott Sowers, the chamber's chairman, said in a release. "She has demonstrated her commitment to both our Chamber and the community, and we are confident she is the right person to lead the organization."
The chamber has been moving in a couple of directions in the past year—toward establishing a more assertive political voice through a political action committee on one hand, while scaling back some of its business ventures, such as the phone book, which had been losing money (or causing the chamber's bottom line to bleed tens of thousands of dollars, which contributed to Baxter's departure), to focus more on its core mission.
"I think its an opportunity for the chamber to reeducate the community on why we're here and what our purposes is, and thats to help local businesses drive," DeLorenzo said. "Some members feel that we may have lost our way over the past few years and we want to correct that."
Barbara Revels, the county commissioner who chairs the county's Economic Development Council, welcomed the appointment.
"I'm very happy that the chamber has made their selection and that they got someone who's been embedded in the operation," Revels said, "so they won't have any lost time continuing the good work they've been doing in the community." Revels was especially pleased with the chamber's decision to recruit from within, allowing someone who's been developed through the organization to have a chance at advancement.
The choice, she said, "bodes well for the community," and for DeLorenzo, whose local contacts will help burnish her tenure. "We've got some high-end professionals in the community that will continue to mentor her. I know she'll work really really hard for it, and I just think it's a great choice."
A native Floridian, DeLorenzo was born and raised in Volusia County, graduating from Spruce Creek High School and earning a bachelor's degree in communications from Embry Riddle Aeronautical University. Her early career included positions in corporate travel and event management before she joined Southern Title in 2004 as an account executive.
While working at Southern Title, Rebecca became involved in the local community as a member of the Home Builders Association and the Flagler County Association of Realtors before the chamber hired her in May 2007 as vice president of special events. She was promoted to executive vice president in 2008. She's managed chamber operations and staff of 13, while organizing successful special events and heading up committees and chamber programs.
Under her leadership, the Chamber has expanded programs and benefits for members, and has funded business improvement grants and educational scholarships.
DeLorenzo—identified as "Rebecca" throughout a chamber news release–serves as a director for the Flagler County Education Foundation, the Family Life Center and the Florida Association of Chamber Professionals, and is a Past President of the Business & Professional Women of Flagler County. In 2009, she was named one of Flagler County's most promising young business leaders by the Volusia Flagler Business Report and was named the Flagler Business Women's 2012 Woman of the Year. In 2012, she earned an Institute of Organizational Management (IOM) designation from the US Chamber, and most recently a Certified Association Executive (CAE) designation from the American Society of Association Executives.
"Becoming president of the chamber is a huge honor for me, both personally and professionally," said DeLorenzo. "I am grateful to the board of directors for their confidence in my abilities and excited about the opportunities that lie ahead. We have an amazing team and we are all committed, now, more than ever, to helping our business community thrive."
The DeLorenzos, who bought property in Palm Coast in 2000, and who have a young daughter, have no plans to leave any time soon.