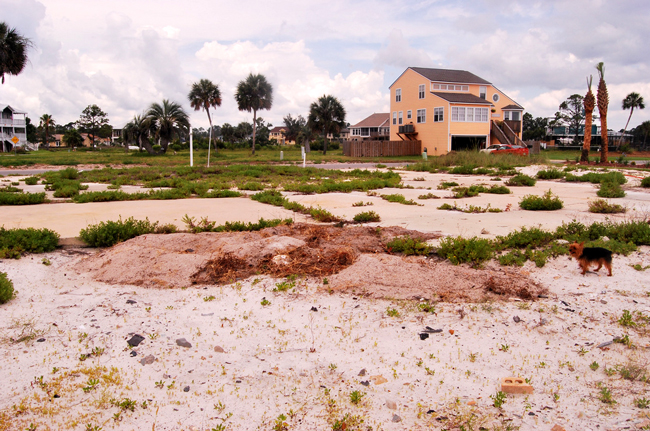 Here's the very latest from the Flagler County Commission's Go Figure Department.
For almost 20 years now, one land owner then another has tried to make something out of Hunter's Ridge, originally proposed as a 6,500-home development straddling the Flagler-Volusia county line, west of Ormond Beach.  Some 675 units have been built on the Volusia side, none yet in Flagler, though 407 units have been platted (or are in the process of being platted).
Developer Alan Feker is three years in arrears on taxes and has never made good on a $4.5 million payment it owes the county once it decided not to build a golf course it had initially promised. In June, the developer appeared before the County Commission to request a land use change that would substantially increase the number of houses it would build on the Flagler side, from 949 unites to 1,275 units.
Commissioners recoiled. They approved the land use change. Three of them—George Hanns, Alan Peterson and Milissa Holland—rejected movement toward a more intense development, especially in light of the developer's poor track record. "I don't intend to vote for this tonight because the higher density bothers me," Commissioner Alan Peterson said. Holland tied her rejection to the developer's failure to meet previous obligations. And Hanns joined the pair.
On Monday, Feker—with  County Administrator Craig Coffey, in the presenting role, saying the county was "trying to stick a fork in it"—was back, asking for more. Substantially more. He now wants to build 2,657 housing units on the Flagler side, with densities reaching 12 houses per acre in some clusters, and an average of seven houses per acre overall. He wants to increase retail, office and industrial space from 346,000 square feet to 706,000 square feet.
With Coffey standing in front of commissioners at the podium where developers usually make their pitch, Holland asked: "Why are we even considering this? I'm curious, Craig. This increase like this."
"All I'm doing is presenting what the applicant has asked for of the board as part of the application process," Coffey replied.
"I think we've said several times we would not accept any increased density due to the proximity of this development," Holland said.
"I don't think that has been unified as a board," Coffey replied. That was news to the majority of commissioners who voted down the density increase in June. "I know you knocked out 370-some units," Coffey continued. "The reality is, the application still moves forward." Coffey was interpreting June's vote in the narrowest sense, although there was plenty of discussion that day about the development's density as a whole.
Earlier in the discussion Monday, Holland and Coffey both noted that county staff, led by Coffey, was spending a large number of hours on the Hunter's Ridge development. The developer is supposed to pay the county for every hour its staff spends on the project, at rates commensurate with each staffer's salary. Those hours, and the dollar figures owed, were not made available to commissioners on Monday.
Holland, who called Hunter's Ridge "a nightmare development we've been dealing with 20 years," pressed on, asking Coffey: "If the applicant is moving this forward, then why is the applicant not giving this presentation? Why are you giving this presentation?"
"The applicant is going to give a presentation presenting why they think it should be done. I'm not presenting why it should be done. I'm just telling you about the application."
So it went, at length, with Coffey, then a Hunter's Ridge representative, explaining—or, more accurately,  speculating over—how  the development would proceed. Sam Merrill, did the talking for Hunter's Ridge. "We're looking at it as a total-sum arrangement. Let's resolve this now, and if it needs to be tweaked, we're all about compromise and trying to get this thing right." The same words could have been used 10 years ago and 20 years ago.
"We do not want residents in Flagler County expecting services that there is no developer left to provide to them, and they're going to look to Flagler County,"  Commissioner Barbara Revels, herself a builder, cautioned.
The golf course matter was just as perplexing. In 2009, the developer agreed to pay the county $4.5 million to get out of having to build a golf course. The initial payment was to be $1.08 million. He never made good on that.
The new proposed agreement doesn't mention the $4.5 million except by reference to the original agreement. The new proposal would have the developer pay $800,000 as an initial installment, with the remaining $278,550 from the original amount due to be added to the overall lien amount.
Whether the county will begin receiving any of that money is as open to question as the developer's tax payments. The reason the developer is looking to build at higher densities is to make the homes and other properties more affordable, and therefore, presumably, to generate more income from higher volume. But those assumptions are based on a housing market that no longer exist. The market ahead, beside being currently saturated with foreclosed and vacant properties, is getting saturated with huge new developments, too. Palm Coast just approved three massive ones that would add somewhere in the range of 14,000 additional homes to the rolls over the next couple of decades.
That side of the equation was not discussed Monday. Nor did the commission vote. The meeting was the first of two on the Hunter's Ridge matter. The commission meets again on Nov. 15, when it is scheduled to vote.