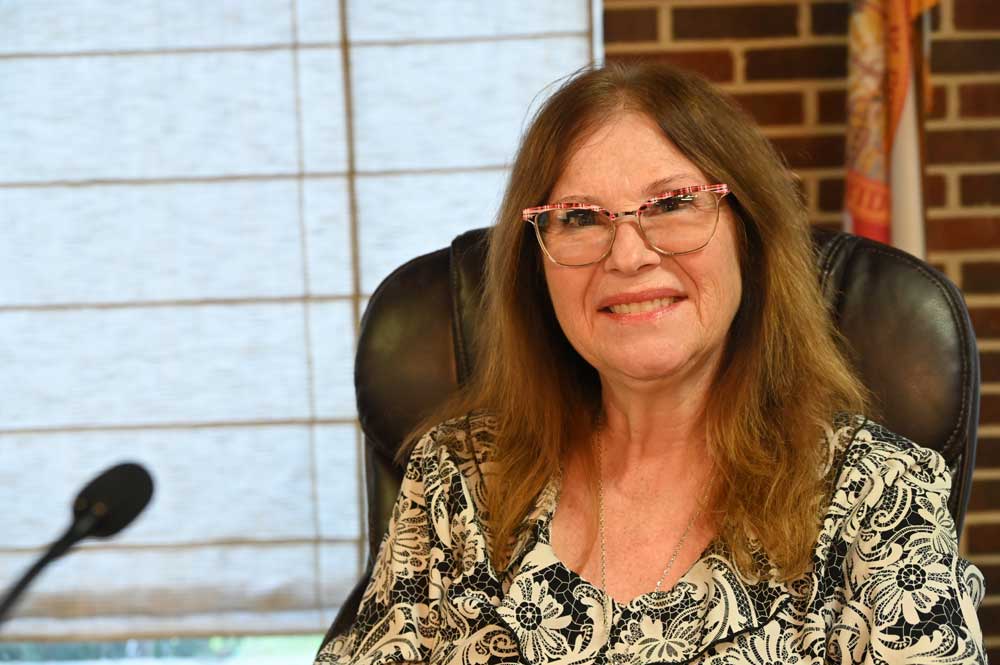 First-term incumbent Deborah Phillips is one of five candidates for two seats on the Flagler Beach City Commission, along with Rick Belhumeur, Bob Cunningham, Doug Bruno O'Connor, and Scott Spradley.
The non-partisan municipal election will be decided on March 7. Voters registered in Flagler Beach have been casting ballots by mail since early February. All registered voters in the city, regardless of party or non-party affiliation–Democrats, Republicans, independents and others–may cast a ballot. Here's a sample ballot.
The top two vote-getters will be elected to a three-year term on the commission, which is made up of five members plus the mayor. The position pays $9,502 a year.
FlaglerLive submitted identical questions to all candidates. The Live Interview's customary follow-up questions have been in most or all cases dispensed with in this race: the interviews are intended to provide a brief if substantive snapshot of each candidate while still eliciting as much candor and transparency as possible. We have asked candidates to refrain from making campaign speeches or make lists of accomplishments. We have also asked candidates to reasonably document any claim or accusation.
The candidates received the questions last Sunday and all but Phillips completed them before the meeting on Feb. 9, where the commission fired City Manager William Whitson. The questions had included one about Whitson's performance. Those answers have been preserved since they reflect the candidates' analysis of city leadership. An additional question went out after the meeting, asking what next.
Note: the Flagler Woman's Club is hosting a Candidate Forum featuring the five candidate for city commission, on Feb. 21 at at 7 p.m. at 1524 S Central Ave, Flagler Beach.

The Questions in Summary: Quick Links

Place and Date of Birth: April 2, 1960, Chicago.
Current or last job: Partner at Uncork'd Wine Bar in Flagler Beach. Prior owner of The Pink Turtle in Flagler Beach.
Party Affiliation: Republican.
Resume:
1. What makes you qualified to be a city commission member? How have you specifically prepared yourself to be ready to succeed from day one? Tell us about you as a person: your personality, your temperament, your foibles: what character flaw do you bring to the council? Who do you admire most in office today among elected officials in Flagler County—the person you'd consider a model of leadership?
Commissioners come from all walks of life. I am all about teamwork and engaging residents and working with the wonderful not-for-profit agencies we have in Flagler County to make things better. One of the most challenging tasks for a City Commissioner is adopting annual city budgets. I just happen to be a 38 year Chicago banker who has a background in Finance, and am deeply committed to ensuring we move our community forward in the right direction, but also being fiscally responsible. It is important to know the issues through independent research.
When I was newly elected to the Commission, it was during the height of Covid. I just jumped in by taking "new" Commissioner Training Courses and ethics courses. I asked LOTS of questions of our city attorney and city clerk who were always there for me to learn the role. I spoke to residents about what our City needed to become better. Engaging with local businesses and our residents is what I do best.
Character is valued and I am in touch with the reality of what needs to be done in Flagler Beach. I am a dedicated, loyal, honorable and confident individual. My biggest flaw is trying to make everyone happy. I always say respect the position and if you disagree with me let's have a meaningful conversation.
I don't have one person who I admire, but do admire any elected official who thinks big and wants to lead their city with no political gain.
 See how they answered:
Rick Belhumeur | Bob Cunningham | Doug Bruno O'Connor | Scott Spradley


2. Cite three issues or concerns that in your view the city is addressing poorly or not at all, and explain with as much specificity as possible how you intend to convince the commission to change course.
1) Our parks. We have a limited budget for the parks in our city, and for a small town we have a lot. With my leadership, I am working to make that change one park at a time through grants, volunteerism and education.
2) Economic development. We need to embrace the asset that we have in our beautiful Flagler Beach. I think we are getting there with hiring a CRA Director and the grant programs we have implemented to help our businesses. We already have an amazing city, but there is always room to make things better.
3) Communication with our residents. Slowly we are making that improvement with forums, workshops and soon we will have an interactive App that residents, elected officials and staff will use to better communicate.
 See how they answered:
Rick Belhumeur | Bob Cunningham | Doug Bruno O'Connor | Scott Spradley


3. Flooding is now a recurring problem in various parts of the city. Evaluate the city's response to flooding from last fall's storms. To what extent is the city capable of addressing the problem, at what cost, and with what revenue?
The City is working with various agencies (including Flagler County) to assess all flooding issues of Flagler Beach. Stormwater and flooding control is high on our radar. The cost mitigating these issues will be expensive, however, we are engaged with local and state agencies to help with funding resident's concerns and issues. Some of the things we are working on our 1) installing Gator valves 2) correcting systems in our control 3) storm drain clean-out 4) outreach to put together a list of homeowners that may be interested in property acquisition using federal funding.
 See how they answered:
Rick Belhumeur | Bob Cunningham | Doug Bruno O'Connor | Scott Spradley



4.Relations between business and residents on one hand and the city on the other seem poor, and "communication" appears to be a problem, judging from the long but not entirely conclusive discussions of the city commission to date. Have relations deteriorated, in your view? Is there a communication problem? If so, explain why, and what your specific remedy would be.
There is always room for improvement as an elected official. Always engage and support your local businesses and residents.
 See how they answered:
Rick Belhumeur | Bob Cunningham | Doug Bruno O'Connor | Scott Spradley






5.City Manager William Whitson's tenure has been rocky, as reflected by a recent three-month probationary term. Since you've attended almost every meeting for most of his tenure, how would you evaluate his strengths and weaknesses from your vantage point? Given the chance would you fire or retain him?
<strong>[Commissioner Phillips turned in her answers the morning after the Feb. 9 vote to fire Whitson.]
In light of the commission's firing of Whitson on Feb. 9, What key factors would drive your decision, first on an interim manager, second on a permanent manager? What skills would you bring to the table to avoid another managerial misfire?
For an interim, we will be looking for someone who has leadership skills that can hit the ground running on Day 1 and committed to working with the excellent tenured staff we have at the City.
For a permanent manager: A degree in public or business administration. Someone who has excellent communication and planning skills. Someone that has a clear vision of our City as we have a lot of projects that will be coming simultaneously. This person will need to develop and maintain the city budget.
I will make sure we do our due diligence and ensure the next City Manager is set up for success and has the ability to work with residents, businesses and different departments of city government.
Note: On Feb. 9, Phillips had initially voted to retain Whitson, then voted to fire him. She was asked in a brief interview on Feb. 23 why she flipped. "When the chair spoke, there were things I was unaware of," she said, attributing her decision to a long list of criticism Commission Chair Ken Bryan gave about Whitson. "That's why I flipped." Until then, Phillips said, she had thought Whitson "was doing a good job," and was benefiting the city with his contacts. 
 See how they answered:
Rick Belhumeur | Bob Cunningham | Doug Bruno O'Connor | Scott Spradley



6. Have you ever been charged with a felony or a misdemeanor anywhere in Flagler, Florida or the United States (other than a speeding ticket), or faced a civil action other than a divorce, but including bankruptcies, or faced any investigative or disciplinary action through a professional board such as the bar or a medical board? Have you ever been demoted? If so, please explain, including cases where charges or claims did not lead to conviction or disciplinary action.
No on all questions.
 See how they answered:
Rick Belhumeur | Bob Cunningham | Doug Bruno O'Connor | Scott Spradley