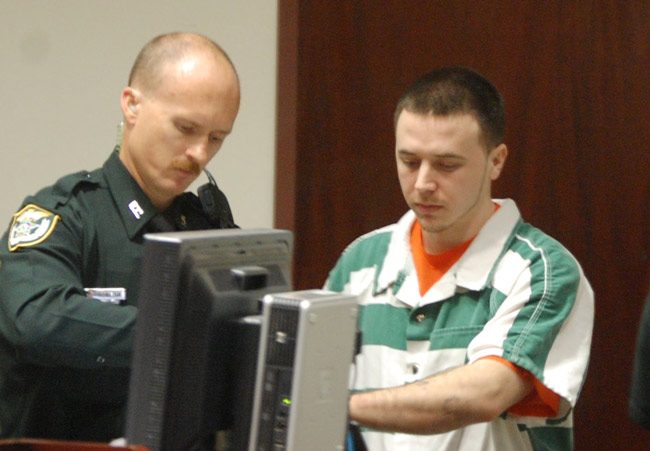 The Florida Supreme Court today invalidated as unconstitutional about half the death sentences hanging over 384 inmates on Death Row, including several affecting Flagler County inmates, among them William Gregory of Flagler Beach. The decision brings Florida in compliance with U.S. Supreme Court precedents, one of which in January found Florida's death-penalty sentencing scheme to be unconstitutional.
Florida is one of three states where a unanimous jury verdict was not necessary to recommend the death penalty–until this year, when the Florida Supreme Court ruled–in Hurst v. Florida–that "capital defendants are entitled to unanimous jury findings of each aggravating factor." It was also the only state where a judge could determine the aggravating factors that would lead to a sentence of death, even though in 2002 the U.S. Supreme Court ruled, in Ring. Arizona, that a jury, not a judge, must find aggravating factors for a death sentence to be valid.
"Defendants who were sentenced to death under Florida's former unconstitutional capital sentencing scheme after Ring should not suffer due to the United States Supreme Court's fourteen-year delay in applying Ring to Florida," the court ruled today. "In other words, defendants who were sentenced to death based on a statute that was actually rendered unconstitutional by Ring should not be penalized for the United States Supreme Court's delay in explicitly making this determination. Considerations of fairness and uniformity make it very 'difficult to justify depriving a person of his liberty or his life, under process no longer considered acceptable and no longer applied to indistinguishable cases.'"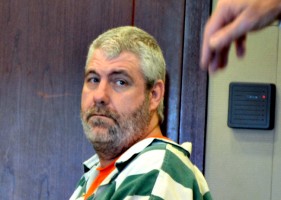 In a pair of decisions today, the court ruled that all inmates wrongly sentenced to death after a 2002 decision by the United States Supreme Court are entitled to a new sentencing hearing. That puts in doubt 55 percent of the death sentences affecting Death Row inmates (by the court's calculation), which could be reduced to life in prison.
The consequences of today's decisions on Flagler certainly affect the sentencing of Gregory, the now-33-year-old man who, in 2007, murdered Skyler Meekins, 17, and Daniel Dyer, 22, as they slept in a house on John Anderson Highway in Flagler Beach. Gredory was sentenced to death in 2011 in Daytona Beach, after a jury had recommended death by a bare majority of 7-5. In June 2013, the Florida Supreme Court unanimously rejected his appeal.
The decisions may also affect the case of David Snelgrove (he turns 44 Saturday), sentenced to death in June 2002–just 11 days before the U.S. Supreme Court issued the Ring ruling–in the double murder of Glyn Fowler, 84, and his wife, Vivian, 79, in Palm Coast in 2000. A jury recommended death in his case by a 7-5 vote, as with Gregory. Snelgrove was back in Circuit Court in Flagler last year, unsuccessfully contesting his sentence on mental disability grounds.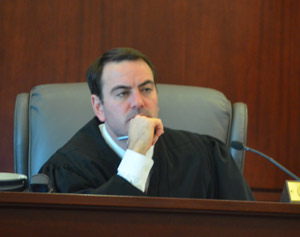 And there is the case of Cornelius Baker, 29, who in 2007 kidnapped Elizabeth Uptagrafft in Daytona Beach, forced her to drive to Flagler in her 2004 Crown Victoria and forced her to withdraw money from an ATM machine so he and his girlfriend, Patricia Roosa, could get some drugs. They then shot her in a remote section of the county. Baker was sentenced to death in March 2009.
The case of Louis Gaskin, 49, who murdered Robert and Georgette Sturmfels in their Palm Coast home 27 years ago last Tuesday, falls well behind the 2002 demarcation line as he was sentenced to death in 1990 and appears ineligible for a new sentencing phase.
Ironically for Flagler, the county is losing its most able death-penalty qualified judge, Matthew Foxman, this week, as he has been reassigned to Volusia County, where the death-penalty case load is heavier. It is unclear whether Foxman would be asked to handle Flagler's upcoming penalty-phase cases re-opened by today's judgments. The alternative would be Judge Dennis Craig, who will be taking over the county's criminal court division, though Craig has yet to preside over criminal cases–let alone death penalty cases.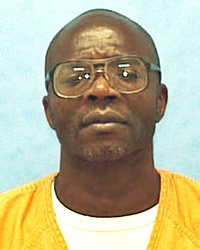 The invalidation of more than 200 death sentences today is the result of Mosley v. Florida, in which John Mosley was contesting his death sentence dating back to the April 2004 murder of his girlfriend, Lynda Wilkes, and their infant son, Jay-Quan Mosley. He was sentenced to death for the murder of his son, and to life in prison for his girlfriend's murder. (Mosley wanted the baby dead–and had tried to contract with a 15-year-old to do the killing–because he didn't want to pay $35 a week in child support.)
But it also ruled in Asay v. Florida that the decision is not retroactive to inmates whose cases were finalized before Ring v. Arizona in 2002. In that separate decision today, the Supreme Court cleared the way for the execution of Mark James Asay, a white supremacist who, looking for prostitutes one night, murdered two black men in Jacksonville for overtly racist motives in July 1987 ("you got to show a n— who is boss," Asay told his brother after his brother asked him why he'd shot Robert Lee Booker. Booker had merely asked Asay not to point his finger at him). The same night, Asay murdered a transvestite.
Gov. Rick Scott signed Asay's death warrant in January. The Florida Supreme Court issued a stay of execution, pending review of the U.S. Supreme Court's decision in January. But today, it cleared the way for his killing, even though a majority of only 8 to 3 found for the death penalty at Asay's 1988 trial. And it did so less for legally incontrovertible reasons than for the sake of pragmatism: the court, justices ruled by citing the court's own 1980 precedent, "must review the risk of whether applying the new rule retroactively could 'destroy the stability of the law, render punishments uncertain and therefore ineffectual, and burden the judicial machinery of our state, fiscally and intellectually, beyond any tolerable limit.'"
So "there are a substantial number of death sentences the finality of which would be upended," the court ruled of the 45 percent of such Death Row cases that have been finalized as of October. The court does not address the possibility that some of those sentences could run afoul of the new standards since Ring v. Arizona, but focuses on how, for "prosecutors and defense attorneys to reassemble witnesses and evidence literally decades after an earlier conviction would be extremely difficult. We fear that any new penalty phase proceedings would actually be less complete and therefore less (not more) accurate than the proceedings they would replace."
In laymen's term: it's tough luck for those inmates whose cases pre-date the 2002 demarcation: "We believe that a court's time and energy would be better spent in handling its current caseload," the court had ruled in 2002 (in a related reasoning, but not in death penalty cases).
Justice Barbara Pariente dissented from that restriction. "This Court has always recognized that 'death is different,'" Pariente wrote, "so we must be extraordinarily vigilant in ensuring that the death penalty is not arbitrarily imposed. Therefore, I dissent from the majority's holding not to apply Hurst retroactively to all death sentences that were imposed under Florida's unconstitutional capital sentencing scheme."
In the second ruling today, Justice James E.C. Perry went further, saying that not only all Death Row cases should have a new sentencing phase, but that any such sentences found to have been unconstitutional should be commuted to life in prison, automatically. (Pariente said she would not go that far.)
Perry noted that Florida law explicitly states that "In the event the death penalty in a capital felony is held to be unconstitutional by the Florida Supreme Court or the United States Supreme Court, the court having jurisdiction over a person previously sentenced to death for a capital felony shall cause such person to be brought before the court, and the court shall sentence such person to life imprisonment." That would mean every Death Row inmate now eligible for a new sentencing phase would have to be removed from Death Row, and sentenced to life in prison instead.
Perry partly concurred and partly dissented with the court's opinion invalidating 55 percent of death sentences, his dissent bearing on the court's ruling that all inmates affected by the ruling should have a new penalty phase. But the dissent will have no bearing on current law.
Justice James Canady dissented in the Moseley decision for a different reason: he would not have invalidated the death penalty nor held the decision retroactive, not even to 2002.