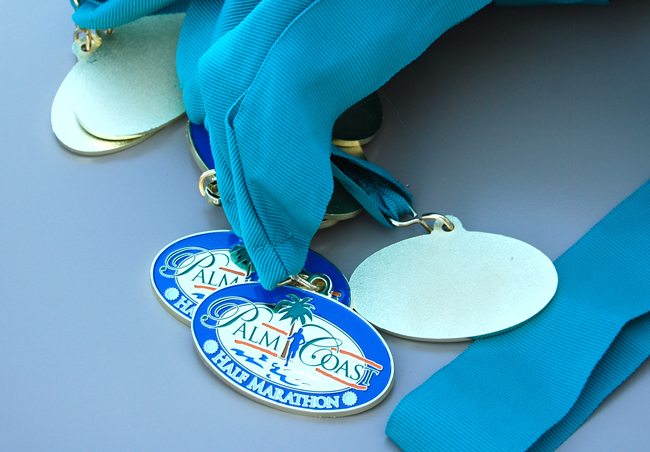 Lisa Gardner barely had time to finish her first two sentences before Flagler's Tourist Development Council this morning when a motion was made to approve the $5,000 request she was bringing forth. The motion was seconded and unanimously approved within moments in what may be the swiftest-approved item in recent TDC history.
None of it would bear notice if it weren't for the nature of the item: the $5,000 is to subsidize Palm Coast's marketing and promotion for the half-marathon on January 15, an event organized by the Reinke Sports Group and Dean Reinke, a promoter whose practices TDC members have called deceiving, as have other government and tourism officials in other cities where he's held events. Three times in the last two years Reinke sent representatives to ask for TDC money. Three times he was turned down.
Since Reinke is partnering with Palm Coast's city government for the event, Gardner, the city's events coordinator, who has a standing relationship with Peggy Heiser, the TDC's executive, took over the paperwork, submitted it, and got it cleared. In essence, Reinke got the city to vouch for his credibility by having the city assume all responsibilities for the money. Assuming the Flagler County Commission ratifies the grant, the $5,000 will be reimbursed to Reinke by way of the city in exchange for the pledge to have at least 75 proven overnight stays in local hotels related to the race. Among the advantages of the race's set-up: participants are required to pick up their race materials the day before, which increases the number of local hotel stays.
Last year's race attracted some 400 runners, overwhelmingly from Florida, but also including some from 20 states and Canada. More than half the racers actually took part in the smaller 5K, which will also be held, as it was last year, starting at the Palm Coast Marina. This year, the city hopes 450 to 500 runners will take part.
The event itself has a listed budget of $38,000, including $5,300 for permitting, police, EMTs, insurance and "Lifeguard/beach patrol" (though there is no beach-related component to the race: it's not a triathlon. The city is talking with Reinke about putting on a triathlon in the future.) Addvertising would take up $14,300, and staffing $7,450.
Not surprisingly, Reinke's name or his organization's stamp did not appear on a presentation the city put together about the marathon. The city's logo is prominent on the slides. Reinke is absent. That created confusion about Reinke's role on the TDC.
When asked about Reinke's relationship to the marathon before the meeting, Milissa Holland, who chairs the TDC, didn't know what it was, and council members today were uninterested in probing that relationship. Holland, for her part, spoke as if she were under the assumption that he was no longer involved.
"Obviously this council had some serious concerns last time due to the applicant and," Holland told Gardner today, "they're not being accurate on their application, and so I know it was my understanding that you had met with Miss Heiser, that you had come in, presented the application, the City of Palm Coast is taking full responsibility for the reimbursements of this event, and you'll be handling the management, certainly throughout, regarding the TDC funds."
"Absolutely," Gardner said.
"I just wanted to make that clear, because I think there was unanimous support for the event itself last year and this year, just with the thought of now having Palm Coast take ownership of it. I think gives a greater comfort level to this council that just didn't have it before."
Later, when asked if Reinke was still involved, Gardner said: "Absolutely." She said he was, "for lack of a better word, our vendor." He's still the one putting on the marathon, staffing it, running its registration and taking in the registration fees. "He has the tool, the staff and the marketing to put it on," Gardner said. "We're very happy with their performance. Everything he told us he was going to do, he has done." The city has been happy enough with Reinke that the plan for 2013 is not just a half-marathon, but a full marathon.
Gardner was aware of his checkered history. "He has a little bit of a tainted past, but most people I contacted recently loved him," Gardner said, attributing his previous problems to growing pains. More recently, she said, he's met with successes.
That's not quite the case, as far as many of Reinke's 2011 events are concerned. There are undisputed successes. Last year's event in Palm Coast was one of them. But the pattern he set as his organization was getting off the ground continues.
Reinke was due to hold a second half-marathon in Stockton, Calif., next Nov. 13. That event drew some 1,000 runners last year. It was promoted again this year. Runners registered and paid the $60 fee. Then, earlier this month, the event was postponed, with no new date posted, because Reinke hadn't provided city officials with the required, completed paperwork for the event—one of the very same issues that dogged him with the TDC and other organizations. Stockton city officials contacted Reinke to complete his paperwork, but didn't hear back. It was not clear whether those who had paid the $60 would be refunded.
Reinke had set a half-marathon for Traverse City, a small town in the upper reaches of the Michigan Peninsula, for this weekend: Some 100 runners had registered, according to the Traverse City Record-Eagle, only for that race to fold, too: Reinke had secured a non-profit sponsor, Big brothers Big Sisters, but only briefly: the sponsor pulled out. Another came in, then city officials declined to give Reinke access to city facilities, citing worries about his past practices. More sponsors pulled out.
Reinke ran into trouble in the full marathon he organized in and around Joplin, Mo., the very city devastated by a tornado that killed 162 people on May 22. Reinke was promoting another half-marathon there this year but had a dispute with city officials, who charged that Reinke didn't keep up his end of the bargain in the first marathon, running short of some of the items promised runners. The fight that escalated into a legal battle and, finally, an out-of-court settlement costing Joplin $40,000 but granting the city all legal rights to the race, called the Mother Road Marathon, which runs through three states.
In July, the Yakima Herald-Republic, a newspaper in Washington State, reported that "No fewer than six of the 22 cities on Reinke's United States Racing Association 2011 Half-Marathon Series schedule have essentially washed their hands of the Reinke group and have either opted to put on their own race or publicly disavowed any official connection with the USRA event." Among those: Dalton, Ga., which had 1,000 runners in its inaugural half-marathon, but decided to split from Reinke and do its own event.
Reinke started his half-marathon series with two in 2009, 14 in 2010 and 22 planned events in 2011, though, obviously, a number of those have fallen through. He has more than 30 planned for 2012.