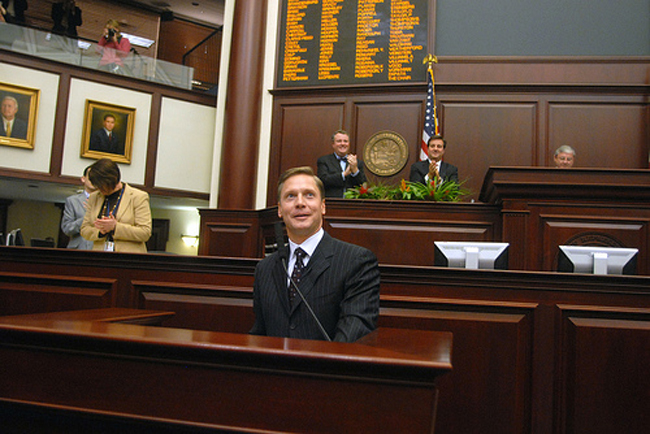 Jim Saunders
Health News Florida
Incoming House Speaker Dean Cannon is clamping down on state agencies carrying out the federal health-reform law, arguing that lawmakers need to be more involved in making decisions.
Cannon, in a letter to Gov. Charlie Crist, requested that all state agencies provide details by Nov. 15 of their activities in implementing the law. Also, any new activities after Nov. 15 would only be allowed "after notification and consultation with the Legislature."
"We cannot wait until the courts sort through the many challenges by the states to the federal health law or until a wiser Congress readdresses the law's numerous problems," the Winter Park Republican wrote in the letter. "Many provisions are taking effect now and Florida's response must be deliberate and decided by elected state policymakers rather than by default."
Cannon and other Republican lawmakers vehemently oppose the law, and many have publicly backed a federal lawsuit filed by Attorney General Bill McCollum that challenges the law's constitutionality.
State agencies — most notably the Office of Insurance Regulation (OIR) — have been working on implementing various pieces of the mammoth law.

In the letter, Cannon singled out the Office of Insurance Regulation's work on a requirement that insurers spend most of the premium dollar on providing care — what is known as the "medical loss ratio." OIR held a hearing on the issue last month and has signaled it will seek a waiver from the federal government to try to give insurers more leeway.
Also, Cannon pointed to a federal request last week that state regulators pressure insurance companies to issue child-only policies. Many insurers stopped selling such policies after that part of the health-reform law took effect last month.
"While the wisdom of these actions remains an open question, communication about agency activities is clearly deficient," Cannon wrote. "Information on these matters initially came to the Legislature from media accounts rather than any direct communication from OIR."
Sterling Ivey, a spokesman for Crist, said in an e-mail that the governor's office has received the request but likely will not have a response for Cannon today. Cannon is slated to become House speaker in November, assuming he is re-elected.
In the letter, Cannon said the law, formally known as the Patient Protection and Affordable Care Act, "nationalized numerous functions of state government." He said state agencies might be working to carry out parts of the act without having authority to do so under state law.
Cannon also took a veiled shot at Crist, who has become a pariah to Republicans since he left the party to run as an independent for the U.S. Senate. The letter says that the "lack of state executive leadership on these important issues compels a more proactive role by the Legislature in monitoring Florida's involvement in implementation of PPACA."
By Nov. 15, he requested that agencies provide information about their activities, including a "complete description of the specific activity, an explanation of any particular benefit to Florida from the activity, identification of state employees involved, specification of the amount of employee time spent, enumeration of any expenditure of funds associated with the activity, and estimation of any future state costs resulting from the activity."
Also, along with requiring notification and consultation on any new activities after Nov. 15, Cannon said lawmakers plan to "develop a clear and statutorily-defined framework for Florida agencies' activities in regard to the federal health law."