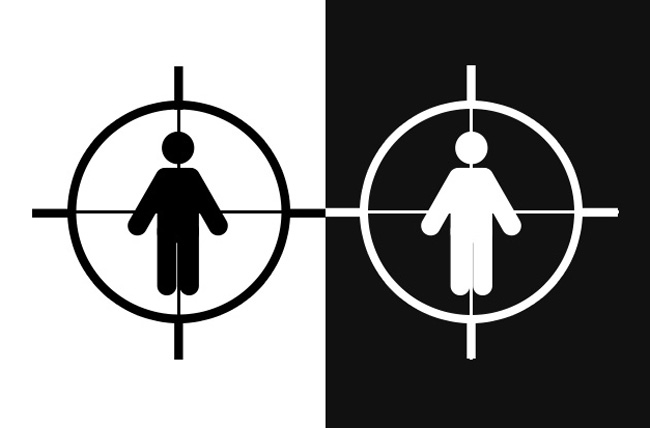 Note: This story's footnoted documentation appears below the text. A response to critics of the story appears further below.
Young black males in recent years were at a far greater risk of being shot dead by police than their white counterparts – 21 times greater i, according to a ProPublica analysis of federally collected data on fatal police shootings.
The 1,217 deadly police shootings from 2010 to 2012 captured in the federal data show that blacks, age 15 to 19, were killed at a rate of 31.17 per million, while just 1.47 per million white males in that age range died at the hands of police.
One way of appreciating that stark disparity, ProPublica's analysis shows, is to calculate how many more whites over those three years would have had to have been killed for them to have been at equal risk. The number is jarring – 185, more than one per week.
ProPublica's risk analysis on young males killed by police certainly seems to support what has been an article of faith in the African American community for decades: Blacks are being killed at disturbing rates when set against the rest of the American population.
Our examination involved detailed accounts of more than 12,000 police homicides stretching from 1980 to 2012 contained in the FBI's Supplementary Homicide Report. The data, annually self-reported by hundreds of police departments across the country, confirms some assumptions, runs counter to others, and adds nuance to a wide range of questions about the use of deadly police force.
Colin Loftin, University at Albany professor and co-director of the Violence Research Group, said the FBI data is a minimum count of homicides by police, and that it is impossible to precisely measure what puts people at risk of homicide by police without more and better records. Still, what the data shows about the race of victims and officers, and the circumstances of killings, are "certainly relevant," Loftin said.
"No question, there are all kinds of racial disparities across our criminal justice system," he said. "This is one example."
The FBI's data has appeared in news accounts over the years, and surfaced again with the August killing of Michael Brown in Ferguson, Missouri. To a great degree, observers and experts lamented the limited nature of the FBI's reports. Their shortcomings are inarguable.
The data, for instance, is terribly incomplete. Vast numbers of the country's 17,000 police departments don't file fatal police shooting reports at all, and many have filed reports for some years but not others. Florida departments haven't filed reports since 1997 and New York City last reported in 2007. Information contained in the individual reports can also be flawed. Still, lots of the reporting police departments are in larger cities, and at least 1000 police departments filed a report or reports over the 33 years.
There is, then, value in what the data can show while accepting, and accounting for, its limitations. Indeed, while the absolute numbers are problematic, a comparison between white and black victims shows important trends. Our analysis included dividing the number of people of each race killed by police by the number of people of that race living in the country at the time, to produce two different rates: the risk of getting killed by police if you are white and if you are black.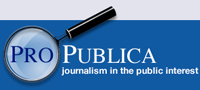 David Klinger, a University of Missouri-St. Louis professor and expert on police use of deadly force, said racial disparities in the data could result from "measurement error," meaning that the unreported killings could alter ProPublica's findings.
However, he said the disparity between black and white teenage boys is so wide, "I doubt the measurement error would account for that."
ProPublica spent weeks digging into the many rich categories of information the reports hold: the race of the officers involved; the circumstances cited for the use of deadly force; the age of those killed.
Who Gets Killed?
The finding that young black men are 21 times as likely as their white peers to be killed by police is drawn from reports filed for the years 2010 to 2012, the three most recent years for which FBI numbers are available.
The black boys killed can be disturbingly young. There were 41 teens 14 years or younger reported killed by police from 1980 to 2012 ii. 27 of them were black iii; 8were white iv; 4 were Hispanic v and 1 was Asian vi.
That's not to say officers weren't killing white people. Indeed, some 44 percent of all those killed by police across the 33 years were white.
White or black, though, those slain by police tended to be roughly the same age. The average age of blacks killed by police was 30. The average age of whites was 35.
Who is killing all those black men and boys?
Mostly white officers. But in hundreds of instances, black officers, too. Black officers account for a little more than 10 percent of all fatal police shootings. Of those they kill, though, 78 percent were black.
White officers, given their great numbers in so many of the country's police departments, are well represented in all categories of police killings. White officers killed91 percent of the whites who died at the hands of police. And they were responsible for 68 percent of the people of color killed. Those people of color represented 46 percent of all those killed by white officers.
What were the circumstances surrounding all these fatal encounters?
There were 151 instances in which police noted that teens they had shot dead had been fleeing or resisting arrest at the time of the encounter. 67 percent of those killed in such circumstances were black. That disparity was even starker in the last couple of years: of the 15 teens shot fleeing arrest from 2010 to 2012, 14 were black.
Did police always list the circumstances of the killings? No, actually, there were many deadly shooting where the circumstances were listed as "undetermined." 77 percent of those killed in such instances were black.
Certainly, there were instances where police truly feared for their lives.
Of course, although the data show that police reported that as the cause of their actions in far greater numbers after the 1985 Supreme Court decision that said police could only justify using deadly force if the suspects posed a threat to the officer or others. From 1980 to 1984, "officer under attack" was listed as the cause for 33 percent of the deadly shootings. Twenty years later, looking at data from 2005 to 2009, "officer under attack" was cited in 62 percent xxxvii of police killings.
Does the data include cases where police killed people with something other than a standard service handgun?
Yes, and the Los Angeles Police Department stood out in its use of shotguns. Most police killings involve officers firing handguns xl. But from 1980 to 2012, 714 involved the use of a shotgun xli. The Los Angeles Police Department has a special claim on that category. It accounted for 47 cases xlii in which an officer used a shotgun. The next highest total came from the Dallas Police Department: 14 xliii.
Update (Dec. 23, 2014): ProPublica shared its findings and methodology with Prof. David Klinger before this story appeared. In two interviews with reporters, he noted that the FBI data has serious shortcomings . But he also said the disparity ProPublica had found between black and white victims was so large, it was unlikely to have resulted solely from omissions in the FBI statistics. After the story appeared, Klinger said flaws in the FBI data made it unusable. ProPublica contacted Klinger and asked him to elaborate, but he declined to comment further. We stand by the analysis. A full response to the arguments Klinger and another critic have raised is here.

Notes:
ii https://www.propublica.org/documents/item/1307015-victims-14under-byraceanddecade-spssoutput.html#document/p1/a179431
iii https://www.propublica.org/documents/item/1307015-victims-14under-byraceanddecade-spssoutput.html#document/p1/a179432
iv https://www.propublica.org/documents/item/1307015-victims-14under-byraceanddecade-spssoutput.html#document/p1/a179433
v https://www.propublica.org/documents/item/1307015-victims-14under-byraceanddecade-spssoutput.html#document/p1/a179434
vi https://www.propublica.org/documents/item/1307015-victims-14under-byraceanddecade-spssoutput.html#document/p1/a179435
xxxvii https://www.propublica.org/documents/item/1307298-circumstances-yearcats-spssoutput.html#document/p1/a179463
xl Calculated from the "Weapon Used by Offender" variable. Ranked based on frequency of reported shotgun homicides by police agencies.
xli https://www.propublica.org/documents/item/1307312-offweapon-bystate-spssoutput.html#document/p3/a179466
xlii https://www.propublica.org/documents/item/1307313-offweapon-lapd-spssoutput.html#document/p1/a179467
xliii https://www.propublica.org/documents/item/1307316-offweapon-dallas-spssoutput.html#document/p1/a179468

Answering the Critics of the Deadly Force Story
ProPublica Responds to arguments levied against its analysis of justified homicides by police officers.
ProPublica's analysis of justified homicides by police officers, published October 10th, has been widely read and often cited in the national conversation on the use of force by law enforcement. Most often, press reports and people on social media have highlighted our finding that from 2010 to 2012, African-American teenage men age 15–19 were at 21 times as great a risk of being killed by police officers as white teenage men.
That finding has received criticism, as is often the case when a number draws a spotlight. As with any analysis, our analysis arose from a series of judgments.
It was clear from the outset, for example, that the data from the FBI's Supplementary Homicide Report, which underlies our assessment, is deeply flawed. This has been well-documented by us and others. In fact, we characterized the data as "terribly incomplete" and said its shortcomings were "inarguable." But the FBI database stands as the most complete national record of deaths at the hands of police.
There were, generally speaking, three arguments contesting our analysis: That we should have included men of all ages, that we should not have excluded Hispanics from our analysis, and that we should have calculated rates for a longer period of time.
Our reporting came in the midst of debate and protest over the shooting death of Michael Brown, who was 18-years old and black, so teenage black men were the natural focus of our analysis. Of particular interest was whether the perception that black young men were at greater risk was supported by the FBI's data. What happens to older men was not the subject of our story, and including them in the analysis was therefore not germane.
Peter Moskos, an associate professor at John Jay College of Criminal Justice and former Baltimore police officer, questioned our decision to exclude Hispanics from the white population. Race and ethnicity pose tough choices for any analysis involving demographic data. Our analysis was limited to two populations, and given what we were reporting on, we chose white, non-Hispanic males age 15–19 as our "control" group. Adding white Hispanics to our calculations posed two problems we found insurmountable.
First, it is our strong suspicion that Hispanics are undercounted. The FBI data says fewer than 20 black Hispanics were killed by police officers in 33 years of records, a claim that appears inaccurate on its face. Second, we've seen little evidence from our reporting that law enforcement officials treat the large Hispanic populations in say, Los Angeles, in the same manner as white citizens.
Several critics asked why we focused on the three most recent years in the data, rather than a longer time horizon. Moskos argued that three years of data is too small to offer a true picture of homicides by police and that we should have looked at 15 years of FBI statistics. There is a significant problem with this approach, one that is likely to distort the results. The core of our analysis is the rate of officer-involved homicides, which is calculated by comparing the number of shootings with the size of each population.
We focused on the three-year period of 2010 to 2012 because we could rely on an accurate source for the baseline numbers the Census Bureau's American Community Survey. Using Census 2000 and Census 2010 data for baselines assumes that the ratio of populations remain static, and that a snapshot of population rates for a subset of time can be assumed to be accurate for an entire period. We know that's not true.
Finally, we chose the years 2010 to 2012 because they are the closest large slice of time to the present day.
To test the critics' argument, we calculated risk ratios for as far back as the American Community Survey data goes (2008). From 2006 to 2008, the risk ratio was 9.1 to 1 (with a 95 percent confidence interval 6.19, 13.39); from 2008 to 2010 the risk ratio was 17.93 to 1 (95 percent confidence interval 9.38, 34.30). And whether 9 times as great, 17 times or 21 times, the racial disparity remains vast, and demands deeper investigation.
In the course of reporting and analyzing, three ProPublica reporters separately conferred with David Klinger, a University of Missouri-St. Louis criminology professor, by phone and email. Klinger is a recognized authority on police use of force and a retired police officer, and is frequently interviewed in the press. In our published piece, we attributed to Klinger a note of caution regarding how measurement error might alter our findings, but also quoted him expressing doubt that such error would erase the wide disparity we found. Days after we published, Klinger wrote to one of the reporters to complain that he had asked not to be quoted in the story. None of the reporters who spoke with the professor recall him making such a request in any of the interactions. But in any event, his feelings on the issue are clear, so we're updating the original post to reflect that.
As a final note, many have pointed to our reporting as proof of police bias. That overstates our case; ProPublica found evidence of a disparity in the risks faced by young black and white men. This does not prove that police officers target any age or racial group – the data is far too limited to point to a cause for the disparity. We hoped that our analysis would spur further inquiry into why this disparity exists, which it has done, and we stand by it.

For more civil rights coverage, read Segregation Now, the resegregation of America's schools, and Living Apart, how the government beytrayed a landmark civil rights law.