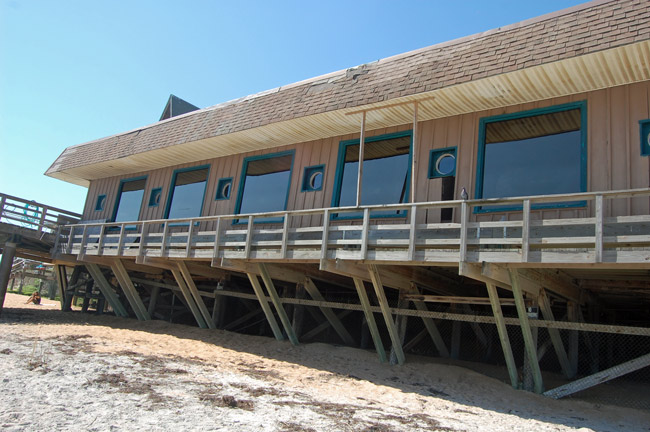 Flagler Beach and Daytona Beach have piers and pier restaurants in common. The cities own their piers and the restaurants that sit on them. They lease the restaurants.
Both cities spent the better part of the year negotiating new deals with restaurant owners. On Aug. 30, Flagler Beach and Ray Barshay, who owns the River Grille in Ormond Beach and Sloppy Joe's in South Daytona, signed a 10-year lease for a base rent of $3,000 a month in the first year, or $36,000 a year, and 2 percent of all gross sales above $1 million, beginning in the third year. The lease has three five-year renewals, for a potential of 25 years in total. Flagler Beach commissioners were criticized for giving away the property at too little rent and other residuals.
On Tuesday, Daytona Beach and Joe's Crab Shack, a national seafood chain restaurant that owns 118 establishments, signed a potential 30-year lease for a base rent of $275,000 a year, and 8 percent of all gross sales above $5.25 million in the first year.
There are significant differences between the two properties and their demographics. Daytona Beach attracts a far larger number of visitors than does Flagler Beach. The Pier Restaurant in Flagler Beach has 3,320 square feet of dining area. (The A-frame covers about 1,200 square feet. The Bait and Tackle Shop another 1,200, but that's now run by the city.) The restaurant can seat now 158 people. That number will expand to 200 once a deck is built, enabling outdoor dining.
The Department of Environmental Protection had put its permitting of a deck in doubt until the city and the department reached an agreement to allow it. Bruce Campbell, the Flagler Beach city manager, said today (Dec. 7) that the permit has been issued. The city also secured a $50,000 grant from the Flagler County Tourist Development Council to build the deck. If it costs more than that. Barshay will pay the difference.
The restaurant on the Daytona Beach pier will have 25,000 square feet, including 6,725 square feet of deck space. Its employee parking alone will have 75 spaces, and its employee base is expected to be 300. The Pier Restaurant in Flagler Beach, according to Barshay's business plan, will hire 40 full and part-time employees,
Joe's Crab Shack, which can also benefit from its national chain's advertising, expects to have more than $50 million in gross revenue in its first five years. Barshay projects $6.7 million in the first five years. The ratio works out almost identically: Joe's Crab Shack is projecting seven and a half times more revenue in the first five years than the Pier Restaurant in Flagler Beach, and its rent will correspondingly be seven and a half times larger.
The base rent in Daytona will grow 1 percent each year. The increases don;t kick in at the Flagler Beach restaurant until the third year. Like the Flagler Beach agreement, both restaurants must remain open almost every day of the year except Christmas and Thanksgiving. Joe's was projecting an investment of up to $5 million, Barshay's investment was going to be in the range of $300,000. True to form for Daytona, the restaurant there will be permitted for a 23-foot tall advertising sign on State Road A1A (and a dozen more signs on the pier). Flagler Beach does not allow sky-scraping gaudiness.
Campbell said Barshay and the city were conducting plan reviews later this week for the building. The restaurant will likely open under its new ownership early next year.