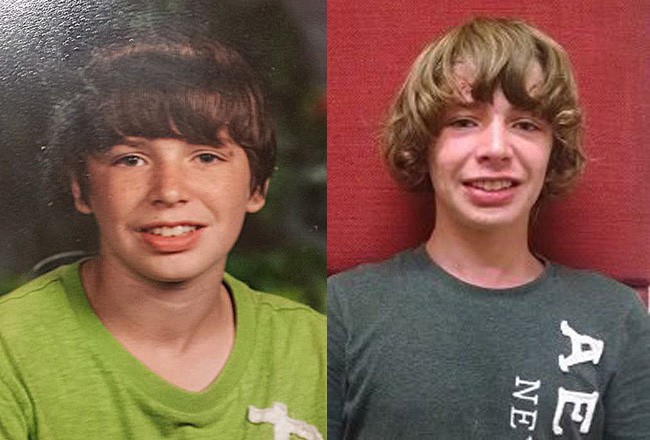 Dawson Blaine King, the 15-year-old W-Section resident who went missing last week, was returned home Tuesday only to run away again, was located at a B-Section home after Dawson himself sought to inform the Flagler County Sheriff's Office of his whereabouts.
A battery charge against King that his step-father had signed after an altercation Tuesday evening will be dropped, the step-father told authorities.
An incident report states that Dawson had gone to the home of Natasha Cooper on Brelyn Place earlier Wednesday, after getting in a fight with his step-father and an argument with his mother.
"Dawson," the reporting deputy said, "was in good health and I transported him back to his residence at 47 Westmount Lane." Dawson was turned over to the custody of his stepfather, Jimmy Riddle, who told police that he would be going to the State Attorney's office Thursday morning to drop the charges he'd signed. "It should be noted that Jimmy was unhappy with the FCSO services and I offered to have Dawson stay at the Beach House," the deputy reported, "however he declined."
A sheriff's incident report also noted that on Tuesday, before the eventual altercation, Dawson had tried to go home but had been refused. Cooper had called his mother multiple times, according to the report, "but Dawson's mother would not answer the phone. She then advised that Dawson tried to go home, but his mother refused to answer the door and let him in. Dawson stated that his mother knew where he was. Natasha stated that Dawson's mother told her he could stay there, and Natasha could send Dawson home when he is ready to return." Deputies went back to the Westmount Lane home, and at that point Dawson's mother, Heather Napier, said she wanted her son home.
Late that night the altercation developed and Dawson ran away again.
At 1:40 p.m. Thursday, the sheriff's office issued an update to its earlier advisory announcing the return of Dawson to his home.
On Friday (Jan. 23), Riddle called FlaglerLive to complain about details of the matter being reported, and said he originally wanted to file the charge against his stepson "to teach him a lesson," though now his stepson, he said, was being "slandered." He ended the conversation with an expletive.
The earlier story is below.

Missing Teen Briefly Returns Home After 5 Days, Flees Again, Now Faces Battery Charge
Jan. 21–It happened in November, and it's happened again over the past six days, twice: authorities are seeking the public's help in locating Dawson Blaine King, a 15-year-old resident of 47 Westmount Lane in Palm Coast.
Dawson went missing on Jan. 15, returned home Tuesday, got into a series of altercations with his family, then ran away again late Tuesday night, and now faces battery charges, which have been forwarded to the State Attorney's Office, according to a Flagler County Sheriff's incident report.
Jimmy Riddle, 43, reported to police Tuesday that after Dawson–his step-son–was returned home, Dawson began yelling and cursing at Riddle and at Dawson's mother, 37-year-old Heather Napier. Napier told police that Dawson went into the bathroom and turned on the shower for 90 minutes, at which point his mother shut off the water. Dawson emerged from the bathroom dry, upsetting his mother over the fact that he was wasting water.
Dawson, his mother said, "then began yelling and cursing at her, and began slamming doors," and at one point, Napier said, told his mother: "I dare you to go to sleep." Napier felt threatened. Riddle then approached the 15-year-old boy and told him to stop disrespecting his mother. An altercation began between the two, with Dawson allegedly at some point pushing his step-father into a dresser. Riddle told police that Dawson "then broke one of the chairs in the living room and went into the garage where he allegedly damaged a front license plate on the vehicle parked in the garage."
Following the boy into the garage, Riddle said Dawson then pushed him a second time then ran away from the back of the house into the woods. Riddle was not injured. Dawson's older brother, Darris King, 18, corroborated the sequence of events to police.
Riddle said he wanted to file charges against Dawson for domestic battery. Deputies tried to find Dawson at 16A Brelyn Place, where he had been located earlier, but the residents there said they'd not seen him. "Multiple attempts were made to locate Dawson, but were met with negative results," the incident report states.
Earlier that very afternoon the Flagler County Sheriff's Office had issued a missing-person advisory that helped lead to the location of Dawson before the altercation later. In the advisory, the sheriff's office referred to Dawson as "a frequent runaway." In November he had run away for eight days.
On Jan. 15, Dawson left home around 4 p.m., according to a separate incident report. His mother told police that "a possible motive for Dawson leaving the
residence today was to participate in narcotic activity with his friends," according to the report. Deputies canvassed various areas of Palm Coast's B and R Sections, where Dawson is believed to hang out, but were unsuccessful.
Dawson King is a white male, 5'11" tall, 140 pounds and has blonde hair. Anyone who has seen King is asked to call the Flagler County Sheriff's Office at 386-313-4911 in reference to case number 2015-5662.