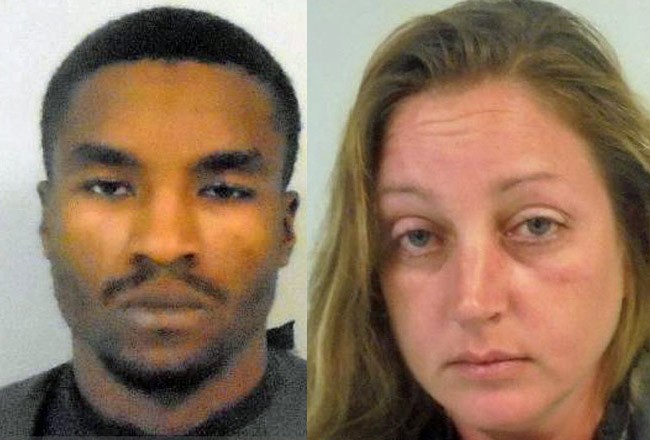 In late May, 911 got a report that a 13-year-old girl may have been struck in the head by her mother on Seaman Trail in palm Coast. When a Flagler County Sheriff's deputy got there, Dawn Nickonovitz, 39, was sitting outside, with a young girl near her. Seeing the cop, Nickonovitz ordered the younger girl into the house—using vulgar language, according to a police report—then followed her in, slamming the door shut behind her.
The girl's grandfather arrived and told cops that he'd received a call from his granddaughter's friend, telling him that the girl's mother had been abusing her. Cops asked Nickonovitz to let them see her daughter so they could ascertain her welfare. Nickonovitz refused, saying they'd need a warrant. The grandfather was eventually able to get the girl out of the house even as Nickonovitz screamed at her not to tell cops anything. The girl revealed to cops that she'd gotten into an argument with her mother over a cell phone. Her mother, the girl said, grabbed her hair, smacked her head two or three times and smacked her rear.
After the girl was taken away by her grandfather, Nickonovitz continued to refuse to speak with cops, but spent the rest of the evening calling 911 no fewer than 17 times. It is illegal to abuse 911, and people are arrested for it on occasion. Each time she'd call, she was belligerent. She was not calling to report a crime, her arrest report states. She was eventually arrested for abuse of 911, domestic battery and obstruction of justice.
A court issued no-contact order against Nickonovitz, regarding her 13-year-old daughter.
That case was pending when, on Sunday, deputies were dispatched to a different address—this time on Elder Street in Bunnell, the girl's grandfather's house—but in reference to the same suspect. Nickonovitz had gone to the Elder Street house, violating the no-contact order. John  Best, the 64-year-old grandfather, told police that Nickonovitz had entered the house unbidden and attacked him and Shannon Foster, the 13-year-old girl's father, as both men tried to keep her from going into her daughter's bedroom. The two men ended up with lacerations.
Nickonovitz was still in the house when police arrived. She was sitting on stairs, next to the bedroom where her daughter was behind a door.
When a cop tried to remove Nickonovitz from near the girl's bedroom, Nickonovitz stood up and told the cop not to touch her, using vulgar language. A struggle ensued as Nickonovitz attempted to keep cops from handcuffing her. She was eventually placed in a patrol car, then another. "You can let me out tomorrow," she told one of the deputies, according to her arrest report, "that's going to be it. I'm going to kill him." Nickonovitz, the arrest report states, was referring to Foster.
On the way to jail Nickonovitz continued to be belligerent, striking the bars on the window area of the car and threatening the deputy several times. She told him she'd catch him out of uniform and it would be "free range," according to the arrest report, and that had she had more than $5 that night, she'd have bought a gun on the South side of Bunnell.
Nickonovitz, who remained in jail Tuesday, faces a dozen charges, among them burglary with assault and battery, three additional counts of battery, tampering with a witness, corruption by threat, violating an injunction, and abuse of 911. She is being held on $75,000 bond.
Traffic Stop Turns Into Arrest Over Illegal Gun
Frederick Dunstan was driving in and out of the inside lane of State Road 100, then onto Belle Terre Parkway, when he was pulled over by a Flagler County Sheriff's deputy on Friday (July 31). The sheriff noticed that Dunstan's passenger, Johnathan Allen, a 20-year-old resident of Jacksonville, was nervous, while the driver's hands were shaking, and a smell of what the cop presumed to be marijuana was coming out of the car.
Initially, Dunstan refused permission to have his car searched. The cop told him he'd be conducting a probable cause search because of the smell of pot. A search of Allen produced a 9-mm Bryco semiautomatic pistol in his waistband, with nine rounds in the magazine and another in the chamber. The vehicle search resulted in a gram of marijuana. Allen told police that he merely smokes marijuana, and that he carries a weapon for fear of being robbed.
His background check revealed that he'd been convicted of two felonies, for which he'd served a pre-trial diversion program. He did not have a permit for the weapon, and as a convicted felon was not permitted to have one to start with. He was arrested on charges of carrying a concealed weapon without a permit, and of possessing a firearm as a convicted felon, as well as possessing less than 20 grams of pot. He was released on bond.