Bunnell City Manager Dan Davis survived getting fired Monday evening. He also survived getting demoted back to city clerk, the position he held several years before becoming manager almost two years ago. But the City Commission placed him on a six-month probation period after giving him a withering 30-minute tongue-lashing. The unanimous vote's forbearance was a surprise, contrasting so sharply with the severity of the criticism. But it was just as clearly a last chance, and one at least one commissioner said he was "not convinced" would change things in the long run.
Commissioners revealed that Davis has had problems respecting some of his employees, losing his temper, "demeaning" some and doing so even with his body language at commission meetings. One of them, Sandra Bolser, quit—taking early retirement earlier this month—after Davis angrily confronted her over a unrelated issue. He also hired a consultant without commissioners' knowledge to analyze Perry Mitrano's public works department, undercutting Mitrano in attempts to get him fired while Mitrano, who has long eyed the city manager's job for himself, lobbied commissioners to do the same to Davis. (In Bunnell, a director can't be fired without majority approval from commissioners.)
There were also problems, or at least perceived problems, with Davis's interactions with citizens, and one resident in particular, who was at the receiving end of an email from Davis some commissioners deemed dismissive regarding her flooding issues. Beyond all that, commissioners again and again harped on his poor or lacking communications skills. They, too, revealed that he had been offensive or disrespectful to some of them in person, and that he was now attending anger-management sessions.
After leveling his own long list of criticisms at Davis, Commissioner John Rogers said he didn't want to fire him because he "likes" Davis, but he moved to demote him back to city clerk. The motion was not supported, but the motion placing Davis on probation for six months. His evaluation will be the deciding factor.
"If he gets 'needs improvement,' then we reassess," Mayor Catherine Robinson said. "But if he gets "good' or 'excellent,' then we move on."
Commissioners were intent being more precise, such as ensuring that he went through the anger-management process. "Completion of the course is not nearly as important as how he behaves after that," Robinson said.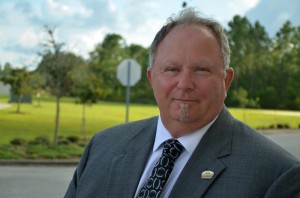 "The thing about that is once he's completed that course then we've got to look at him from that point on," Commissioner Baxley said, "to make sure that he doesn't lose his temper with staff or one of us, or with the public."
Commissioner Sowell noted that line employees generally get to screw up a few times, "but the leaders, they don't get as many chances." Still, he told Davis, "I do support you."
Rogers had begun what turned into as close as a public crucifixion gets in government without the person losing a job when he said the fateful words: "I like Mr. Davis." No public official speaks those words about anyone unless they're a preface to a whipping. Rogers said he thanked God that Sowell could not attend the commission meeting two weeks ago, when the matter of Davis's future was withdrawn from the agenda because of Sowell's absence, "because I don't think he'd be sitting here as out city manager two weeks ago. Tempers were hot, emotions were on the rise, but I want to bring us back to what got us here."
And so Rogers did, recounting how he'd asked for a meeting with a local company to address issues of concerns to residents – Environmental Land Services' smoke was bothering neighbors—and the meeting had been set up, but apparently without the company's knowledge, while Davis himself had no plans to attend. "Not showing up or not making it important to the city manager's office or his staff, it kind of rubbed me the wrong way," Rogers said. "What struck me was the conversation I had with him that day when he pretty much told me that he did not have to listen to you, you, Mr. Sowell"—Rogers was pointing at his fellow commissioners just then, going around the table—"mayor or myself, one-on-one. Did not have to, unless three of us told him, did not have to listen to us."
---
"I hope and I'm going to believe. But I'm not convinced that it's going to change."
---
Rogers has never liked that sort of approach from any recent managers. "He has a lot of qualities, we all know the last couple of weeks, he's got a little temper," Rogers went on, referring to Davis, "I've got a little temper, but you've got to maintain your self-control at certain times, you've got to be able to take the criticism, when you drop the ball you've got to be able to say—I own it."
Rogers recalled how he'd been the swing vote to hire Davis two years ago, even though he had his reservations back then—about Davis's temper. "The communication when he got in was absolutely terrible," he said. Requests to improve "fell on deaf ears." He added: "The only time it changed is when he had to get evaluated for a raise, OK? and then we started getting communication. Now, I'm telling you, the last two weeks has been great, they've been absolutely great. But my fear is, he's on the hot seat. That's why the communication the last two weeks were great."
That's when he moved to demote Davis.
When the mayor spoke, she assured Davis she was not "gunning for your job," an odd revelation in itself (the mayor as manager). She had not voted to hire him two years ago but had met him on the street the next day and told him, "It's your job to fail." She berated him over his poor communications and his relations with his own employees, failing to only "praise in public but criticize in private," and failing to inform her about hiring a consultant.
"There's been strong non-verbal language that you don't support that staff member," she said, apparently referring to the way Davis reacts to Mitrano, who attends commission meetings. "I've seen it numerous times sitting here on the board, criticizing, demeaning, actually going to staff members and talking negative even to subordinates, that creates a toxic environment, and it's very hard to move out of that toxic environment," she said. As for Bolser, the city clerk who left her job after her confrontation with Davis, Robinson said: "This was more than a blow-up between two employees, a blow-out between friends, this was something going on for the past six months or so about philosophy of management and I'm concerned about that."
She said she was satisfied with the apologies and the anger-management initiative, but wondered if Davis had a "passion" and a "calling" for the job. She has not seemed convinced that he does.
Commissioner Bill Baxley had been the one looking to fire him two weeks ago. "He attacked me on the phone basically the same way to the point where I had to hang up," Baxley said, "so I have more, I feel more grudge based on what happened than the rest of you, I don't think the rest of you had him belittle you or put you down over the phone, so he and I discussed that real strong." Baxley was willing to forgive. "He basically apologized to me up one side and down the other because he knew that what he had done was wrong, and I also recommended to him that he go to anger management," which he said he'd already started. Demoting him, Baxley thought, was a bit drastic. He preferred a probationary period. "I believe in forgiveness, first time around," he said.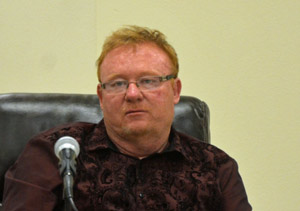 Sowell said he'd have probably voted to fire Davis had he been at the meeting two weeks ago, but he also heard some "ringing endorsements" of Davis from various city departments: some of those employees addressed the commission Monday evening, repeating trheir endorsements.
Even Mitrano spoke describing how it was "a lot of fun" in the early goings with Davis's tenure as manager, then issues developed with a course that continually changed. "Sometimes direction gets a little lost, you try, you work really hard and you try to endear to your boss, and I did that, and he did it back, he did in a lot of good ways," Mitrano said. There was "a two-week period where things got ugly," but "he's been a good man and apologized." He called him "genuine" and said he was "proud to work for him" as long as the commission employed him.
Two weeks ago Davis spoke his apology to Bolser in public, but didn't go into further details about other underlying issues. Monday evening, he spoke again. "I like being the city manager, I want to continue being the city manager," he said. "It did get challenging there for a couple of weeks and I didn't handle things the way I should have, I have apologize for that, I will con time to apologize for that, I don't want to make excuses. Someone in my position has to lead from the front." He said he cannot afford to fail even for one day. But he also noted, without naming Mitrano's department, that the "assessment" of his department was still ongoing, and placed the cost of the consultant at around $1,000.
Davis got the most support from Commissioner Elbert Tucker: "You're a good leader, you just kind of need to shape up in a few areas," Tuckler said. "Be nice to people, be good to people."
Just before the vote, Rogers, who saw there was no support for demotion, said: "I want to caution this board, he could go back to clerk, it's something he knows how to do, he's familiar with, if this thing rises up again in three to six months, that position is going to be filled, and you know what the alternative is. I hope and I'm going to believe. But I'm not convinced that it's going to change."