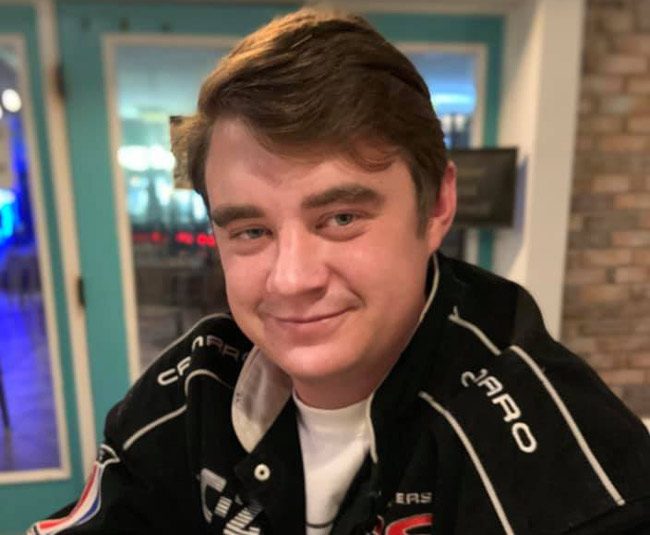 In his words, Davis Ecker had lived "in/out and around Flagler county for over 18 years." He was described as "a sincere heart," "an absolute legend," "definitely not an enemy to anyone," "as genuine as they come," a 27-year-old man who seemed incapable of appearing in a picture without a smile.
Ecker spoke as a free spirit. He loved his dogs. When he traveled to Guatemala on what he called "an adventure" last summer, he said he "found more than just epic times," as he wrote on his Facebook page. "I found love from new friends and family from all over the world. Not only was there beauty in the land, there was simplicity in the culture. I will be back!" He seemed to elicit nothing but affection from those who knew him. They were many.
They've been pouring out their reactions to Ecker's death since it took place Sunday at the Ocean Crest Motel in Ormond By the Sea, in the apartment attached to the motel's office, where he'd been living with his girlfriend of four years.
Volusia County Sheriff's deputies received word of an attempted suicide there just after 1 a.m. Sunday. Ecker's 24-year-old girlfriend was begging them to help him when deputies got there. But Ecker was unresponsive and not breathing: he had "what appeared to be a gunshot wound to the head," according to the sheriff's report. A paramedic pronounced him dead shortly afterward.
He'd never given any indication that he wanted to harm himself, his girlfriend told deputies, describing the previous evening: he'd been drinking, he'd wanted to go to the store to get some cigarettes, she cooked dinner, they ate, she said goodnight and was in her bed on her phone when she heard what sounded like something falling over in the next room. She found him on the floor and tried to help him before going outside to seek help.
Deputies and detectives responded, and the body was turned over to the medical examiner. Later that morning, the Flagler County Sheriff's Office was dispatched to Ecker's parents' home to notify them. The Volusia County Sheriff's Office is still investigating, but a sheriff's spokesperson said "there was nothing to suggest foul play or anything other than self-inflicted gunshot." A caller to FlaglerLive, who did not identify himself, said the family believes it was an accident, not a suicide.
"Davis Ecker was pretty much the fun and the life of every party and inlet gathering and any where we were he would always make it a better time," one friend wrote characteristically. "It won't be the same with out him here with all of us. We all have so many memories and had so many great times that I will never forget. He was family and a best friend. He was always happy and a positive and don't know why he left so Damn soon."
Others noted what Ecker may not have shown to his friend. "Just a reminder to love a little harder and be kind to everyone you meet, we never know what anyone is going through," one wrote. Another wrote: "My friend…words will never express how badly I want to take away the pain you must be feeling. The only thing I know is that we are to remember the awesome things about the ones we have lost. Davis Ecker knew how to make anyone laugh till they cried and accepted everyone around him. I will hold onto the legacy he created….one of fun and humor. It's something we all need, even those who appear to be the happiest need people to uplift them."
A Celebration of Life in Davis Ecker's memory is scheduled for Jan. 26 at 11 a.m. at Parkview Baptist Church, 5435 Belle Terre Pkwy, in Palm Coast.

The following resources are available for individuals in crisis:
In Flagler: The Crisis Triage and Treatment Unit (CTTU) is a crisis assessment and referral service for Flagler County residents experiencing behavioral health crisis.  It is located at 301 Justice Lane in the Brown & Brown Outpatient building at the Vince Carter Sanctuary in Bunnell.  This program is limited to individuals escorted to the program by law enforcement between the hours of noon and midnight daily.  Law enforcement is able to transport individuals to SMA to assess and determine the appropriate clinical disposition.  When required and appropriate, SMA then transports the individual to a receiving facility in Volusia County.
In Daytona Beach: Stewart-Marchman Act Corporation Crisis Center
1220 Willis Avenue
Daytona Beach, FL 32114
Crisis Line: (800) 539 – 4228
Available 24 hours.
National Suicide Prevention Lifeline, 800/273-8255 (TALK).
If you are concerned for someone else, read about warning signs here. For additional resources, see the Speaking of Suicide website.