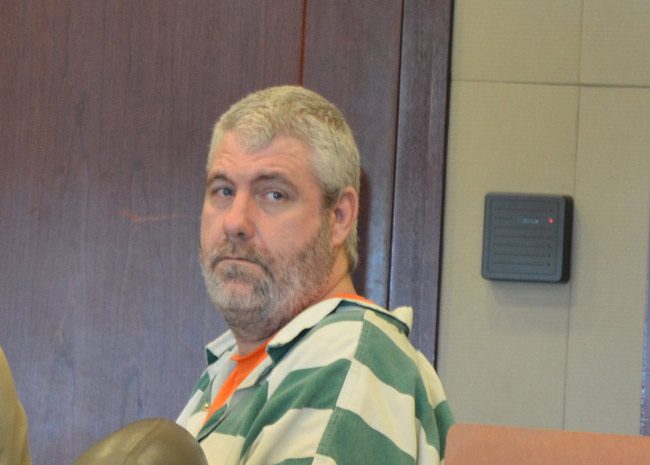 David Snelgrove has twice been sentenced to death for the murders of Glyn Fowler, 84, and his wife, Vivian, 79, on Bannbury Lane in Palm Coast in late June 2000. Two years ago he appeared before a circuit judge in Flagler again to contest his conviction, claiming his attorney had given him an ineffective defense. Judge J. David Walsh denied the motion, and Snelgrove was taken back to death row.
On Thursday, the Florida Supreme Court ordered yet another sentencing hearing for Snelgrove–what will be his second–essentially removing him from death row pending the outcome of that hearing.
Justices, in a 4-3 decision Thursday, said David Snelgrove should be resentenced because of a major U.S Supreme Court decision last year and a resulting Florida Supreme Court ruling.
Snelgrove, who was the nephew of one of the Fowlers' neighbors, was convicted of first-degree murder and sentenced to death in 2002. But the Florida Supreme Court later reversed the death sentences and sent the case back for another sentencing proceeding. A judge again sentenced Snelgrove to death after receiving 8-4 jury recommendations.
In January 2016, the U.S. Supreme Court, in a case known as Hurst v. Florida, found that Florida's death-penalty sentencing system was unconstitutional because it gave too much authority to judges instead of juries. In carrying out that ruling, the Florida Supreme Court said juries must unanimously find that what are known as "aggravating" factors in death-penalty–such as the brutality of the murder–the cases outweigh "mitigating" factors–such as the murderer's mental state or his IQ–and that unanimous jury recommendations are needed before judges can impose death sentences.
Thursday's majority opinion, fully shared by Chief Justice Jorge Labarga and justices R. Fred Lewis and Peggy Quince, said Snelgrove should receive a new sentencing hearing because of the Hurst rulings.
"In light of the two non-unanimous jury recommendations to impose death in this case, it cannot be said that the failure to require a unanimous recommendation was harmless beyond a reasonable doubt," the majority opinion said. "We therefore vacate Snelgrove's death sentences and remand for a new penalty phase."
Justice Barbara Pariente agreed with that position but dissented on a different issue in the case–Snelgrove intellectual capacities, which have been open to question. Snelgrove's conviction, the judge noted, predates a 2009 Supreme Court ruling that broadened the exceptions to the death penalty when intellectual disability is at issue.
"I acknowledge that a defendant is not always entitled to another hearing on intellectual disability following [the 2009 decision," Pariente wrote. "However, in this case, there is a risk that the trial court and this Court were unduly influenced by an IQ score exceeding the prior bright-line cut off score of 70, requiring a new evidentiary hearing or at the very least a reevaluation of the evidence previously presented."
Justices Ricky Polston, Charles Canady and Alan Lawson signed on to a short dissent that said the death sentences should not be vacated.
The court decision sums up the origin of the case this way: "On Sunday, June 25, 2000, Glyn and Vivian Fowler were found dead in their home. The elderly couple had been brutally beaten and stabbed to death, as evidenced by multiple fractures and stab wounds spread throughout their bodies. Ultimately, Vivian died from a stab wound to the heart, and Glyn died of a brain injury caused by blunt force trauma to the head. Evidence at the crime scene and in the surrounding area linked David Snelgrove, the twenty-seven-year-old nephew of one of the Fowlers' neighbors, to the murder. Snelgrove had recently moved in with his aunt and his cousin, Jeff McCrae, after being expelled from a drug rehabilitation program. Blood droplets matching Snelgrove's DNA were found throughout the house, as were bloody fingerprints and footprints matching Snelgrove's. A trained bloodhound followed a scent from the blood on the Fowlers' broken window to Snelgrove, and the police recovered a knife in the woods next to the Snelgrove home with blood matching Snelgrove's DNA."
Snelgrove's defense admitted to the burglary but not the murders. In the original penalty phase, the jury recommended death by a vote of 7-5.
The full decision is below.
–FlaglerLive and the News Service of Florida