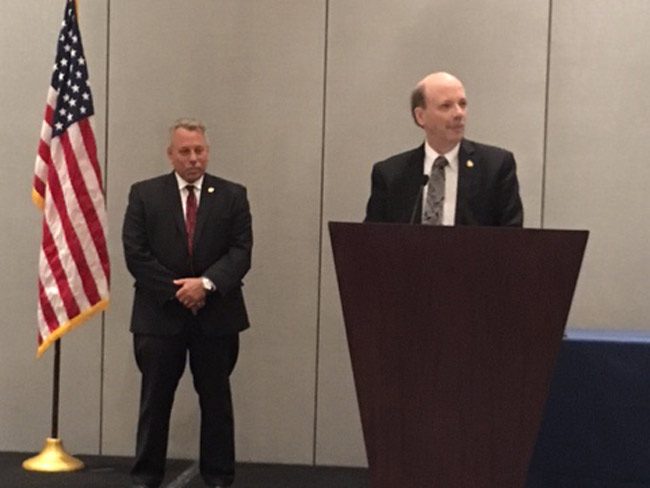 Longtime Assistant State Attorney David Smith received the Gene Berry Award at the Florida Prosecution Attorneys Association Conference in Bonita Springs, Florida on July 31.
The award was presented to Smith by Association President R.J. Larizza. who is also the state attorney for the Seventh Judicial Circuit, which includes Flagler, St. Johns, Volusia and Putnam counties.
Smith began his career with the State Attorney's Office as an intern in 1975 and was sworn in as an Assistant State Attorney in 1978. He has served four administrations–Stephen Boyles, John Tanner, Steve Alexander and R.J. Larizza. In addition to being an Assistant State Attorney, David Smith has held positions of First Assistant State Attorney, Chief of Operations and Executive Director-the position he currently holds.
"I can't think of a more deserving person to receive this award," Larizza said. "David Smith has served the citizens of the 7th Circuit for over 40 years with honesty, integrity and passion. He has made Justice a reality for our families, friends and neighbors."
An FPAA Committee reviewed all nominations and recommended David Smith to the FPAA Board, comprised of all 20 State Attorneys, who then voted Smith the recipient. Smith will have his name listed in the Capitol in Tallahassee among all other Gene Berry Award recipients. In addition to Smith two other former Assistant State Attorneys from the Seventh Judicial Circuit received this distinguished award–Judge Bryan Feigenbaum in 2008 and Ed Davis in 2015.
Since 1983, the Florida Prosecuting Attorneys Association has recognized an Assistant State Attorney who has rendered outstanding prosecutorial service by encouraging respect for the law and the courts, contributing to the effective functioning of our government institutions, promoting a better understanding of our form of government and rights, and promoting a better understanding and appreciation of the prosecutorial function. This award is presented in honor of Assistant State Attorney Eugene Berry who was such a prosecutor, and who gave his life in service to his profession and community.
Eugene Berry worked as an Assistant State Attorney for the Twentieth Judicial Circuit. He was shot and killed at his home on January 16, 1982 by the wife of a man Berry prosecuted.