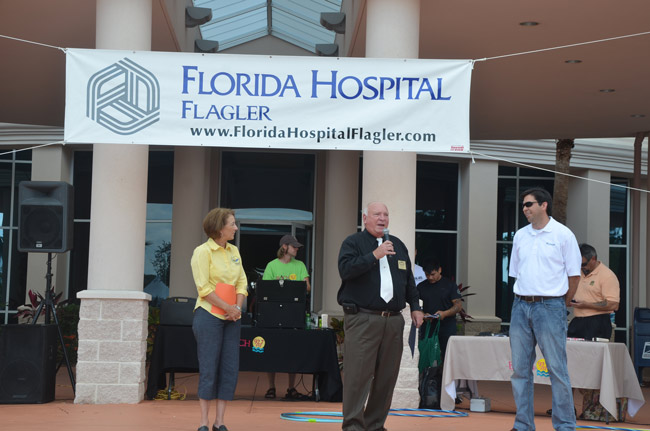 David Ottati, the CEO at Florida Hospital Flagler for the past seven years, where he oversaw a vast expansion that increased hospital employment past 1,000 and helped cushion the local economy's severe downturn of the past few years, will be leaving the hospital to take a new post as CEO of the 269-bed Florida Hospital Waterman in Tavares, in Central Florida, in early June.
The hospital made the announcement late this afternoon in a news release.
"It is with mixed feelings that I'm leaving a community and employee family that I trust and enjoy working with every day," Ottati said in the release. "However, I'm excited about the opportunity to shape for the system multiple clinical and business initiatives that are piloting at Florida Hospital Waterman in addition to developing an outpatient business strategy that includes the building of a medical plaza."
This evening in an interview, he spoke more personally of what Flagler had meant to him and the family, and of the difficulty of deciding to make the move. "When I got here my won wasn't even walking, he was crawling," Ottati said, "my twins were 4 years old, my other one was 3, so they essentially began their life here and grew up here, which really was phenomenal."
But it's part of the business that hospital administrators move, especially within an organization as large as Adventist–it counts 44 hospitals–in a business as fast-paced and changing as health care.
During his tenure in Palm Coast, Ottati built and opened the $15 million, 34,000 square-foot outpatient medical plaza and oversaw the electronic clinical information system activation which designated Florida Hospital Flagler as a HIMSS Stage 7 facility – the first facility in Florida to receive this certification. He was responsible for more than 1,000 employees and added 300 jobs, including the recruitment of 30 new physicians. The hospital itself is a 99-bed facility. Ottati's move to Tavares is significant in two regards: he will be overseeing a much larger hospital, and he will be getting closer to Adventist's headquarters in Altamonte Springs, where his trajectory is expected to take him before long.
"It's a loss for the city, it's a loss for our local hospital, it's a loss for all the innovations David has brought forth," Palm Coast Mayor said. "I guess it's a good move for Adventist Hospital, otherwise they wouldn't do it. It's the nature of the beast, when somebody is a rising star, their balloon is going to ascend. I guess the community would wish him well and will be thankful for all the time he was here, and that Adventist replaces him with someone with equal vision and vigor."
Netts added: "He's done wonderful things for Flagler County, for the city, pushing forward that medical center up on Palm Coast Parkway,. I'm not sure that would have happened, could have happened, without his vision."
Netts noted Ottati's deep involvement in the community well beyond the hospital's interests. Ottati was the last presiding chairman of Enterprise Flagler, the private-public partnership that, by the time he took it over, was limping toward its demise as Palm Coast and the county launched their own economic development arms. "The reality is he put in a tremendous amount of effort there trying to make it work, trying to bring about change, trying to improve circumstances."
Ottati has served with Adventist Health System since 1996 when he was selected to join the management residency program. Since that time, he has held multiple positions including Program Administrator for Florida Children's Hospital, Administrator for Florida Hospital Wauchula and Florida Hospital Lake Placid. He assumed the Florida Hospital Flagler CEO position in March of 2006.
"It's a sad day but I always knew it was going to happen because the Adventist Health System always tries to elevate their brightest," County Commissioner Barbara Revels, a member of the hospital board, said,"and David has got a lot of unique ideas and abilities, so I was sure he would not go unnoticed." Revels had spoken to Ottati last week about his departure, and asked him to what extent the local board would have input in the hiring of the next CEO. The board doesn't make the decision, but is part of the interviewing process, and Ottati assured Revels that Adventist would not want to hire someone who does not mesh with local expectations: the local board's eyes and ears on the local community do matter, in other words, in the choice of a successor, even without being the deciding factor.
"We needed to have an engaged administrator who was very concerned with out social service network of how our delivery system of medical care works," Revels said she told Ottati, "from the free clinic to the highest paid bed in the hospital, so that we cover all the bases."
The interviewing process will begin "pretty darn quickly," Revels said.
Ottati said the hospital system has a succession plan in place already, with candidates ready to go in CEO spots, pending the interviewing process. That's a possibility locally. "I will help facilitate the selection process but it's not my opinion, it's really the board chair and the board of directors and the process we have in place," Ottati said.
"David has had tremendous operational and business development success at Flagler," said Don Jernigan, President/CEO, Adventist Health System. "I have confidence that he will apply those same leadership and business lessons to further the growth of Florida Hospital Waterman as they extend our mission to serve the community."