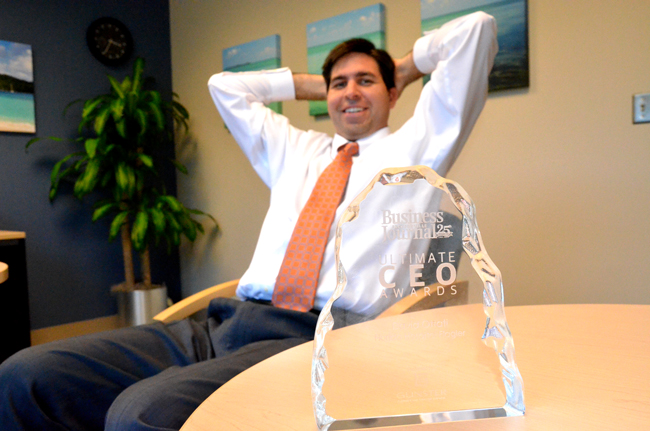 Many CEOs and less capitalized middle managers plaster their walls with diplomas to their insecurities and medals to their ego: degrees, certificates, awards, the occasional trophy wife prominently displayed next to, say, a bowling trophy or an autographed pose with a celebrity politician.
Not David Ottati. His walls on the ground floor of Florida Hospital Flagler support an edifice worth $140 million, but look almost as bare as a monk's. He had to be convinced to put up a few art works–as spare in their deserted-shoreline look as the office itself. There are no advertisements to himself, no show-off frames. And no awards. Those things embarrass him, as did, to some extent anyway, the award he received today: the Jacksonville Business Journal's Ultimate CEO Award, which "honors CEOs in Northeast Florida for their outstanding commitment to excellence, their leadership roles within their own organization and their unmatched contributions to the local community."
Ottati was one of more than 40 north Florida CEOs from small, million-dollar companies to much larger companies in northeast Florida. Thirteen were winners of the CEO award in three different categories. Ottati won it for the category for privately held companies of $50 million or more.
"I'm not one for awards much," he says, uncomfortable to be asked about the small glass monument he'd just brought back from Jacksonville.
His board of directors at the hospital nominated him some 60 days ago. Several members of the board, including Holsey Moorman and Barbara Revels (the Palm Coast City Council member and the county commissioner), traveled to Jacksonville to the $45-a-plate banquet today at noon.
---
Ottati In His Words

[media id=231 width=300 height=200]
"What I told folks was, I'm humbled and honored to receive the award but truly the award goes to community members within the community, because so many people donate so much of their time to make the county a better place–the people that truly give of their personal time to improve our community," Ottati said, "and we have a lot of our leaders within the hospital that donate their time for the betterment of our county, through different types of non-profit organizations. I also did mention even our public officials. They donate a lot of their time, as well as our physicians. They see a lot of folks who come to our hospital with no ability to pay for their services, and they see them as well."
"We also thought it was exciting to be recognized in North Florida, having Flagler County's foot in the door into a North Florida awards ceremony," says John Subers, the hospital's foundation director and Ottati's right-hand man. "We get a lot of patients from North Florida. It certainly is a market that we're touching and expanding. That's our ad that's going to be just south of Jacksonville: 'Just Right for You.'"
The hospital employs 900 people, making it the second-larget private employer in Flagler County, and–if trends hold–soon to be its largest: the hospital keeps adding staff (it's adding a clinic on Palm Coast Parkway next June) while Palm Coast Data, the city's largest employer, is struggling to maintain its lead. Ottati's focus on technology, robotics and information technology appears to be paying off: the hospital just became only the third in the state to reach a particular milestone ranking it among the most usefully invested in technology.
Subers had a hand in preparing the nomination for the CEO award. "We highlighted his pro-activity with regards to the robotics, PT scanner and the whole high technology part this hospital has done over the past couple of years," Subers said. "The robotics is really beginning to take off. We wouldn't be here in the last six months without David saying we need to get into this and grow our market. We wouldn't be at 900 employees without David's vision of growth in putting us where we are with our service line. It all has to do with service in the community the best we can."
Ottati, 38, may once have been among the youngest CEO in Adventist Health System's network of 43 hospitals. No longer. He jokes that his service as president of Enterprise Flagler, the public-private economic development partnership, has given him gray hair (not quite yet visible to the naked eye). The evolution–and possible revolution–of the health care industry in coming months and years may give him a few more, though his ascetic nature appears to be keeping him relatively young, particularly in his outlook.
"My next one," he says of his next plans, "is just to make sure that everything we've got going right now is going to get better and stronger. Literally, we've got a lot of stuff up and running, we just want to concentrate on that and strengthen those things up for a while. That's probably going to be our next 12 months' focus without really bringing any new programs."
The interview ended minutes before he had to be at his next gig–the volunteering he does as president of Enterprise Flagler.

Other CEO winners of the Business Journal's fifth annual Ultimate Award:
Bennett Brown, American Enterprise Bank of Florida
Jim Burkhart, Shands Jacksonville Medical Center
John R. Byers, FPIC Insurance Group Inc.
Gary A. Corless, PSS World Medical Inc.
Lisa Davis, Analytics Partners
Earnie Franklin, Incepture
John Hirabayashi, Community First Credit Union
Glen McClary, Boyd & Jenerette PA
Chip Parker, Parker & DuFresne PA
Brian Putzke, Momentum Transportation
Hap Stein, Regency Centers
Michael Ward, CSX Transportation