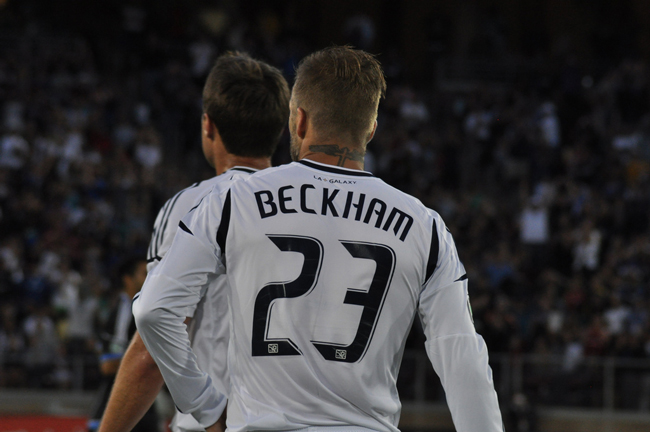 Lawmakers and some lucky celebrity watchers swooned over David Beckham as the soccer superstar shook up the Capitol on Tuesday while making a pitch for sports stadium tax breaks.
Elected officials — including Gov. Rick Scott — and staffers flooded Twitter with "selfies" alongside Beckham, who wants to bring a professional soccer team to Miami and has set his goal on the Port of Miami as a potential stadium site.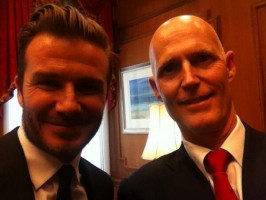 "Great meeting with David Beckham today. #selfie," read a message posted by Scott's official governor's office Twitter account Tuesday afternoon accompanied by an overexposed picture of Scott and Beckham.
In addition to Scott, Beckham met with House Speaker Will Weatherford, Senate President Don Gaetz and dozens of lawmakers. Beckham's visit to the capital city came just a day after a Senate committee passed a measure that includes elements of a stadium project-rating process favored by Weatherford.
"It was great to see David Beckham in the Capitol today during a surprise drop in. #justanotherdayintheoffice," Weatherford, R-Wesley Chapel, tweeted in a message also paired with a photo.
Beckham met with reporters at lobbyist Brian Ballard's office after leaving the Capitol in a star-struck state. Tuesday's visit was his first to Tallahassee, Beckham said.
"I know it's going to sound silly and people will probably get a laugh. I love the moss on the trees. I've only seen it in scary movies. I've never seen it actually close up. It's amazing. I took a lot of selfies myself," said Beckham, wearing a black suit with his heavily tattooed hands and wrists peeking out from beneath the cuffs of a white shirt.
Beckham said he received no assurances from lawmakers about adding his yet-to-be-built stadium to the professional sports stadiums that receive sales tax rebates.
"No one's promised me anything. The people that I've met, they've promised me they support having the team in Miami and are excited about that. It's good that they haven't promised me anything because then I know it is going to be fair and I know that their decision will be down to what they feel is best for the state," he said.
Miami Dolphins owner Stephen Ross failed to persuade lawmakers to add Sun Life stadium last year despite aggressive, last-minute lobbying for his cause. The stadium bill died on the last night of the 2013 legislative session.
Beckham said he expects he will return to Tallahassee as lawmakers mull proposals that would require the state Department of Economic Opportunity to set up an evaluation process for proposed sales-tax rebates to attract or retain professional sports teams through stadium improvements and construction.
"I'm sure I'm going to need to come back here. At the end of the day, I'm very committed to this cause. I'm very committed to what we're going to make here. And that's what I'm all about. I've always been committed to everything I've set my mind to. It's not something that we're going to start the team and then in two years say thank you very much and leave. This is something that I'm in for the long haul and something I'm very excited about. I know we're going to make Miami proud to have a stadium like we hope to build and that people in Miami and people around America will be proud of," he said.
Tuesday's legislative selfie Twitter trend didn't go unnoticed by Billy Corben, a documentary director based in Miami.
"In November, I will vote for every Florida politician that doesn't have a selfie with David Beckham. Both of them," he tweeted.
–Dara Kam, News Service of Florida