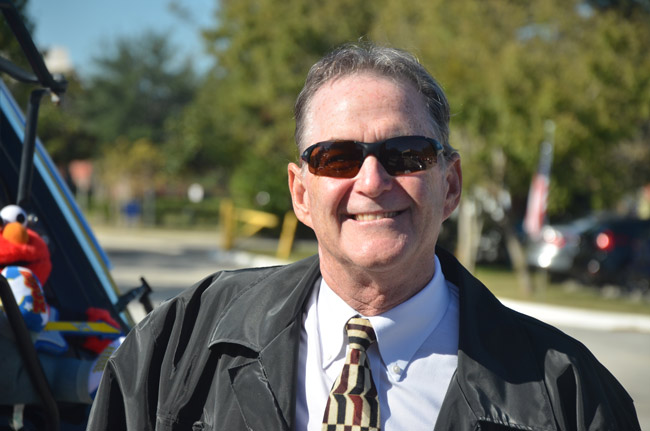 David Ayres may be the voice of Flagler County from his perch at WNZF, anchor to a small empire of local radio stations. But when he was growing up in Cleveland, he was expected to go into his parents' business: Zip Tool & Die, which his father (also called David) bought in 1968. Ayres's parents are in their 80s and still both going to the tool shop every day on Sprecher Avenue. It hasn't quite worked out that way for the younger David.
"They were hoping I'd be a tool and die maker, but when I saw guys walking around missing fingers, and since I was never good at fixing things," that decided it. The television and radio bug bit him when he was still in high school. It hasn't let up since. At 58, he's ending one of his more successful years after overseeing the expansion of Flagler County Broadcasting to a fourth radio station, the country-themed Kix 98.7 FM, less than a year after he'd added Easy Oldies' Beach-FM at 100.9 on the dial. All from WNZF's relatively tiny offices off Moody Boulevard, just inside the Bunnell city limits.
Late last month, Radio Ink magazine, a Boynton Beach-based trade publication for the industry, named him one of the nation's 50 best radio managers of the year. Considering that there are close to 15,000 radio stations in the country, making that top-50 is no small feat. Nor is it a surprise to his colleagues.
"He places a lot of faith in us and allows us to develop our talents," says Ron Charles, his news director, chief engineer and a technical right limb for Ayres (Charles ensures that the four stations' signal stays live, whatever Florida weather throws at it). "He is a strong "by example" leader. While he has a lot of brilliant ideas, he always listens carefully and is always open to ideas."
Including dissenting ideas on the air: while WNZF is decidedly talk radio in the mold of the only kind of talk that sells on radio—hard-right, ideological talk from four horsemen of an apocalypse they never tire of predicting: Hannity, Beck, Ingraham and the decibel-challenging Mark Levin—Ayres broadens perspectives on his weekly Free for all Friday, with a lead-in commentary from the editor of this publication, who tends not to be on the same page as WNZF's conservative quartet.
"He's a fair-minded guy," says Jim Martin, who owns Flagler Broadcasting and hired Ayres years ago when he owned a station in the Punta Gorda-Ft. Myers market. "Sometimes I ask him what side are we on, and he says we're on everybody's side."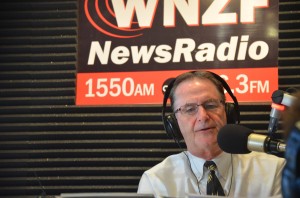 Particularly Flagler County's: there's very little that seems to excite Ayres more than events that showcase the county's sense of community, or people who make their mark in the county and for it, or beyond it. That was the case with Susan and Alan Wheeler, the Palm Coast couple, owners of A.W. Custom Kitchens and New Jersey transplants who decided to put one of their trucks to work for relief-collection for the victims of Hurricane Sandy in Keansburg, N.J. Ayres embraced the project, broadcasting two shows with the Wheelers as headliners, and in a week's time the Wheelers had filled two trucks to take up north.
In the same vein, Ayres has embraced Feed Flagler, the annual food and relief operation created four years ago by then-Commissioner Milissa Holland, who's turned it into the county's single-largest work of communal philanthropy. Holland is to Ayres what Teri Garr was to David Letterman: a favorite and very frequent guest, not only because Holland is among the few local politicians who can talk without putting listeners to sleep: Ayres doesn't hide his genuine affection and respect for certain guests, surprising—and perhaps shocking—Holland in January when he outed, on the air, her impending wedding  to Undersheriff David O'Brien. (They married in April, but not on the air.)
"David not only has a passion for radio but for Flagler County," Martin says. "He wears a lot of hats at the station and in the community, and works practically 24/7. He has a passion for his craft, which is radio, and he does it all very, very well."
To Charles, Ayres "is the most brilliant marketing minds I've come across. He is well liked and respected among his subordinates and superiors alike. He sacrifices a lot of personal time to help the group of stations achieve the level of success we have. He works hard for our clients to make sure their message comes across strong, spends a lot of time in producing ad campaigns so that they serve the client well."
Earlier this month, when various Flagler County Commissioners were publicly recognizing two judges—Raul Zambrano, who's moving to Volusia County, and Sharon Atack, who's retiring—Nate McLaughlin, who was just named chairman of the commission, singled out Ayers. "Mr. Ayers is just someone who's knee deep in hoopla in our community and quick to give up his time and services," McLaughlin said. "The partnerships he's created with other media outlets is just phenomenal." (In another fair-minded vein that also provides his website with a steady stream of local news, Ayres features the news feeds of the Palm Coast Observer, the Daytona Beach News-Journal and FlaglerLive.)
Ayres's ticket out of Cleveland was the University of South Florida, where he began working in radio then newspapers—for Wheeling, W.Va.-based Ogden Newspapers—and back to radio. It was always advertising, promotion or on-air stints, beginning with his very first show on a radio station in Zephyrhills, when he was just 18 or 19. It was an AM country station. "They needed a guy doing seven to midnight," he recalls. "It was turntables and I went in my first day, some crusty old guy, he wouldn't talk to me, he packed up and left." No training, no tips, not a word. Ayres had to make it work or the station would go dead.
He made it work, of course—"it was kind of like the conveyor belt thing on the Lucy show"—well enough that , barely a few years later, he became president of the chamber of commerce in the same town.
"In a mobile home retirement town," Ayres says of that experience, "I was kind of a hippie, in long hair and beads, and I was president of the Zephyrhills chamber of commerce." Shorter-haired and less beady these days, he's still president of his own chamber, beaming out from WNZF's studios.
There were stints that entailed a lot of travel, too much travel at times as he was raising a boy and a girl with his wife before settling in Port Charlotte (his son Nathan is now 34, his daughter Natalie is 30). He finally made his way to Flagler County by way of a long lay-over in Jacksonville. His proudest achievement: raising four radio stations in a market that never had its own, in the single-most difficult economic recession since Franklin Roosevelt reassured the nation with his fireside chats, through radio.
When Radio Ink asked him for his perspective on the coming year, Ayers  put it this way: "I'm highly optimistic about growth in 2013, in both audience and in revenue increases. Keeping our radio stations relevant in the local community is the easy answer to accomplishing both goals."
Ayres has had no trouble doing just that.