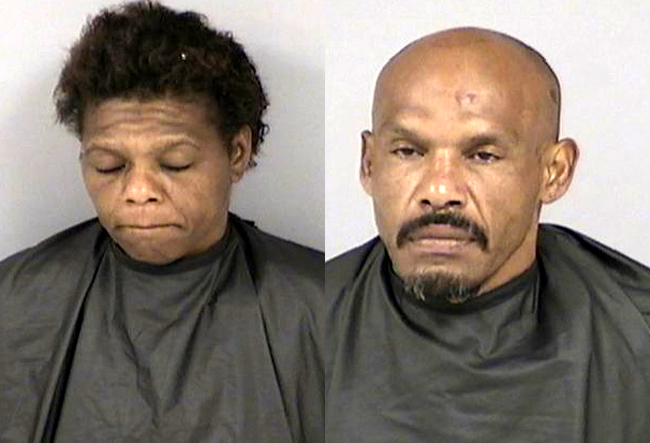 It was almost midnight Tuesday (July 12) when Bunnell Police Officer Austin Chewning, who was patrolling South State Street, noticed an abandoned pick-up truck in the parking lot of the law offices of Alicia Washington. The bed of the truck was full of some 35 tires and rims, each valued at about $60.
Chewning called for back-up. A check on the truck's tags revealed a registration to Hector Garcia-Torres, 43, of Royal Leaf Lane in Palm Coast, who allegedly had "an extensive history of breaking and entering," according to the police report. (Garcia-Torres has never been booked into Flagler County jail on any charges, and his name, tied to his date of birth, does not readily appear in bookings across the state, though individuals named "Hector Torres" do, but with different birth dates.)
About 10 minutes after the investigation began, Garcia-Torres appeared, along with his girlfriend, Kail Williams, 39, who lives at the same Royal Leaf address, and Nathan Craigen. Williams said the truck had run out of gas. She'd called a friend for help. Craigen told the officers that he'd noticed the pair broken down and gave them a ride to the Mobil station near County Road 304. He'd helped them before.
Garcia-Torres told the officers that his brother owns a wheel shop in Daytona Beach and had given him the wheels to sell to a scrap shop, but he could not produce his brother's phone number, nor his brother's name, nor his brother's wheel shop name. While Chewning was trying to elicit some answers from Garcia-Torres, a Flagler County Sheriff's deputy who was also at the scene noticed a unique red-painted wheel, and later matched them to several wheels with similar paint at Dave's A-1 Auto on U.S. 1. Garcia-Torres then said, according to the police report, that the wheels had really been in Craigen's truck and had unloaded them into his truck so that it would be easier to tow–an assertion that made little sense, as did contradictory statements that, according to police, Garcia-Torres and Williams made.
As the investigation continued, Dave's A-1 Auto manager Stacy Cross arrived at the scene and identified the wheels as his, based on unique markings made inside the wheels. Cross told police that he had anywhere from 10 to 15 wheels stolen every week, along with several pieces of lawn equipment. A chainsaw and posthole digger were also in the bed of Garcia-Torres's truck.
Williams and Garcia-Torres were placed under arrest and charged with burglary, making a false report to law enforcement, and grand theft. While they were being processed at the county jail, George Hristakopolous, one of the Bunnell Police officers on the case, reported that the wheels found in the truck had been matched to those at Dave's A-1 Auto, and that Cross had found the wooden gate at his shop open. The pick-up truck itself was towed by Roger's Towing.