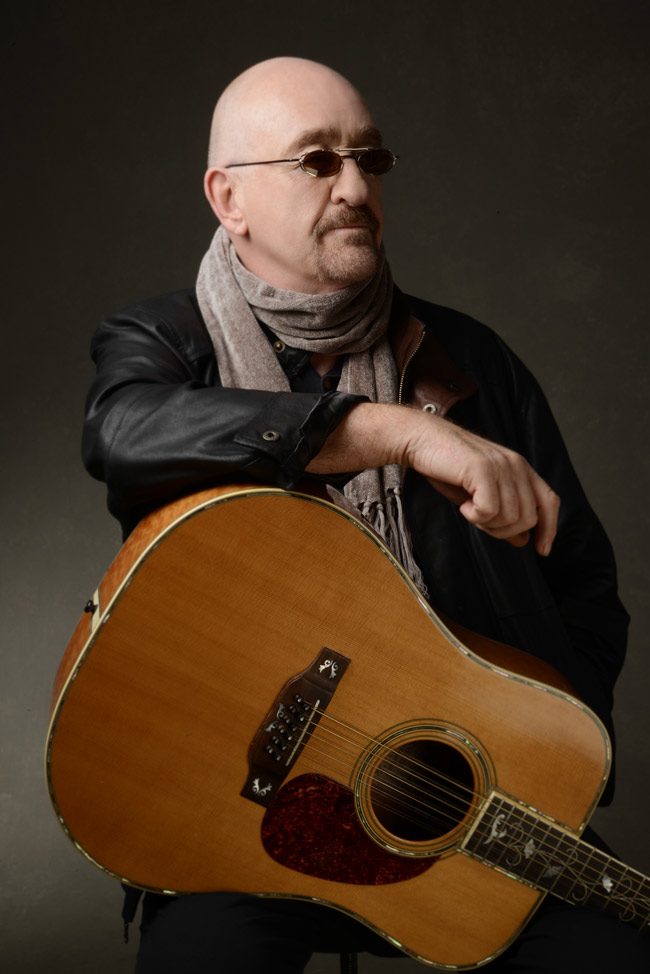 When singer-guitarist Dave Mason takes the stage tonight at Flagler Auditorium, he'll perform a song that may be the perfect anthem for a world-weary 70-year-old still jousting at the bitch goddess of rock 'n' roll fame.
"Don't talk to me of fame and fortune, don't tell me of the things you've read," Mason sings on "Just a Song." "Don't get involved in games of reason . . . I've asked you questions now for far too long, I'm feelin' highly wasted but there ain't no sun. I'm tired of calling you here when things go wrong, so now I'm finding all I need in just a song."
But "Just a Song" isn't a freshly minted track inspired by Mason's storied years as a founding member of Traffic, a guest artist on albums by Jimi Hendrix, the Rolling Stones and George Harrison, and a solo artist who crafted such hits as "Only You Know and I Know," "We Just Disagree" and "Let It Go, Let It Flow."
Instead, "Just a Song" appeared on Mason's debut solo album, "Alone Together," which was released in 1970 when he was just 24.
"Oh, I don't know that it's more poignant for me to sing it today than then," Mason said during a phone interview as he was driving across Texas a week before his Palm Coast concert. "It probably was more poignant then, when I wrote it. A number of my songs are very timeless: 'World in Changes,' 'Shouldn't Have Took More Than You Gave.' "
Is Mason addressing God, a woman or his inner psyche in "Just a Song"?
"Well, it's open to interpretation," he said with a chuckle. "You can take it any way you want. It could be any one or all."
Mason's current Alone Together Again Tour takes its title from that 1970 album, which he'll be performing in its entirety. Along with "Just a Song," "World in Changes" and "Shouldn't Have Took . . .," that album also includes his first solo hit, "Only You Know and I Know."
"There's no really profound reason" behind performing the entire album, Mason said. "It's not like it's the 50th anniversary or whatever. It's just 'Let's go out and play this and see what happens.' "
Mason was born in Worcester, England, in 1946 and took up guitar at age 16. At 18 he met drummer-vocalist Jim Capaldi, and the two formed a band – their first union in what would become a lifelong friendship. Three years later, in 1967, Mason and Capaldi joined with singer/guitarist/keyboardist Steve Winwood and sax-flute player Chris Wood to form Traffic.
The band's debut album, "Mr. Fantasy," found the quartet meandering from the poppy, Beatle-esque psychedelia of the Mason-penned "Hole in My Shoe" and Winwood's "Paper Sun" to the brooding and equally trippy "Dear Mr. Fantasy." That's Mason playing harmonica on the latter song and sitar on the former two.
While the sitar forays of the Beatles' George Harrison and the Rolling Stones' Brian Jones are prominently etched in rock history, it seems Mason's similar excursions linger in obscurity.
It's a circumstance that Mason shrugs off before nonchalantly adding, "Oh, I haven't played a sitar in 40 years."
And what of those reports that his Traffic bandmates, Winwood and Capaldi, didn't like "Hole in My Shoe"?
---
"Those songs were a part of what I was part of."
---
"I guess, I don't know," Mason said just as casually, before adding, "They weren't too fond of it."
Yet his sitar-propelled song was a big hit for Traffic.
"Yes it was, their biggest hit," Mason said. "In Europe anyway, and England."
Mason quit Traffic even before "Mr. Fantasy" was released in December 1967, only to rejoin for the band's second, self-titled album in 1968, which included his song "Feelin' Alright" (later a huge hit for Joe Cocker).
But wanderlust got to Mason and he quit the band again, only to become a rock 'n' roll Forest Gump of sorts. Just like that fictional character who turned up at key historic events in the 1960s, Mason serendipitously landed on numerous landmark recordings.
That's Mason playing a shehnai (an oboe-like reed instrument from India) on the Rolling Stones' "Street Fighting Man" from their 1968 album "Beggars Banquet." That's Mason playing 12-string acoustic guitar on Jimi Hendrix's cover of Bob Dylan's "All Along the Watchtower," which appeared on Hendrix's 1968 album "Electric Ladyland." That's Mason (among many other musicians) playing electric and acoustic guitars on George Harrison's 1970 triple album, "All Things Must Past."
What was Mason's most memorable Gump-ian moment? (And yes, he noted that he has seen that Tom Hanks movie.)
"Hmmm, well, they all are, really, but I suppose working with Hendrix," Mason said. "I met him in a club when he first came to England. We struck up a friendship. We all used the same studio, the same engineer. I was a fan of his stuff and he was a fan of Traffic. We just sort of struck up a mutual admiration thing and hung out. It turned out I was on that record. It wasn't really planned – it just happened."
Mason's solo hits — "Only You Know and I Know," "We Just Disagree," "Let It Go, Let It Flow" – all came in the 1970s. He worked with Winwood and Capaldi intermittently over the years after Traffic's demise, and he worked with Paul McCartney, Eric Clapton and many others. He was even an official member of Fleetwood Mac for several years in the 1990s. Mason was inducted into the Rock and Roll Hall of Fame in 2004 as a founding member of Traffic.
These days Mason lives in Carson City, Nevada. Along with touring, he stays busy releasing recordings through his website, davemasonmusic.com. His latest is the pristinely recorded live album "Traffic Jam," released last year. As that title implies, the 15-track CD includes a number of Traffic songs. Yes, a number of rock stars, steered by their egos, shun songs written by former bandmates. But that's not the case with Mason, and so on his current tour he performs not only "Feelin' Alright" but also his versions of "Dear Mr. Fantasy" and "The Low Spark of High Heeled Boys," that Traffic classic penned by Capaldi and Winwood.
"Those songs were a part of what I was part of," Mason said. "I rearranged them. 'Dear. Mr. Fantasy' is a total different chord arrangement, same melody. 'Low Spark' is totally different. I just made them my own. They're cool songs and they're great to play live."
–Rick de Yampert for FlaglerLive

Dave Mason will be in concert at 7:30 p.m. Monday Jan. 16 at Flagler Auditorium, 5500 East State Road 100, Palm Coast. Tickets are $45.50, available at the venue box office, by calling 386-437-7547 or going online at flaglerauditorium.org.