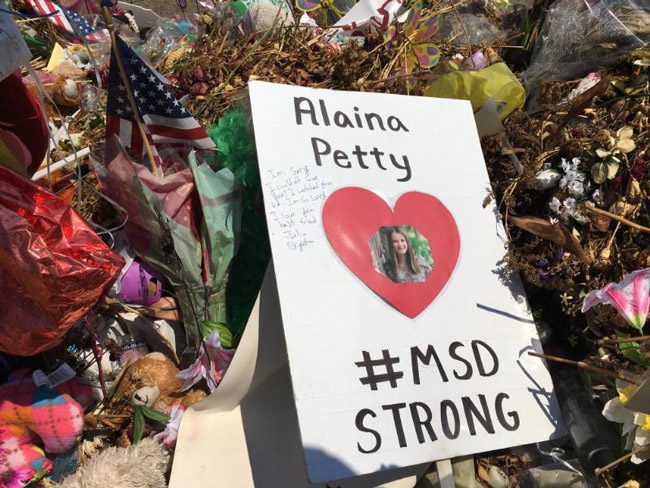 A panel tasked with investigating February's deadly shooting at a South Florida high school on Friday heard a troubling account of a database designed to allow school officials and deputies to share information about students who could be dangerous.
The information came during a discussion about school resource officers, or SROs, as part of the Marjory Stoneman Douglas Public Safety Commission's investigation into the Feb. 14 massacre at the Parkland high school that left 14 students and three faculty members dead.
Nineteen-year-old Nikolas Cruz, who confessed to the killings, has been charged with 17 counts of murder in the Valentine's Day shooting at the school he once attended. Cruz had a long and troubled history that included dozens of reports to local, state and federal authorities.
The issue of the school resource officers held special significance for families and students affected by the mass shooting this week, after former Broward County deputy Scot Peterson, who was assigned to the school, spoke out publicly for the first time since the Valentine's Day assault. Surveillance videos showed Peterson lurking outside the freshman building, where the attack took place, as gunshots resonated inside. Peterson was the only armed guard at the high school when the shooting began.
"We just have to make sure that the people that we're having protect our most valuable assets, are doing this for the right reasons and they are fully qualified to do that," commission member Max Schachter, whose 14-year-old son Alex was among the murdered students, told The News Service of Florida. "We want to make sure that it's not their retirement plan to be an SRO and whether they have a bed-and-breakfast behind the school. We want to make sure that anyone who becomes an SRO is not afraid to take action to protect our children and potentially shoot an intruder to kill."
Commission member Ryan Petty, whose 14-year-old daughter Alaina was also killed, pressed Major Nichole Anderson of the Broward County Sheriff's Office about the role of the resource officers.
Petty focused on shortcomings in a database designed to capture information about troubled students. Petty wanted to know if the database collected information about students who are enrolled in the PROMISE program, a diversion program designed to keep kids who have committed certain non-violent crimes out of jail.
Petty questioned whether the database permits "sharing of information and making sure you have a complete history or picture of the student."
"There's supposed to be a database that was set up that an SRO could access when they're looking at an individual's conduct throughout the school," Anderson said. "For whatever reason, that database isn't up and running. So, if you don't have that relationship or that communication with the administration at the school as well as deputies, then things fall through the crack and then you don't know if this student has already been addressed for this issue before."
Petty seemed dismayed by the system described by Anderson, calling it "very reactive."
"An incident occurs and then there's engagement with law enforcement," said Petty. "I think best practices are proactive engagement between the district and law enforcement. Are you saying that's not happening?"
Anderson said it is inconsistent.
"You have school's where you have that communication between the administration at the school and the school resource officer. In other schools, you don't have it as much. What I'm saying is, if you have a database to go to and both individuals you know, are inputting or accessing the database, then you have more opportunity to understand and look at and get the big picture involving this particular conduct," she said.
When asked by Petty about inconsistencies throughout the district, Anderson said: "You have different personalities at different schools."
But Petty, who is running for a seat on the Broward County school board, wasn't satisfied, saying the current system effectively amounted to "no database" at all.
"We have little hope of actually identifying and interceding in these events before something tragic happens," he said.
Broward County School Board Chief of Staff Jeff Moquin, however, contradicted Anderson's testimony about the database.
"I do want to make it clear the Broward County Public Schools does have a student database and that component of that student database does in fact include tracking of discipline," he said.
But Moquin's assurance did little to assuage Schachter's concerns.
"I mean it just boggled my mind," Schachter said after the meeting. "I do not understand how you can run a system where the right hand doesn't know what the left hand is doing. How can BSO not see all these infractions and these kids that are committing these infractions are just laughing at us. They're committing infractions in PROMISE, they're committing infractions with the law and also the civil-citation program and there's no communication? It just is ridiculous and it has got to be corrected."
Tony Montalto, whose daughter Gina was among the slain students, told the commission that he couldn't help but notice the number of law enforcement officers present as he entered the BB&T Center where Friday's meeting was held.
"There's more law enforcement protection in this room than in all five of our schools in Parkland everyday," Montalto said during the public comment period. "Our students are the most important asset to this country. We need to prioritize to protect our most important assets."
As the meeting drew to a close, Lori Alhadeff, who is also running for the Broward school board, approached the podium holding a framed photo of her daughter, Alyssa.
"When my daughter Alyssa, was shot in the heart, shot in the hand, and shot in the femoral artery, and shot in the spine five other times, BSO did not, and still does not, have direct live-time access to the cameras at Stoneman Douglas High School," she said. "I want you to remember that when you are here asking the tough questions, please hold people accountable for what happened on Feb. 14. Where 17 lives were tragically taken. Please remember that my Alyssa, could be your daughter, your granddaughter."
–Nathalie Sczublewski, News Service of Florida