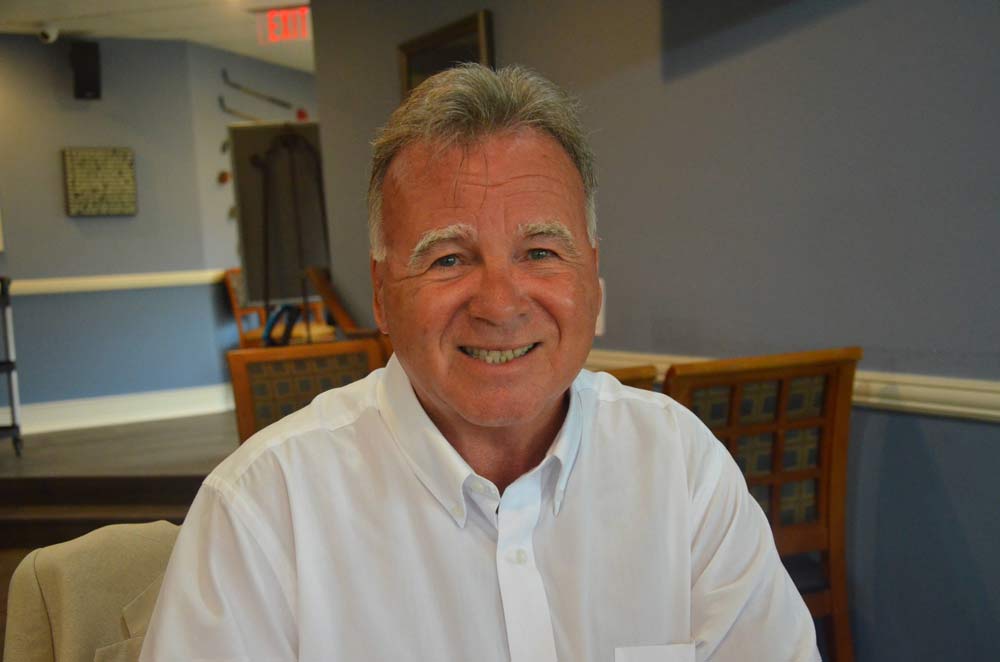 His third year on the Palm Coast City Council not yet completed, the peripatetic and willfully controversial Ed Danko today announced a run for a County Commission seat in the 2024 election, setting up a primary contest against former Commissioner George Hanns. Danko's announcement was not a surprise: he'd made no secret of it for months.
The county's District 5 will be an open seat as its incumbent, Donald O'Brien, has announced a run for the state House after two terms on the commission. O'Brien defeated Hanns in 2016, ending Hanns's 24 years on the commission–as a Democrat. Hanns has since switched parties, and said he will file to run in the Republican primary against Danko, but likely not before next year.




Danko's move ensures that both City Council seats that will be decided in that election–Danko's District 1 and Nick Klufas's District 3–will turn over. It also may ensure that, absent candidates with government experience, the council that will be seated in November 2024 will be the least experienced, by far, in the city's history, at least since its founding. Palm Coast Mayor David Alfin, who's been on the council less than two years, will be its senior member.
The current council is already the least experienced since the city's first council in 1999, going by its members' years of elected service, with Klufas as its senior member. Klufas is in his second term and is term-limited. He is also running for a County Commission seat, in District 3, the seat held by Dave Sullivan, who will not run again.
"I am not running for county commissioner. That's about as sure a thing as I can say, and I don't see any change there," Sullivan said. "There's an outside possibility I might run for Palm Coast city council, but that's also not very likely." The quality of candidates in the council race will weigh in Sullivan's decision.
He is not speaking up about current candidates either at the council or the commission. "I'm not going to say anything right now about anybody, I don't think it's wise for me to do right now, but in the end I'll probably support one over the other."




Danko had lived in Palm Coast only briefly after moving from North Carolina's Outer Banks and running for a council seat in 2020. Running with Alan Lowe (who ran for mayor) and Victor Barbosa, Danko and Barbosa won, Lowe didn't (he's since tried twice more and failed). Until some months into Alfin's term after the resignation of Milissa Holland as mayor, Danko's tenure was a roiling train reck of vulgarity, disinformation and outright lies, with Holland, other members of the council or members of the community his recurring targets.
Occasional outbursts aside, Danko has been calmer since, especially when he prioritizes thoughtful discussion over ideological signaling. Having a county commission seat in his sights is also having a tranquilizing effect, up to a point: on his own turf, all bets are off.
He announced his run today by way of a release emailed to supporters and local media. "I am ready to move forward and serve not only the people of Palm Coast, but all the residents of Flagler County," Danko was quoted as saying in the release. "We are growing fast and I am confident I can provide the strong leadership necessary to manage Flagler's growth sensibly."
The release swiftly went into shrill mode, then falsehood mode. He repeated his favorite line: "I would rather drink anti-freeze than vote to raise your taxes." Property taxes in Palm Coast have increased in each of the budgets he has voted on, at least to the extent that the tax rate was not rolled back to a level that would keep revenue neutral. Danko cast a no vote each time.




The falsehood was about his fellow-council members. "I brought prayer to council for a vote," Danko said in the release. "Shamefully, the other council members turned their backs on God and would not embrace prayer before each council meeting." The statement shamelessly mischaracterizes his fellow-council members, most, if not all of them deeply religious, some or all of them intently prayerful at council meeting's moment of silence–just not loudly so. Oddly, Danko did not take credit for his role in starting that moment of silence.
He was on surer grounds when he referred to his role, aided by the rest of the council, in unraveling an underhanded attempt by then-County Administrator Jerry Cameron to increase the countywide sales surtax. The city rejected joining the county with a letter of support. The release also highlights Danko's outrage at a city survey that gave respondents the opportunity to identify their gender as man, woman or "other," to better gauge the city's demographic response. Danko is not much for "others."
Danko is the second candidate to announce for the County Commission, the first in District 5. William Clark, a Flagler Beach Republican, has announced for District 3. Two people have announced for the seat Danko is vacating on the council–Kathy Austrino, who previously ran for mayor (in the race Alfin won), and Jamaris Dornan.
County commissioners are paid around $60,000 a year, more than twice the salary for city council members, and earn state retirement benefits.
In case there was any doubt, Hanns reiterated today that he would be running, but not filing, just yet. "I absolutely intend to run and I'm looking forward to it," Hanns said. "I have a tremendous amount of support in the community. But at the same time you know, there's always going to be someone run against you and quite frankly, I think Mr. Danko would probably do more good at the city level."
Hanns said he was being "tongue-in-cheek" about Danko's track record. "I commend anyone that runs for office. It's just the idea that I wasn't impressed with what he's done so far with the city, and I believe he wouldn't be a good fit for the county. We need productive people that think positive and just want to strive to make things better, but I'll be gladly matched my Flagler County resume with him anytime." He added, "many people that may have supported him at one time. You know, may not see him as the same person and support him this time. But I'm looking forward to it. I never shied away from a little scrap."