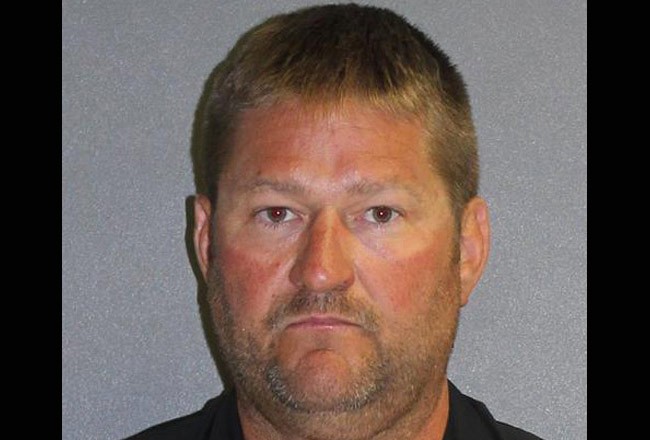 Daniel Ruddell, an ex-deputy who in February won a wage dispute with Flagler County Sheriff Jim Manfre, was arrested in St. Johns County Thursday night after an alleged robbery in Daytona Beach and a pursuit through Volusia and Flagler counties that ended in a wreck on I-95.
Deputies fired several shots at Ruddell as he was fleeing, but no one was injured, officials said.
Ruddell, 45, is wanted for armed robbery in Volusia County where, according to the St. Johns County Sheriff's Office, he entered a Circle K at LPGA and Clyde Morris Blvd. in Daytona Beach at 5 p.m. Thursday, then allegedly demanded money and threatened the store clerk with a bottle of a liquid he claimed was toxic.
He fled a 2015 black Chevrolet Silverado. Officers from the Daytona Beach Police Department and the Volusia County Sheriff's Office located the Chevrolet at Nova Rd. and 10th St. and attempted a traffic stop but Ruddell fled and got onto I-95 northbound.
Flagler County Sheriff's deputies took over the dispute once Ruddell drove into the county, deploying stop sticks at two locations. Ruddell evaded them both, driving into St. Johns, where St. Johns deputies took the lead.
Deputies at the exit ramp at S.R. 207 deployed stop sticks, which Ruddell avoided before ramming into a Flagler County Sheriff's patrol car and, according to the account by the St. Johns' sheriff's office, "attempted to run over deputies. Several deputies fired shots at the suspect vehicle who continued northbound" until a deputy-initiated maneuver caused the suspect to crash near the County Road 214 overpass.
By 9 p.m., traffic had backed up five to six miles south to mile marker 306.
Ruddell, of Palm Coast, was taken into custody without further incident. He was transported to Flagler Hospital in St. Augustine for evaluation, then arrested on a charge of aggravated fleeing and attempting to elude with property damage. Additional charges are pending in St. Johns and Volusia.
On Friday, sheriff's deputies executed an ex-parte order to bring Ruddell in for an "evaluation," a sheriff's spokesman said, by health care professionals, suggesting that either the court or individuals familiar with Ruddell had concerns about his psychological well being. The evaluation was conducted and he was released.
Ruddell was a deputy sheriff at the Flagler County Sheriff's Office from September 2006 through April 2014. He'd been a cop at the Daytona Beach Police Department for seven years before that. In July 2014 Ruddell filed a federal lawsuit against Manfre, claiming that he and other deputies had been required routinely to attend shift briefings off the clock, thus depriving them of overtime. That had been the practice at the sheriff's office dating back to the administration of Don Fleming. Manfre's administration ended the practice and briefly disputed the =lawsuit, which was joined by other deputies and turned into a class-action suit.
Last February Manfre agreed to settle the lawsuit and pay deputies a total of $183,000, though individual claimants' totals were to average less than $500 for road deputies (Ruddell had been a road deputy).
On Nov. 18, Ruddell was arrested and booked at a Volusia county jail on charges of marijuana possession (more than 20 grams), resisting an officer without violence, and possession of drug paraphernalia.
"They are taking the lead on this investigation as the shooting and arrest took place in St. Johns County," Jim Troiano, the Flagler sheriff's chief spokesman, said in a statement Thursday night, referring to the St. John's Sheriff's Office. "As soon as the St. Johns County criminal investigation is completed, the Flagler County Sheriff's Office will conduct an internal investigation into all aspects of our involvement in this incident."
As of Friday morning, Ruddell had not been booked at the St. Johns County jail.