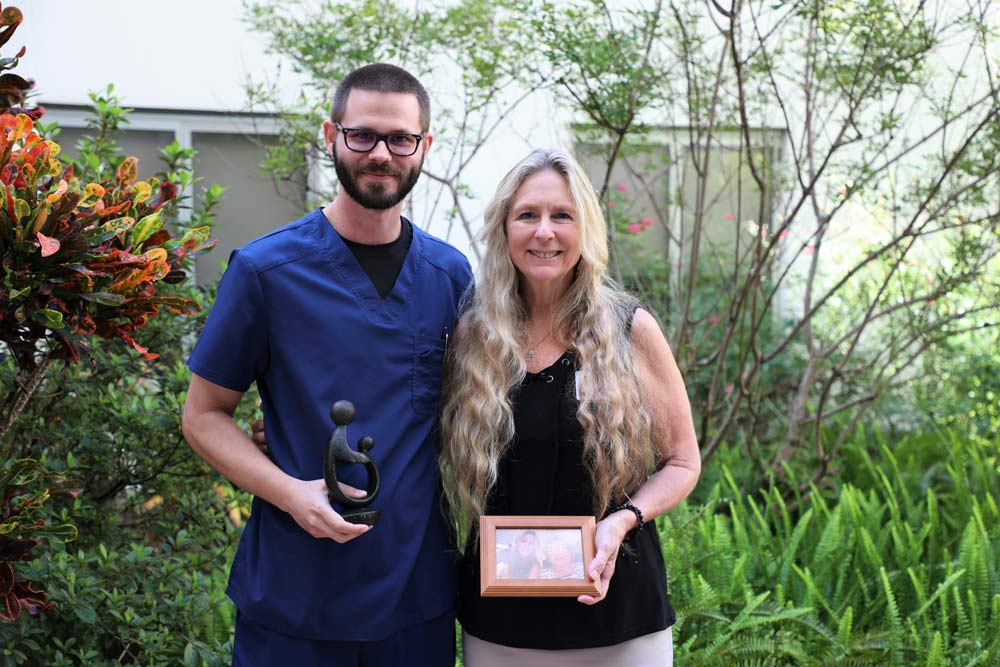 Daniel Ernst, RN, a nurse in the Medical Intensive Care Unit (MICU) at Flagler Hospital, has been honored as the hospital's DAISY Award recipient for the second quarter of 2023. Ernst was honored for his compassionate care toward an 87-year-old woman as she came to the end of her life.
The DAISY Award is an international program that rewards and celebrates the extraordinary compassion and skill nurses provide daily. Ernst, a nurse in Flagler Health+'s MICU, was nominated by the patient's family after they were comforted by him in their loved one's final days.




"Daniel took care of our mother the last two days of her life. It was so frightening to us all as we watched her struggle to live. Daniel eased our fears. He was so kind, compassionate, and caring not only with our mother but with the family as well," wrote Linda Smoyer on behalf of her family. "He would talk to our mom like she was his own family. There was some confusion with hospice, so Daniel made sure he got clarification and explained all the details to us. Daniel made sure at all times that our mother was comfortable."
"He knew our mother wanted to live; we wanted her to live. Sadly, her body was weak, and she could not win the fight. I received a call from Daniel that Mama didn't want dialysis anymore and that she was depending more and more on the BiPap machine for air. He called down to security in the ER to let us come early. We rushed there, and we were relieved to know that Daniel was Mama's nurse for the day. We, as a family, nominate Daniel in MICU as an Extraordinary Nurse. He went beyond the normal call of duty. Thank you, Daniel."
Daniel's nomination was among 51 recognitions submitted by patients, their families, and Flagler Health+ team members this quarter.
"Being a nurse means so many things," said Carlton DeVooght, President and CEO of Flagler Health+. "It means serving the health needs of their patients, but also their emotional needs and those of their families. Daniel helped comfort this family and guide them through a difficult time. He is a well-deserved recipient of the DAISY Award and is the epitome of what Flagler Health+ represents to our patients and community."




In recognition of this honor, Daniel received a stone-carved "Healers Touch" trophy, a DAISY winner's pin, a gift basket, and a $250 bonus.
"It adds a whole other level of fulfillment, trying to emulate the values of the DAISY Award," said Daniel. "Then to have it recognized is overwhelming. Wow. Wow, is definitely the word."
The DAISY Award for Extraordinary Nurses is part of The DAISY Foundation's program to recognize the super-human efforts nurses make every day. The not-for-profit DAISY Foundation, based in Glen Ellen, Calif., was established by J. Mark Barnes and his family in memory of his son J. Patrick Barnes. J. Patrick died at 33 in 1999 from complications of Idiopathic Thrombocytopenic Purpura (IT)P, a little-known autoimmune disease. The nursing care Patrick and his family received while he was ill inspired this unique means of thanking nurses for making a profound difference in the lives of their patients and families.