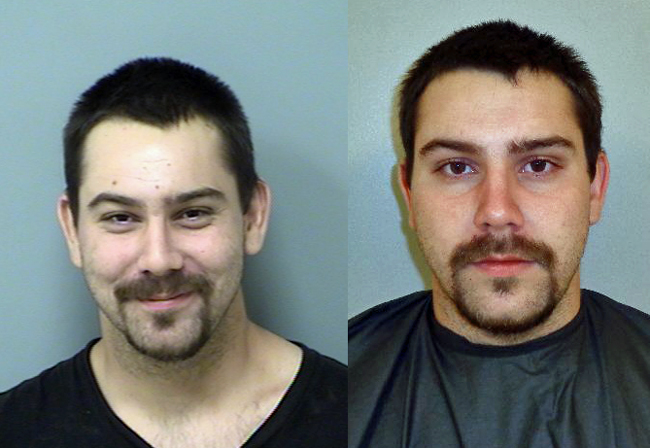 Andrew Dandurand has a long history of arrests on violent charges in Flagler County. A week ago he was arrested for violating an injunction and on an aggravated battery domestic violence charge. A week earlier he was arrested on another aggravated assault charge, also for domestic violence. In 2012 he was arrested for leaving the scene of an accident where he'd caused an injury. He's also been charged with drug possession and dealing in stolen property, and more battery and assault charges in 2007.
On Sunday, Flagler County dispatch got word that Dandurand, 24, a resident of 9B Ryall Lane in Palm Coast, had gotten hold of a possibly stolen assault rifle, bought himself some ammunition, and was looking to shoot his ex-girlfriend, her current boyfriend, and himself. His ex-girlfriend lives in St. Augustine.
St. Johns County Sheriff's deputies were able to intercept Dandurand after a brief chase and arrest him.
The incident had its roots on April 28 in Palm Coast when, at 1:30 in the morning, according to Dandurand's ex-girlfriend, he showed up at her door and confronted her about a car parked across the street. He then, according to the incident report, picked up a plastic pipe and threatened to hit her with it. She was able to lock him out, but Dandurand kept trying to force his way into the house, and finally did by shattering the rear sliding glass door. He threatened the woman again, according to the report, forcing her to flee the house in fear for her life. Flagler County Sheriff's deputies arrived in time to arrest him and jail him. His ex-girlfriend got the injunction.
He got out of jail, but was booked again a week later for violating the injunction and for aggravated assault, and again got out of jail, posting bail on $7,000 bond.
After receiving word that Dandurand was allegedly on the hunt for his girlfriend and her boyfriend, deputies in St. Johns Count went on the look-out for Dandurand's Toyota pick-up at 4:30 Sunday afternoon d. The pick-up  is red with a distinctive blue hood. Dispatch got a report that he was seen at a Hess gas station on U.S. 1. A deputy got there and saw the Toyota, then noticed the blue hood, confirming with dispatch that he had Dandurand in his sight. The gas station is about a mile from the ex-girlfriend's house.
But very quickly Dandurand fled, jumping the curb out of the gas station's parking lot, going airborne, and ending up going across U.S. 1, driving south in the northbound lanes. Other deputies converged on the scene. Soon Dandurand corrected his direction, swerving into the southbound lanes, but as soon as he did so he was forced into a ditch by a deputy's cruiser going about 40 mph, after striking a sign, according to an incident report. He got out of the Toyota and was immediately ordered to the ground at gunpoint by two St. Johns County Sheriff's deputies, then cuffed and placed in the back of a patrol car.
A deputy observed, in plain sight, "an assault rifle with a magazine in the magazine chamber," the incident report states. It was a loaded SKS rifle, a semi-automatic weapon of Soviet make. There was a round in the chamber. Further investigation revealed that Dandurand had stolen the rifle that very day.
Dandurand then said he'd taken several grams of cocaine, some methamphetamines, and several other substances, and said he wasn't feeling well. He was transported to Flagler Hospital in St. Augustine.
In the emergency room, Dandurand, without being asked, told a deputy that "he was in front of his girlfriend's house but did not kill her because he did not know where the kids were," according to the incident report.
Dandurance now faces a fleeing and eluding police charge, a second-degree felony, and an aggravated stalking charge, a third-degree felony. He is being held at the St. Johns County jail. Bond was set at $500,000.