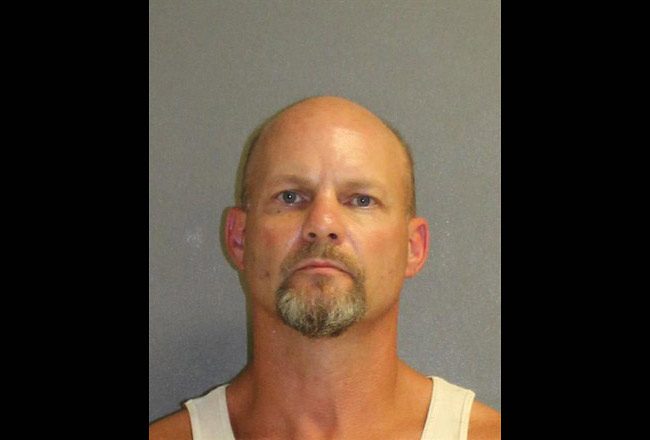 On Feb. 17 a bomb scare shut down U.S. 1 near Airport Road in Ormond Beach for four hours when an explosive device later compared to a pipe bomb was found in the Ford F-150 Damon Lance Gause Jr., 47, was driving. Gause, a resident of Bunnell, was jailed in Volusia on three felony charges of possessing a homemade explosive device.
Gause had been living for about a year in a camper at Thunder Gulch campground in Bunnell, off U.S. 1, but has been at the jail in Volusia since his arrest.
This evening (March 8), Flagler County Sheriff's units, the Volusia County Sheriff's Bomb Squad and units from the Bureau of Alcohol, Tobacco, Firearms and Explosives, or ATF, served a warrant at Gause's camper on information that there may have been additional explosive material there.
"Our explosives K9 did indicate the presence of an explosive in the trailer," said Sheriff Rick Staly, who was at the scene and had been on one of his regular Friday night patrols. It is not yet clear if the materials as found could have caused damage. "When I left everything was safe and secure."
"We assisted the Ormond Beach Police Department in a continuation of their investigation of a man they arrested for the home-made pipe bombs about a week or so ago," the sheriff said.
The operation in Flagler began with a briefing at 6 p.m. then unfolded at the campground with the evacuation of some 20 to 25 campers or trailers. Some of those evacuated went to the Moose Lodge, some said they'd leave the area for a few hours and return later. The search warrant was served at 6:40 p.m. There was no one in the camper. (Even when a search warrant is served to an empty residence or dwelling, law enforcement is required to read the warrant out loud, as was the case this evening.) The camper is located in the northwest corner of Thunder Gulch.
Staly described what was found as "potentially dangerous material," and said details on the find would be limited since the investigation was ongoing. Passersby could see Volusia County's bomb squad truck, which some may have mistaken for the Flagler County Sheriff's mobile command post. Volusia also brought up its bomb squad's robot. "We chose to ask for Volusia sheriff's assistance because they were familiar with the devices that this man had created from the earlier incident in Ormond Beach, so it made more sense for safety if nothing else to use Volusia," Staly said. Mutual-aid agreements between Flagler, Volusia and St. Johns have enabled Flagler to call on either agency's bomb squads on various occasions in the past few years.
It is too early to determine whether Gause would face additional charges, and what those would be. Last year he was found guilty of a misdemeanor charge of failing to comply with environmental rules when he burned what his arrest report described as "illegal materials. The report does not specify what those items were.