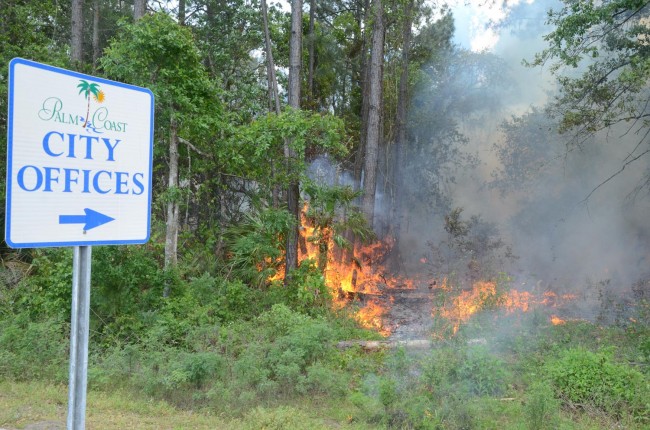 Last Updated: 2:20 p.m.
2:20 p.m. update, and likely last update from Cypress Point: At just after 2 p.m., Palm Coast and Division of Forestry crews were standing down, the Cypress Point fire was mostly burned out, and dangers from it had been "eliminated," Palm Coast Fire Chief Mike Beadle said. The day's emergency is essentially over. The mopping up phase is now under way. Crews will remain at the scene the rest of the day and return there for several days hence.
---
Palm Coast Fire Chief Mike Beadle Wraps Up the Cypress Point Fire[media id=280 width=250 height=250]
"People are going to see smoke in the area because this is going to take a long time to get cleaned up," Beadle said. "But the threat of a fire running, as we call it here, or threatening any homes, has been eliminated."
Cypress Point Parkway, Beadle said, would open later this afternoon, though a firm time is unknown. Listen to the full audio interview to the right. Beadle spoke at 2:05 p.m.
Almost at the same time as he spoke, a new fire was declared, at Bunker Hill. The size of that fire is reportedly small.
1:15 p.m. update: It bears repeating: while the area along Cypress Point Parkway is ablaze and appears, to passing motorists, like a grave fire, it is, in fact, a controlled burn, with Division of Forestry not only dumping fuel to guide the fire as it advances toward the street, but also using the occasion to educate Palm Coast volunteer firefighters about the procedure. The fire, while still burning strongly and producing billows of smoke and ash, is not threatening homes or businesses.
Nevertheless, the resulting landscape is no different that the sprawl of sharded palmettos and blackened pine trunks, of ashen ground and still-smouldering roots that covered the landscape of the more than 5,000-acre Espanola fire in the heart of Flagler County last May and June. The difference this time is that the scene is at the center of Palm Coast, giving local residents a more immediate, and in some ways even necessary, direct view of the fire dangers the region is facing, and that firefighters are having to contend with.
Meanwhile, Cypress Point Parkway east remains closed, and Cypress Point Parkway west is open only up to Pine Cone Drive.
Local businesses are rallying to Palm Coast firefighters' help at lunchtime: Firehouse Subs, a restaurant chain started by retired firefighters in Jacksonville, called the fire department and offered 50 free lunches, an offer that was happily accepted. Walmart is providing water and Gatorade. Soon after the first lunch delivery, Subway near the area of the fire sent a staffer with a platter-full of sandwiches.
Palm Coast Fire Chief Mike Beadle, thankful for the donations, is reminding the public that while donations of water will be gladly accepted, the greater need during the fire season is Gatorade and other similar power drinks.
The worry this afternoon, as many resources have been concentrated on the controlled burn, is the wind, which has been kicking up, and the possibility of another fire declaring itself somewhere in the county, though at the moment Flagler County Fire Rescue is on standby with most of its equipment available for flaring emergencies.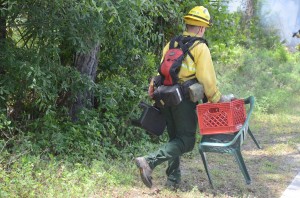 An update on the origin of the Cypress Point fire: the homeless camp that was ensconced in those woods (on private property) for at least the last couple of months had previously been on the property of the Ford dealership nearby, until complaints shunted it across Cypress Point. There were at least half a dozen people in the camp, according to police authorities knowledgeable with the camp's history. As the fire burned this afternoon, firemen periodically brought out items that had piled up in the cam–a plastic chair, a plastic crate, a suitcase.
12:30 update: The devastation of the fire in the area along Cypress Point Parkway, and south of it, is evident to motorists driving west on that road. The eastbound lanes are closed, as the controlled fire continues to burn, right up to the edge of the sidewalk. Traffic in the westbound lanes is being diverted onto Pine Cone Drive.
The fire started at 3:30 this morning in an area that was used by campers–likely homeless campers who'd set up house there. The camp was burned out. There were no injuries reported.
Noon update: The fire at the edge of the Mother Seton property is all but snuffed out, but the fire across the canal, to the north of the property, continues to burn, and is advancing against the trees along the canal, with flames now visible from the area of Mother Seton and the neighborhood to the south.
Another worrisome development for firefighters: the Division of Forestry has just issued an updated weather advisory, warning of very low humidity this afternoon and winds of 20 to 25 miles per hour, with gusts of up to 40 miles per hour. That will aggravate conditions even for controlled burns, while making finishing difficult in case existing fires spot to new areas, or new fires are declared.
11:30 update: A fire spotted over the canal by Mother Seton's property, triggering a secondary fire at the south end of the church and Catholic school's ball field. Flagler County Fire Flight is circling overhead after making three water drops on the flare-up, with ground crews dumping water as well. The fire is about 100 feet by 40 feet, and looked more grave than it actually is, but it renewed large spews of smoke and ash that drifted west over Belle Terre Parkway, reducing visibility and making it a bit more difficult to breathe. Flames at the scene reached high into a copse of trees until Fire Flight was able to smother the fire: its three drops striking the target every time. The immediate proximity of the canal made it easy to fill the bucket and keep dumping at minutes' interval. We're at the scene, and will have images of the water drop in action soon. (See those images above and below.)
By noon, the flare-up was reduced to smoke, and some firemen were able to take a break from the scene.
Earlier report:
Three fires have declared themselves in less than 24 hours in Flagler County, underscoring the severity of fire-prone weather conditions in the region and adding to fire officials' urgent calls for caution.
Palm Coast Fire Department and Florida Division of Forestry crews tackled a fire in the area of Cypress Point Parkway and Cypress Edge Drive, not far from City Hall, at 4 this morning. County and city crews tackled a smaller fire along Otis Stone Hunter Road just after 9 this morning, less than a day after two dozen crews had been dispatched to battle a fire that snaked its way between homes in the Mondex, forcing the evacuation of 10 to 15 families for four hours there. The fire in the heart of Palm Coast this morning was less serious, but only because it was brought under control relatively quickly.
"It's between Mother Seton and the city offices, on the south side of Cypress," Palm Coast Fire Chief Mike Beadle said. The fire burned 4 to 5 acres and closed Cypress Point Parkway, causing back-ups on Belle Terre Parkway. No structures have been damaged, none are ind anger now. City offices were not affected.
"Because of the conditions we're under, forestry had command, we conferred with them, it was decided that burning up the rest of the corner up to the city offices would be a good thing," Beadle said. Two factors went into that decision: first, the conditions this week are primed for fires (as evidenced by a fire that galloped in the Mondex Wednesday afternoon, though that one is believed to have been started by an individual). Second, there was a serious fire in the canal area south of Cypress Point in 1998, so the area has a history. The Division of Forestry doesn't want a repeat of '98 there.
"It's a controlled issue," Beadle said at 10 this morning. "That should probably be over by now." The back-burning, or controlled burning, was nevertheless causing quite a bit of smoke and ash dropping downwind, worrying residents.
Beadle himself was at another fire that declared itself a little after 9 this morning, between Hargrove Grade and Otis Stone Hunter Road, on the west side of the city. That's an acre fire that was already under control by 10 a.m., with county crews demobilized from there. Palm Coast, Bunnell and Division of Forestry crews were at the scene, with DOF tractors having dug lines around it by 10.
"The conditions aren't real favorable, the drought index I think is 557, relative humidity this afternoon is going to be in the low 30s, which is bad for us," Beadle said. winds are also going to be a factor. "Put it all together and you can't predict what's going to happen. Fires that would usually go one way start jumping."
Palm Coast and county crews are on stand- by, Beadle and Don Petito, the county fire chief, said. "Be careful with cigarettes and parking your car in grass and barbecues. Anything that we take for granted could cause us an issue," Beadle said.