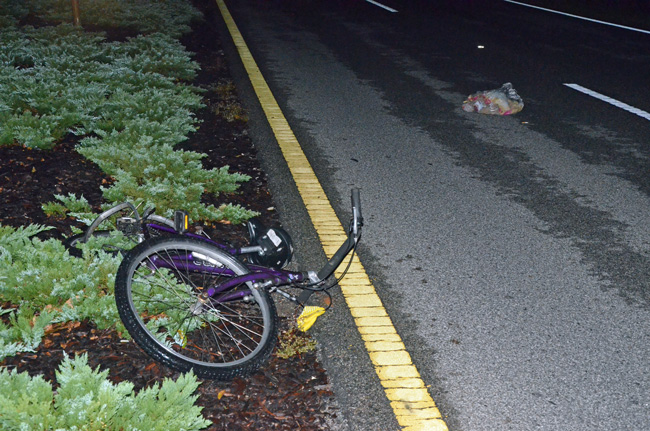 Last Updated: 8:05 a.m.
Belle Terre Parkway from Rymfire Drive north was shut down after 5:45 this morning after a car struck a cyclist about 75 yards north of the intersection with Ponce de Leon Drive. An unrelated three-car wreck then took place across the road.
The cyclist, Rodney Campbell, 34, of Palm Coast, was seriously hurt and transported to Halifax hospital in Daytona Beach, but his injuries appear to be non-life-threatening, a Florida Highway Patrol investigator said.
The bicycle was in the grassy median of Belle Terre, and debris from the man's bike, including some clothes, a bag of recycled cans and a Superman cap, was strewn in the left and right lanes of the two-lane road. The 2008 Mazda sedan that struck the man was in the right lane, a few yards behind the wreckage.
According to the investigator, Craig Medvid, 50, of Palm Coast, who was at the wheel of the Mazda, was driving north, Campbell was riding in the outside lane of Belle Terre–without lights on his bike (which is against the law) and without deflectors at the rear of the bike. Medvid never saw Campbell "until he was right on top of him" the investigator said. Medvid was "definitely not at fault," the FHP investigator said.
The wreck took place around 5:45 a.m. Soon after emergency personnel arrived at the scene, a second wreck took place across the road, in the southbound lanes, when three cars collided in succession. Drivers were most likely slowing down and looking across the road to see what had happened, the FHP investigator said, triggering the crash. Two of the three cars were severely damaged. One was mildly damaged. None of the occupants in any of the cars was injured. But Belle Terre's southbound traffic was reduced to one lane. (There is no traffic light at Belle Terre and Ponce de Leon.)
The three-car wreck involved a Nissan Altima, first in line of the wrecked cars and least damaged. It was struck from behind by a white Chevy Malibu, which was itself rear-ended by a maroon Hyundai. The Chevy was the most damaged.
John's Towing arrived at the scene at 7 a.m., and an official there said the southbound lanes would be reopened to traffic soon. All lanes in both directions were open by 8 a.m.
A Florida Highway Patrol investigator arrived at the cyclist crash just before 7 a.m. The Flagler County Sheriff's Office was investigating the secondary crash. The Palm Coast Fire Department and Flagler County Fire Rescue units responded to both wrecks, with the Palm Coast Fire Police at the scene, controlling traffic.