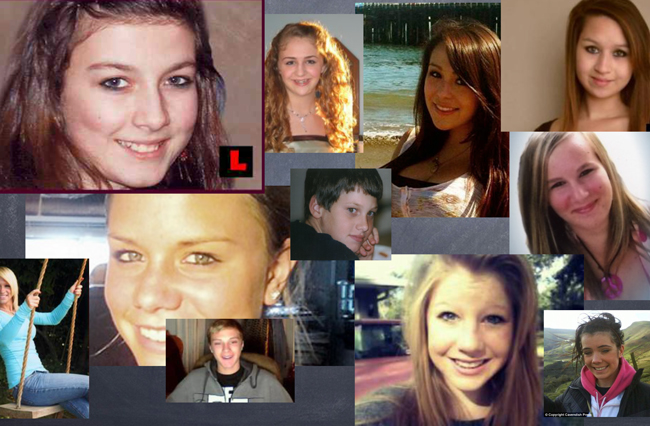 For Colleen Conklin, the Flagler County school board member since 2000 and the parent of two boys, the story of 12-year-old Rebecca Sedwick's suicide in Lakeland on September 10 hit home.
"I've got two teen boys, and of course I know many of their friends," Conklin said. "These are kids I adore, and I see the dangers of not being a responsible Intertnet user. Obviously the extreme of the suicide really kind of woke me up and I started doing research on the internet about the amount of suicides from cyber-bullying. I was absolutely shocked and horrified to find the number. At the end I had to stop because there were too many names and faces. It was heartbreaking."
But Conklin organized a web-based town hall last week, and drew some 75 people–enough that she will hold a second town hall on the same subject next Wednesday, Oct. 30, at 8 p.m. (Click here to join.)
This isn't about building momentum for new laws or any sort of new mandates, or punishments, as some officials elsewhere are urging. Conklin would like parents and students to be better informed about the cyberworld, and to be more responsible with it. "There is a serious lack of awareness about the cyberworld many of our kids live in," she says.
With a PowerPoint presentation, a video and other sources she marshaled for her town hall, Conklin outlines the sort of applications and websites, from ask.fm to snapchat to kik messenger, where bullies thrive. Ask.fm, based conveniently in untraceable Latvia, is the sort of site where individuals can pose others quick questions, elicit quick answers, flirt, commend, insult, and go from there, in what could snowball into mob responses–the sort of responses that hounded Sedwick until she jumped from the platform of an abandoned cement plant. Sexting is facilitated by children's assumptions that what they send one recipient will not be shared, or, as with the snapchat application, will self-destruct in a matter of seconds. Except that both assumptions can be terribly wrong. Loyalty between teens and tweens is ephemeral, and snapchat's self-destruction can be tripped by screen shots that can then be posted forever.
Teens and tweens may not know the full, debasing potential of the applications they wield. Parents may not be aware of the extent of applications their children are wielding. But it's the responsibility of both to know what and how to deal with that world, and not respond to it–as some parents do–by assuming that they can turn it off, confiscate phones or rule by blocking applications. There will always be evasions: Sedwick's mother had confiscated, controlled applications, monitored–the whole bit. Her daughter still found ways to stay connected.
"Parents play a huge role in responsibility," Conklin says. "Our kids need to know they should never say anything online that they'd never dare say in person. But as parents the idea that we're just going to disconnect them is not realistic. The world they're in is very different than the world we grew up in. What they need to learn is how to become socially responsible Intrnet users. It's just not realistic to say: we're going to block this app, we're going to black that. They have to learn responsible use. And as parents we have to call them out, if we see them say something inappropriate to another child, we need to call them on that and make them make amend."
And parents need to get over the notion that they should not monitor, very closely, what their children do. Conklin is categorical on that score: "When you are a parent and your child is not yet eighteen there is no such thing as spying," she says. "The bottom line is, they're my husband and my responsibility, and if they don't know responsibly to use those tools then sanctions are going to have to be imposed. You have to trust your children, and I trust mine very much, but they're human, and they're learning. So when they make a mistake, we attempt to correct it."
The school district includes education about cyberbullying through its character education curriculum, but the responsibility cannot rely entirely on schools. It is most effective when students and parents are involved–when no one is a bystander to potential vileness or violence perpetrated online against someone.
"As a bystander you can either allow it to continue or you can be what they call an upstander," Conklin says. "If you see somebody engaging in some really nasty discussing, there's nothing to say, hey, come on, really? Or distracting, creating a distraction, or using humor to change the subject, or simply telling an adult that so and so is bullying online. But doing nothing really isn't an option."
The view from Polk County, where Sedwick killed herself, is harsher.
Polk County Sheriff Grady Judd says there's a message for bullies and their parents. Judd last week arrested two middle-school girls, 14-year-old Guadalupe Shaw and 12-year-old Katelyn Roman, on charges of felony aggravated stalking, for their alleged roles in Sedwick's suicide. The case drew national attention because it is alleged to have included cyber-bullying, with Sedwick facing online messages such as, "You're ugly," "Why are you still alive?" and "Go kill yourself"–and because of the equally harsh response from the sheriff's office.
Judd, who is president of the Florida Sheriffs Association, is calling for other types of penalties for cyber-bullying. That includes counseling and anti-bullying classes, anger-management classes through the Florida Department of Juvenile Justice and — perhaps most daunting for youths — the loss of access to cell phones.
Sedwick's suicide came just weeks after a new law went into effect in Florida, adding cyber-bullying to the public school system's list of prohibited behavior. As of July 1, students and school employees are protected from harassment via technological and electronic communications — even beyond the school grounds.
Judd said students at Lakeland's Crystal Lake Middle School corroborated stories about Shaw and Roman bullying Sedwick via name-calling, intimidation, threats to beat her up and at least one physical fight.
According to Judd, Shaw led as many as 15 girls in bullying Sedwick in person, and nasty messages continued online after Sedwick switched schools.
Judd said he made the decision to arrest the 14-year-old Shaw after she posted an online response to the suicide. "Guadalupe sends this message: 'Yes, I bullied Rebecca, and she killed herself, and I don't give a 'bleep,' " Judd said. "And that was the last straw."
Shaw and her family maintain that her account was hacked to post that comment, but Judd is skeptical. He said his investigators told him they had a good case. "Guadalupe had a history of bullying people back to elementary school," Judd said during an interview Monday.
State Sen. Dwight Bullard, a Miami Democrat and sponsor of the new law (SB 626), said its implementation is moving forward, but not fast enough for many parents and educators.
"People are upset that action wasn't taken sooner," he said. "Sometimes legislation can't catch up with the realities of life."
The law defines bullying as "teasing, social exclusion, threat, intimidation, physical violence, or emotional pain or discomfort." The bullying doesn't have to take place at the school if it "substantially interferes with or limits the victim's ability to participate or benefit from the services, activities, or opportunities offered by a school or substantially disrupts the education process or interferes with the orderly operation of a school."
State Sen. Bill Montford, a Tallahassee Democrat and chief executive officer of the Florida Association of District School Superintendents, said the implementation varies by district but overall is going well.
"Most of the superintendents welcomed this law, because they knew it was a problem, and they needed the legal authority to reach out and do something about it," Montford said.
Both senators said they expect Sedwick's suicide to give a new urgency to implementing the law.
"I wish we could have implemented this bill several years ago, and hopefully, could have saved a life," Bullard said.
Conklin isn't as keen on legislating better behavior beyond that law, however. "The last thing we need is another law or mandate," she says. "I think that in the school districts around the state or the country, there's many responsible individuals who are going to try to educate parents and students and make them aware. I'm not so crazy about the idea of mandating four parent training sessions a year, I just see that as micromanaging on the local level. But I understand the frustration in possibly wanting to mandate something. Are we going to mandate responsible parenting? Is it just going to make everybody feel good?"
–The News Service of Florida contributed to this report.