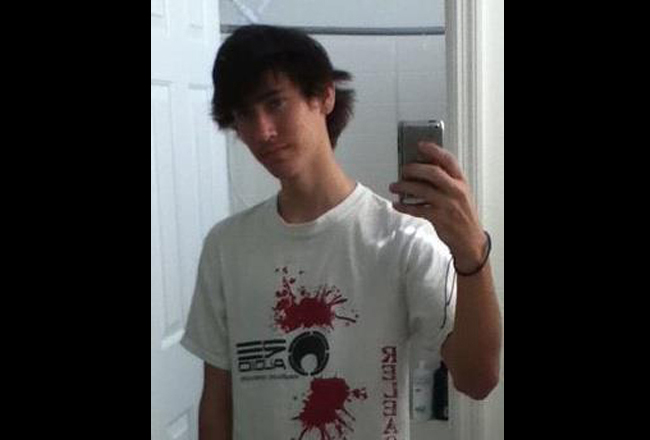 Last Updated: Aug. 29, 9:24 p.m.
Aug. 29 update: Kirt Smith, 15, was pronounced dead this afternoon at 5:37 p.m. at Halifax Hospital, where he had been taken Friday night after a pick-up truck collided with him while he was riding south on Seminole Woods Boulevard, 1.1 mile from State Road 100.
Flowers had already appeared at the site of the accident in early evening today, and flowers' electronic equivalent–the Facebook memorials–were accumulating fast on a page created for Smith, a student at Flagler Palm Coast High School, late this afternoon. "Kirt," wrote one friend, Danny Sarmiento, "we had a great childhood together, you were one of my best friends. you, me, and brad would always stick together. i know you're in a better place, and i want you to know, that even though we never really talked recently, i will always remember you as the fun and awesome person you were, are, and always will be. i miss you bro."
The Facebook page is here.
A homicide investigation will follow, according to Florida Highway Patrol practice, though no foul play–or drinking or speeding: the driver was going under the speed limit, according to a witness–is suspected on the part of the driver, though conclusive evidence won't be available for several more weeks. (That proved not to be the case as the investigation revealed that the driver was drunk.)

The original Aug. 26 report: Kirt Smith, 15, was on his bicycle, riding south with a friend on darkened Seminole Woods Boulevard just before 9 p.m. Friday evening (Aug. 26) when he was violently struck by a Ford pick-up also going south. Smith was transported to Halifax Hospital by ambulance after Air One, the Volusia County helicopter, was requested for a trauma evacuation, but the helicopter had mechanical difficulties.
Smith's father was quickly notified. Smith had been unresponsive except for a heartbeat before being transported. As of 10:35 p.m., Smith remained in critical condition at Halifax, a nursing supervisor there said.
Flagler County's Fire Flight helicopter, stationed very near the accident scene, could have been at the scene sooner, but the county, to save money by cutting out a pilot, has not operated the helicopter outside its 8 a.m. to 8 p.m. service time for more than two years. It had previously kept the helicopter in service from 8 a.m. to 4 a.m.
Smith's friend was not hurt in the accident.
The Ford pick-up truck was driven by Gary Wright Jr., 31, of Palm Coast. Seminole Woods is a four-lane highway with a grassy divider. The boys were riding their bicycles in the left lane of the southbound lanes, with "no lights," according to the trooper, when Wright struck Smith.
Smith's bicycle shattered in several pieces, and debris was scattered along the left shoulder and into the grassy area over more than a dozen feet.
Both southbound lanes of Seminole Woods Boulevard were closed after 9 p.m., and reopened around 10 p.m. One of the two northbound lanes was also closed.
After the collision, Wright, turned around and drove the pick-up truck back up to the accident scene, where he stopped the truck on the left shoulder of the northbound lanes. The impact had been strong enough to smash the truck's left headlight and buckle its hood.
Throughout, Wright sat at the edge of the bed of his truck, with authorities, including Flagler County Sheriff's deputies, nearby. At 9:31 p.m., a Flagler County paramedic, with the trooper shining a flashlight on Wright's left arm, took a blood sample from the driver, a procedure carried out usually to test for blood-alcohol levels.