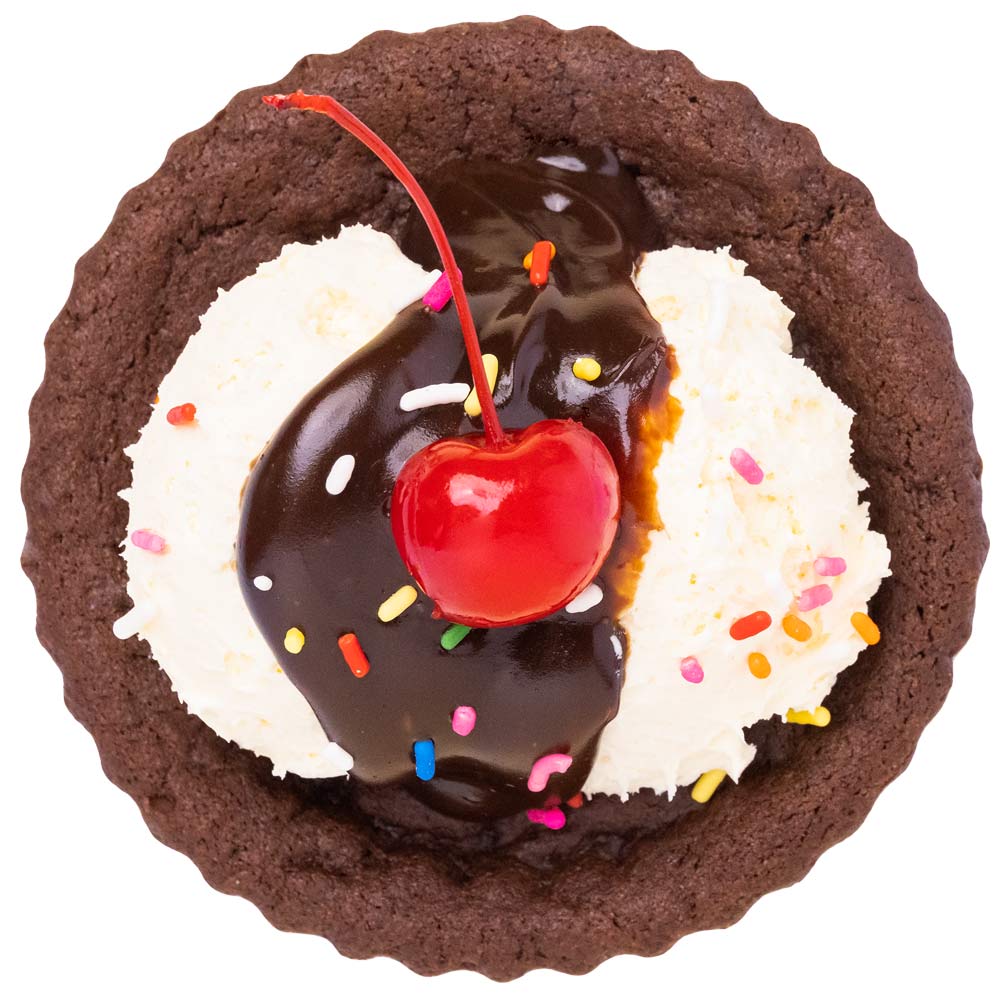 Sometimes a cookie is not just a cookie.
Judging from the seven other Crumbl stores Tanner and Karli Reaveley have opened so far since they started their Crumbl invasion of Florida a year and a half ago, they expect a line of customers starting before 8 a.m. Friday when Palm Coast's own Crumbl opens at Island Walk off Palm Coast Parkway.




Judging from the delirium that has attended a lot of these openings since this company and its giant cookies, its equally ample marketing machine, its symphonic repertoire and its roseate-pink cookie boxes emerged out of Logan, Utah, only six years ago, the line may still be there as late as midnight, if only because Palm Coast has never known a dessert store to match bar hours.
Crumbl will: 8 a.m. to 10 p.m. on weekdays, and to midnight on Fridays and Saturdays. Crumbl stores close on Sundays, but not their buzz machine.
The store will employ 30 to 35 people, Tanner Reaveley said Wednesday afternoon as he got the store ready with his wife and mother. (Palm Coast does not appear on the drop-down menue of locations taking applications, on the company's webpage.)
He and his wife are originally from Utah. "We were in Florida and realize there's not a lot of options for sweets. There's not a lot of options for cookies and eating out at times,"  Tanner Reaveley said. "We thought Crumbl would fit really well here. So that's kind of why here. Palm Coast in general was kind of along the same lines. There's some ice cream shops, but it's missing two things. One, another dessert option outside ice cream, and two, a late night option. Palm Coast does tend to, you know, shut down a little bit earlier."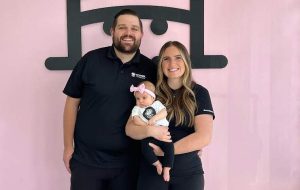 The couple opened its first store in Boynton Beach, focusing its expansions on South Florida. Other franchisees have opened Crumbl Cookies in DeLand and in the Jacksonville area (there are about 20 stores statewide, 800 nationwide and rising), but everything in between had been a bit of a cookie desert.
The Palm Coast connection began through a Crumbl executive who had vacationed here with the company founder. They liked the area. They talked to Reaveley about expanding. He followed through, making it a beachhead. "We are looking to potentially in the future maybe bring it to some surrounding towns," Reaveley said.



By one measure, Crumbl franchises are richly lucrative: "Crumbl franchise is pretty transparent and they disclosed the sales and financials for 140 of their locations that operated throughout 2021," the website VettedBiz reported. "In the 2021 calendar year total median revenue was $1,687,731 at a gross profit margin of $707,912.53 and then a net profit of $279,212. If you're investing $227,666 to $567,833, and, once the business scales up, you can expect $279,212 in net profit. That's not a bad deal." (1851franchise.com provides the following financial summary.) So there is that.
"We love the cookies. We love the concept. We love how there's new new flavors every week," Reaveley said, referring to one of the company's allure: some 275 rotating cookie flavors, six of them featured every week, resulting in enough variety to keep it seemingly new for most of the year. Think brownie batter cookie, confetti milkshake, krispie treat cookie.
Of course there are the standards: always some sort of chocolate chip cookie, always some sort of sugar cookie. Just don't look at the nutrition facts–and skip the rest of this paragraph if you want to keep the guilts off the scale: It may be disturbing to some readers.
To wit: that confetti milkshake selling right now, according to the company, adds up to 880 calories (a Big Mac is only 590 calories), almost twice as many calories as a large fries, with 64 grams of sugar (25 more than a can of coke). Saturated fats? We'll leave that be. Of course in the world of portion-euphemizing one cookie is meant to equate to four servings, considerably reducing those shocks to the system–assuming you favor self-control ("I could eat 12 of these in 20 minutes," says one reviewer of another variety).
Nothing in the company's strategy encourages it (no "eat responsibly" messages), starting with imagery so luscious that it turns cookies into a promiscuity of desires. And just as casinos display no clocks, the company's website displays no prices. Not readily, anyway–not until you make your way through orders, and prices could vary depending on location. In Palm Coast, a company spokesperson said, prices will be $4.50 for a single cookie, $14.63 for a 4-pack, $22.50 for a 6-pack, and $38.25 for a Party Box of 12.
Crumble owes much of its strange success–it is the fastest growing dessert chain in the country–to its deft social media strategy. The company has its own choreographed "flavor drops" every Sunday at 8 p.m. TikTok is the platform of choice. Cleverly, the drops happen the one day when the stores are closed, to build up craving. It's sugar, after all: its addictive. So customers do the rest, posting images of their cookies on their social media pages with abandon. It's obviously working. Crumbl was selling around a million cookies a day in 2022.




Consumers and so-called influencers in turn critique, debate, dispute, share, retweet and triple-guess the new flavors, arguing over whether the terms "home-baked" can legitimately be used to refer to the colossal and colossally synchronized-swimming-like production of those millions of cookies in 800 stores, whether they can be reproduced ("There's actually not a way to get the exact recipe. I am a manager at Crumbl and they use what they call "packets" in order to keep the recipes from being recreated," went a comment on Reddit) or despairing over old favorites ("42 weeks without the Oreo mallow sandwich"). The Crumbl Cookie v. Cookie Insomnia battle is its own subplot.
Reaveley says it's all fresh ingredients made in the store. "It's not just frozen processed puck that's made somewhere, we make it the same way that you would make cookies at home," he said. "It's all just made here on a bigger scale."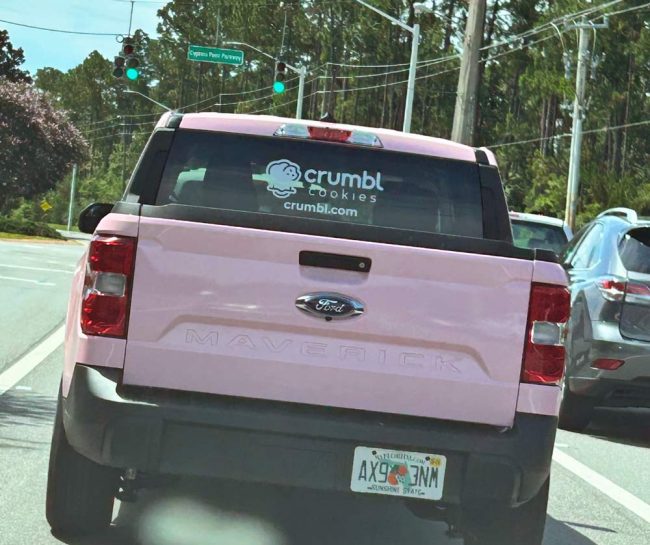 Furthering the marketing specialties, Crumbl has its own pink delivery vehicle–no DoorDash or Uber Eats for these cookies–delivering up to 10 miles out in any direction from the Island Walk store. That's pretty much all of Palm Coast, and even parts of Flagler Beach (9.9 miles from the store to the pier), if you're craving that late-night sugar fix. (The dessert chain Insomnia Cookies is famous for its late-night deliveries, but the nearest ones are either in Orlando or in Jacksonville.)
Reaveley and his wife, who have a young child, will launch the Island Walk store then return to their home base in Palm Beach County. He plans on developing relationships with local food banks like Grace Community Food Pantry to turn over product that may be just past its shelf life but not its expiration date.
Meanwhile, the rotating menu of 275 flavors begins Friday.