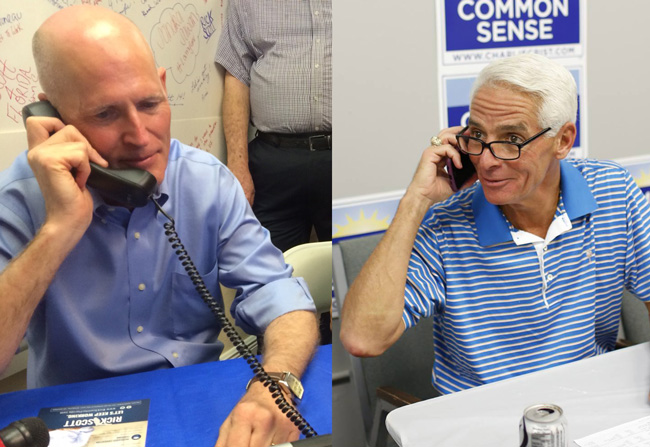 Republican incumbent Rick Scott and Democrat Charlie Crist are headed for a November battle of the governors after both easily sailed through Tuesday's primary elections.
The race between Scott and his predecessor Crist is already one of the nation's most-watched, and expensive, campaign throw-downs. Crist was elected in 2006 as a Republican governor and served a single term before losing a 2010 bid for the U.S. Senate as an independent to Marco Rubio. Crist, who defeated former lawmaker Nan Rich on Tuesday, registered as a Democrat less than two years ago.
"On to November. It's us against Rick Scott — and for the people of Florida, we're going to win. Are you in?" Crist posted on Twitter shortly before addressing supporters in Fort Lauderdale Tuesday night. After taking the stage to "Here Comes the Sun," Crist said he is focused on "giving Florida back to the people of Florida."
Since entering the governor's race last November, Crist largely ignored Rich, a former state Senate minority leader. That included refusing to debate Rich, a 72-year-old grandmother from Weston and former national president of the National Council of Jewish Women.
Outraised 20-to-1 by Crist, the little-known Rich traversed the state on a shoestring budget, meeting with Democratic clubs from the Panhandle to the Keys while painting herself as the "true" Democrat in the race.
Crist, meanwhile, travels on private planes and has campaigned almost exclusively against Scott, whose allies have pledged to spend $100 million to keep Crist from returning to the plaza level in the Capitol.
Crist spent much of 2014 reinventing himself as a Democrat. He apologized to gays for his former support of Florida's law banning same-sex marriages, put into the state Constitution by voters in 2008. Crist also backed away from his previous opposition to instate tuition for undocumented immigrant students, something Scott and the GOP-dominated Legislature approved this spring. Crist, who as education commissioner was a cheerleader for Gov. Jeb Bush's "A+" education reforms, has also since tempered his positions on school vouchers and high-stakes testing for public school students.
While Crist — the self-dubbed "People's Governor" — concedes he has evolved on some issues, he insists that he has remained steadfast on issues important to Democrats.
Soon after taking office as governor in 2007, Crist convinced the Florida Cabinet to make it easier for felons to have their rights, including the right to vote, restored. In contrast, one of Scott's first actions as governor was to push the Cabinet to impose some of the nation's harshest restrictions on felons seeking to have their rights restored, including a minimum five-year wait period.
Crist, who says he personally opposes abortion, earned high praise from women's rights advocates when he vetoed a controversial abortion measure that would have required women to undergo ultrasounds prior to getting the procedure. Scott later signed a similar bill into law.
Before leaving office in 2010, Crist became a darling of the teachers' unions after he vetoed a far-reaching education measure, backed by Bush, which would have made it easier to fire teachers and would have linked educators' pay to student test scores.
Crist's efforts at winning over progressives and base voters, who are more likely to show up for primaries in mid-year elections like Tuesday's, appeared to succeed.
As of 9 p.m. Tuesday, he had captured nearly 75 percent of the vote, including in Rich's Broward County backyard, the bastion of Democratic voters in Florida.
Crist, 58, began his career in public service after being elected to the Florida Senate in 1992, where he served until 1999. His current quest for governor is Crist's sixth attempt at statewide office — he ran losing bids for U.S. Senate in 1998 and 2010, and was elected as education commissioner in 2000, attorney general in 2002 and governor in 2006.
Democratic National Committee Chairwoman Debbie Wasserman Schultz, a U.S. congresswoman from Broward County, praised Crist and running-mate Annette Taddeo as working-class champions.
"Charlie and Annette have embraced policies that will help Florida's middle-class families, a stark contrast to the current governor, Republican Rick Scott, who is beholden to special interests and radical Tea Party ideology," she said in a statement.
And Florida Democratic Party Chairwoman Allison Tant also praised Crist, saying that Democrats "are ready to work harder than we've ever worked" to boost him to victory.
Scott handily defeated two obscure GOP opponents, Yinka Abosede Adeshina and Elizabeth Cuevas-Neunder, on Tuesday. But the Scott team's primary focus has been on Crist.
"The next few months are about talk versus action. That means Florida will have a choice between a governor who sent our state into a tailspin and a governor who gets results. Charlie Crist failed as governor, lost 830,000 jobs, and tried to run off to Washington — and now he wants his job back. We've come a long way in the last few years, but there's plenty of work left to do. Let's keep working," Scott said in a statement after the polls closed Tuesday evening.
–Dara Kam, News Service of Florida