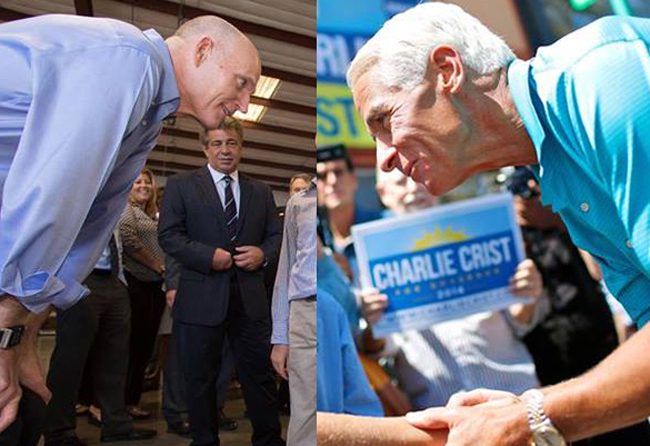 The arms race continues between Rick Scott and Charlie Crist.
Crist, trying to win back the governor's mansion as a Democrat after a mid-life political conversion, raised more than $2 million in cash in May for his campaign and a closely aligned political committee, newly filed records show.
Scott, trying to win a second term and keep Republicans in total control of state government, brought in about $1.16 million in cash for his campaign and the sister "Let's Get to Work" committee. But the state Republican Party, which is expected to play a huge role in Scott's campaign, said it collected $3.54 million during the month.
The money will help fuel what is expected to be an expensive — and nasty — race filled with negative ads. As a sign of what's to come, the Let's Get to Work committee reported spending about $3.1 million on advertising in May, after spending about $5.1 million on ads in April.
With updated finance reports due Tuesday, Scott's campaign reported raising $1,116,038 in May, bringing the overall total to nearly $4.7 million. The campaign had also received about $1.5 million in in-kind contributions through May, with the state party covering expenses such as staff and consulting.
Let's Get to Work reported raising an overall total of slightly less than $28.1 million through May, though it also has spent about $12.9 million. The committee has dramatically ratcheted back its fund-raising during the past two months, collecting $46,100 in May and $257,000 in April. But the significance of that drop-off remains to be seen, as, for example, harder-to-track money can flow through the state GOP.
Crist's campaign reported raising $410,787 in cash in May, bringing its overall total to nearly $3.7 million. Also, the committee has collected a total of $836,310 in in-kind contributions. Meanwhile, the committee, known as "Charlie Crist for Florida," collected $1,627,500 in cash during the month, bringing its total to $8,234,580, records show.
While Crist and Scott continued to rake in money in May, many lawmakers appeared to have a light fund-raising month.
Among the exceptions was Rep. Ronald "Doc" Renuart, a Ponte Vedra Beach Republican who raised $28,800 for his re-election bid in St. Johns County's House District 17. Similarly, Rep. Steve Crisafulli, a Merritt Island Republican who is slated to become House speaker in November, raised $25,525 during the month, bringing his overall total to $416,668.
Other top legislative fund-raisers for the month included newcomers seeking open seats. For instance, Jacksonville Republican Paul Renner reported raising $22,245 in May and an overall total of $178,795 as he tries to succeed Rep. Daniel Davis, who is not seeking re-election in House District 15. An updated report for Renner's opponent, Jacksonville Republican Jay Fant, had not been posted online late Tuesday afternoon.
Meanwhile, Lakeland Republican John Hugh Shannon reported raising $22,010 in May for his bid to replace term-limited Rep. Seth McKeel, R-Lakeland, in House District 40. Another Republican in the race, Colleen Burton, raised $7,850 in May but had an overall total of $106,100. Shannon, who got into the race after Burton, reported an overall total of $79,435.
–Jim Saunders, News Service of Florida

A Rick Scott Ad Lambasting Crist Without Naming Him:
A Florida Democratic Party Ad Lambasting Scott's Education Cuts: