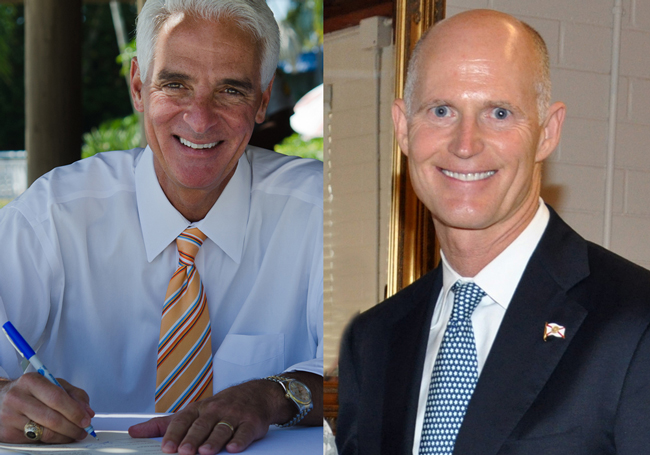 If the election for Florida governor were held today, Charlie Crist would be the likely winner over Rick Scott by a 47 to 40 percent advantage, a Quinnipiac University poll released this morning found.
The seven-point lead is down from 10 points when Quinnipiac last polled in June, before Crist's announcement that he would run as a Democrat. Crist had a 50-34 percent lead in March, strongly suggesting that the trend, at least for now, is not in his favor, especially as the powers of incumbency can always favor Scott with additional exposure.
On the other hand, after Scott's approval rating topped out at 43 percent in June (against a 44 percent negative rating), that approval has slipped again, to 42, while his negative rating has risen to 47. In comparison, voters approve of the job Crist did as a Republican governor from 2007 to 2011 by a 53-36 percent margin, even though his tenure straddled the worst of the state's and nation's Great Recession.
Crist chose not to run for a second term, announcing instead a run for the U.S. Senate. After falling behind Marco Rubio, he became an Independent, but lost in the general election, with just 30 percent of the vote. Rubio won with 49 percent. Democrat Kendrick Meek took 20 percent.
Crist would defeat fellow-Democrat Nan Rich 60-12 percent in a primary, but Scott would beat Rich in a general election, 43-35, the Quinnipiac poll found.
"Former Gov. Charlie Crist remains ahead in the race to be the state's next governor, but his lead over incumbent Gov. Rick Scott has narrowed since March," said Peter Brown, assistant director of the Quinnipiac University Polling Institute. "But Crist still does better among Democrats than Scott does among Republicans and holds his own among independents. The winner will be the one who does best among his own partisans and carries independents."
Crist gets 11 percent approval from Republicans, as opposed to just 4 percent approval from Democrats for Scott. In a close race, numbers like that will matter greatly in a state where Democrats still have a 500,000 voter advantage in registration. Independents, who would normally decide the race, break 44 percent for Crist and 41 percent for Scott. Scott cannot win the election without turning Independents around.
Scott will have several weapons at the ready, not least the fact that Crist has changed parties. But for now that issue appears to have been neutralized: Florida voters are divided 46-46 percent on whether Crist's party shifts are positive or negative. These same voters say 49-38 percent that Scott is not honest and trustworthy, a negative that does not attach as heavily to Crist.
Scott has few numbers he can seek comfort in: he does not deserve to be reelected, voters say 53-37 percent. Saying no to four more years are Democrats, 83-9 percent, and independent voters, 56 – 36 percent. Republicans say yes 70-20 percent. Women say no, 57-32 percent, and men agree, 49-43 percent.
Voters disapprove 46-36 percent of the way Scott is handling the state budget, but they are divided 43-44 percent on whether the budget is fair to them.
"Voters currently think Crist was a good governor and are evenly split on whether they see his party switching as evidence he is a pragmatist or lacks core beliefs," Brown said. "To catch Crist, Scott is going to have to convince Florida voters that Crist was a bad governor and a political opportunist.
"And he is planning on spending tens of millions of dollars on television adds to make that argument. This will be an intensely negative campaign on both sides. The survivor will be the candidate voters dislike least on Election Day."
The Quinnipiac poll also asked voters about marijuana use, now that a proposed constitutional amendment to legalize medical marijuana will be either approved for the November 2014 ballot or rejected by the Supreme Court, which hears arguments in the case in early December.
Florida voters support 82-16 percent allowing adults to legally use marijuana for medical use if it is prescribed by a doctor. Support is overwhelming among every group surveyed, ranging from 70-26 percent among Republicans to 90-10 percent among voters 18 to 29 years old. Republican Attorney General Pam Bondi and the Scott administration are battling the initiative to keep it from reaching voters.
Voters also favor allowing adults to legally possess small amounts of marijuana for personal use, but by a far smaller margin of 48-46 percent. There is a gender gap as men support so-called "recreational use" 52-44 percent, while women are opposed by a small 49-44 percent margin.
"If the folks who want to legalize medical marijuana in Florida can get their proposal on the ballot, they are overwhelmingly favored to prevail next November," Brown said.
Florida voters continue to support the "Stand Your Ground" law 60-34 percent. Support is 66-29 percent among white voters and 56-36 percent among Hispanic voters, with black voters opposed 56-35 percent.
Quinnipiac University surveyed 1,646 registered voters From November 12 to Nov. 17. The poll has a margin of error of plus or minus 2.4 percentage points. The survey includes 544 Democrats with a margin of error of plus or minus 4.2 percentage points.