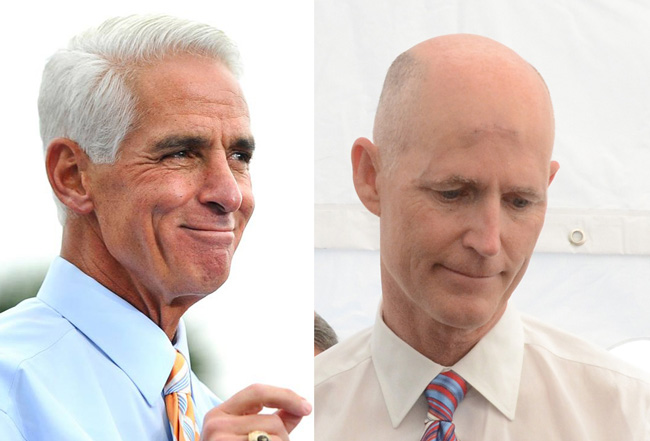 Profiting from a sizable late boost from independent voters, Charlie Crist has taken a 3-point lead ahead of incumbent Gov. Rick Scott in the latest poll of likely voters by Quinnipiac University, generally the most reliable pollster tracking the Florida election. Crist is leading Scott 43 to 40 percent, Libertarian candidate Adrian Wyllie has 8 percent, and 9 percent are undecided.
Last week's Quinnipiac poll had Crist and Scott tied at 42 percent, with Wyllie at a mere 3 percent. The new poll shows Crist gaining hugely from independent voters, usually the deciding block in any close, statewide Florida election, as independents now favor Crist Over Scott 47 percent to 29 percent, an 18-point advantage that overwhelms last week's 3-point Crist lead in that category.
The numbers strongly suggest that as Scott blitzes the state with one last televised ad campaign, almost all of it negative, the tactic is turning off independent voters, who are typically less susceptible to ideologically tuned messages and more interested in substantive differences on which to make a choice. In that sense, Scott's money advantage, inducing him to spend more on an ad campaign that may be alienating rather than seducing voters, could be working against his aims.
"Independent voters are often the difference in swing states like Florida, but the size of former Gov. Charlie Crist's lead among them is truly remarkable," said Peter Brown, assistant director of the Quinnipiac University Poll.
The numbers also suggest that where either candidate has suffered erosion from the Libertarian's presence in the race, Scott has suffered slightly more. Without Wyllie in the race, Crist would be ahead by just one point. The late surge for Wyllie has also drawn mostly from Scott's column.
Finally, the numbers are a reflection of voters' opinions after the three debates between Crist and Scott, performances that clearly favored Crist even without the fan incident that backfired on the Scott campaign after its attempt to embarrass the Crist campaign.
Otherwise, men and women remain divided as they were last week, with men favoring Scott (47-37 and 9 percent for Wyllie) and women favoring Crist, but by a larger margin (49-35, with 6 percent for Wyllie), which again bodes ill for the Scott campaign: women vote in larger numbers.
Yet another worrisome sign for Scott: Among those who already have voted, Crist gets 40 percent to Scott's 39 percent. Early and absentee voters tend to lean Republican. So if Crist is ahead at this point, his advantage is likely only to grow as Election Day voters cast their ballots.
"Crist, who always has sought to portray himself as a pragmatist rather than an ideologue, seems to have sold that message to independents who historically have favored problem-solvers who are less politicaI," Brown said. "It may turn out that Crist's change from Republican to independent to Democrat branded him as the kind of less political politician with the most important voter group. If Crist can win independents by 20 points on Election Day, he will be difficult to beat. It would be a reasonable hypothesis that the candidates' debates made a big difference in this race. Scott was ahead going into them and behind after them. It could be a coincidence, but it would be a pretty large coincidence. Crist has long been thought of as an excellent campaigner and he used those skills to his advantage."
Two fear factors for the Scott campaign: If Wyllie's 8 percent decide to migrate in large numbers, Scott could–assuming a last-minute change of heart and trends–possibly benefit. And if the chunk of undecided voters decide to stick with their known entity, Scott could also benefit, with this caveat: Crist is not quite the unknown entity, having been governor until four years ago. Undecided voters could just as possibly choose what they once knew over what they've come to know.
The poll was conducted from Oct. 22 to 27, surveying 817 likely voters, with a margin of error of plus or minus 3.4 percentage points.