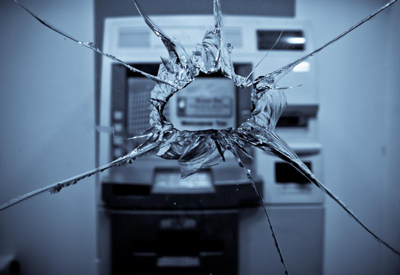 The following incident and arrest information was compiled using official documents, reports and affidavits obtained from government and law enforcement agencies. This feature is not inclusive. It is a sampling of reported incidents in the Flagler County area. Note: The U.S. legal system provides the presumption of innocence to those charged with a crime until guilt is proven in a court of law.
This page is updated every weekday or as warranted.

Failed ATM Heist
Two sets of metal chains and a Chevy Silverado weren't enough for three men to get the ATM machine they were trying to steal from Hancock Bank on Palm Coast Parkway June 7, a report indicated. The bank's video surveillance footage shows two to three men wearing dark clothing pulling up to the machine at approximately 2:30 a.m. and beginning to wrap it with chains. A few minutes later, they removed the chains and left, the report said. But the men returned at 2:43 a.m., re-secured the chains and pulled the machine from its post, which was bolted to the concrete at the front of the bank building. The men weren't able to get into the machine, so no money was taken. But it will cost the bank $35,000 to replace the now-unusable cash machine.
'Elderly' Man Makes Move
A man described as "elderly" that requested to see a home for sale on Slipper Trail Drive in Palm Coast June 8 was apparently looking for more than a new home, according to an incident report. After the owner of the property showed the man with a small frame the home, a handshake was exchanged. Then a kiss on the hand. But it went too far when the man hugged and kissed her on the neck and attempted to kiss her lips, the property owner told deputies. He also expressed a desire for more, the report said. The man left when the woman pushed him away and demanded he do so, she told deputies. And she didn't fear for her life in his presence, the report said. He left in a green Hyundai Santa Fe and was wearing a green Hawaiian-style shirt with palm tree print and khaki shorts.
Prankster Calls Toddler Foul Name
A Palm Coast woman became upset and contacted authorities early June 10 after a prankster called her home and called her five-year-old daughter a whore. The female caller used the child's name during the call and indicated she believed the girl was four years old, the report said. The child is actually five, according to the mother, and she did not know the caller. She was highly upset that someone would call a tender-aged child such a foul name. Deputies have requested additional information from the victim's cell phone carrier about the origin of the call.
Crashed Car, No Driver
Deputies had no trouble located the car that reportedly crashed on Point Pleasant Drive in Palm Coast June 11. But they did have trouble locating the driver, a report said. The disabled vehicle was empty when deputies arrived. About an hour after the crash, they did find a local teenager loitering in the area who is now suspected as being involved. The teen could not provide authorities with a good reason for his presence in the area that wasn't near his home, the report said, and he tried to run away when deputies approached him. Charges against the teen for loitering and prowling were forwarded to the State Attorney's Office and he was released to his grandfather's custody.
Home Burglaries
Homes were reported vandalized or burglarized at the following locations:
Seminole Avenue, Palm Coast, June 7. A window air conditioning unit was taken from a home. A witness reported seeing a man in a silver car driving away with it.
Old Kings Road South, Flagler Beach, June 7.  A bicycle was taken from a trailer outside a home and pushed into a canal behind it. A food smoker and small water fountain outside the home were also found thrown about.
Wheaton Lane, Palm Coast, June 8.  Deputies found the interior of a home vandalized with the walls and floors covered in paint and trash strewn about.
Lake Charles Lane, Palm Coast, June 9. A resident reported that sometime during the month of May, their home was vandalized. The home sustained more than $8,000 in damages, with two screen doors cut, a rear door pried open, a bedroom window smashed, and the garage door and ceiling damaged.
Satinwood Street, Bunnell, June 9. A gas can, trimmer, and two chain saws were taken from a shed at the rear of a home.
Folson Lane, Palm Coast, June 11. An exterior air conditioning unit and mailbox was spray painted with the letters "BV" and "bye."
Clove Avenue, Bunnell, June 13. An ATV valued at $2,500 was taken from the yard of a home.
Cedarford Court, Palm Coast, June 13. A stereo was damaged and a depth finder taken from a boat.
Blakemore Drive, Palm Coast, January 1 – June 13. The sliding glass door was broken and a television, washer, dryer, linens, and dishes were taken while the resident was out of state for an extended period. The battery was also removed from a car parked inside the garage of the home.
 Car Burglaries
Vehicles were reported vandalized or burglarized at the following locations:
Riverdale Lane, Palm Coast, June 8. A wallet and identification was taken from a vehicle.
Slowdrift Turn, Palm Coast, June 10. The side door of a vehicle was dented during the night by an unknown object.
Royal Palm Lane, Palm Coast, June 10. A GPS unit and wallet were taken from an unlocked vehicle.
DUI Arrests
 In 2008, an estimated 11,773 people were killed in automobile crashes involving a drunk driver (someone with a blood alcohol content level of .08 or more), according to the National Highway Traffic Safety Administration.  Soon, a varying list of traffic and law enforcement agencies will begin releasing the DUI data they compiled in 2009. Whether drunk driving's annual death toll rose or fell last year, the number isn't likely to be the only acceptable one…zero.  These reportedly impaired drivers were also found driving on Flagler's streets this week and were arrested.
Tracy Ena Varga, 41, Palm Coast. June 8.
Jason Robinson, 30, Palm Coast. June 9.
Tarik Zaid Whitaker, 33, Baltimore, Md. June 11.