The following incident and arrest information was compiled using official documents, reports and affidavits obtained from government and law enforcement agencies. This feature is not inclusive. It is a sampling of reported incidents in the Flagler County area. Note: The U.S. legal system provides the presumption of innocence to those charged with a crime until guilt is proven in a court of law.
This page is updated every weekday.

'Teasing' ends with arrest
He mostly used it to "tease" his friends. They knew he wasn't really a cop. But there were also times he used it to pretend he was an officer and scold "ugly girls" that were drinking underage .  According to a report, that's what 20-year-old Hastings resident John L. Tuthill told deputies on May 1 when they found the St. Augustine Animal Control badge in his wallet.  Tuthill said he found the badge along a roadway in Flagler Estates two weeks prior. Deputies arrested Tuthill and charged with with impersonating a law enforcement officer.
When all else fails, just pick it up
Things apparently didn't go as planned for two men hoping to steal an ATM from a beachside convenience store, but they did eventually get the machine and the $1,200 inside, according to a Sheriff's Office incident report. According to the report, the men are seen on surveillance footage pulling up to the Jiffy Food Store on North Oceanshore Boulevard at 2:12 a.m.  on April 30. Garbed in hooded sweatshirts, gloves and ski masks,  the men used an axe to break the glass door at the front of the store before making repeated attempts to take an automated teller machine using the black Jeep they arrived in and a tow strap.  They were able to break the bolts holding the machine to the floor but the tow strap wouldn't hold when the men tried to get it out of the store. In the end, the men had to push the ATM out through the broken door and hoist it into the trunk of the Jeep, the report said.
Park vandalism pricetag: $400
Sometime between 3 p.m. and 5:30 p.m. April 30, a pair of water fountains at the Indian Trails Sports Complex were vandalized.  City officials estimate it will cost $400 to repair the damage, the report said.
Flagler Beach patrol car Vs. tree
Damages of an unspecified value were caused to a Flagler Beach Police patrol car the night of April 30 when an officer backed the car into a tree in her yard, a report said. In a report taken the next morning, deputies said the rear window and area around it were damaged.
Too good to be true
Something apparently seemed off about a Palm Coast woman's car buying experience because she called authorities April 28, a week after forking over $1,600 for the Toyota Avalon she was driving, to investigate whether the Toyota Avalon might be stolen.
 It was.
 Sheriff's deputies said the car was reported stolen by in Jacksonville Beach on January 27 after a man took it for a test drive and never returned. The description given when the car was reported stolen was a close match to the description the Palm Coast buyers gave to authorities this week, the report indicated.
The car will be returned to its rightful owners, the report said, and authorities are still trying to track the man that sold it. He is described as approximately 6'2 to 6'3 with receding brown hairline.   
 Man charged for February pharmacy robbery in Palm Coast, possibly connected to similar Daytona Beach robbery
A routine motorist traffic stop for a minor infraction on April 28 led to the arrest of a suspected armed robber wanted since February, according to a news release.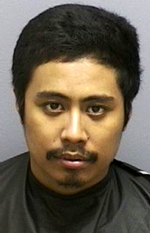 Rommel Leuterio, 25, Palm Coast, was pulled over after Flagler County Sheriff's deputies said he blew through a stop sign at the intersection of Pine Grove Drive and Belle Terre Parkway at approximately 1:30 a.m. But he now faces more than a traffic ticket.
Deputies found marijuana, syringes, prescription drugs and a "zip-over-the-face-sweatshirt" in his car during the traffic stop. Further questioning led to charges against Leuterio for a Feb. 20 armed robbery of a Palm Cost Pharmacy on Pine Cone Drive, officials said.
Leuterio told investigators where to find the semi-automatic gun used in the February robbery, and it has since been retrieved, according to the Sheriff's Office.
He was taken to the Flagler County jail on charges of drug and paraphernalia possession and armed robbery and is being held on $58,000 bond.
Sheriff's officials said Leuterio is also currently a suspect in a another pharmacy robbery in Daytona Beach.
Armed robbery at the Race Trac
It was around a round 2 a.m. April 27. The man was "acting very strange" before he asked a clerk  at the Race Trac on Palm Coast Parkway NE to give him change for a dollar bill, a Sheriff's report said. It was enough for the clerk to tell him she couldn't open the register without a purchase. But it didn't scare off the man–described as approximately 6'0 -6'4, wearing loose jeans and a gray shirt with FCIF written on the back.
Instead, the clerk told deputies, the man implied there was a gun in his sleeve and demanded the contents of the cash register, starting with the 20-dollar bills. Another Race Trac employee who was outside on a break when the robbery occurred returned just in time to see the situation and hit the store's panic alarm several times, the report said. The alleged robber headed southbound before law enforcement arrived.
He got away with less than $150 but faces charges of armed robbery with a deadly weapon and up to 30 years in prison if caught and found guilty, according to Florida statutes.
Stolen convertible
A seventeen-year-old student learned a valuable lesson April 27 about the importance of keeping tabs on his keys. While attending GED classes at the adult education facility on Corporate Drive in Palm Coast, he inadvertently left his keys on a restroom counter. When the teen's class concluded, his black Mitsubishi Eclipse Spyder GS convertible was missing from the parking lot, the report said. The names of two student were provided by the school to deputies. Both were seen together before class began, the report said. One left mid-class and didn't return. The other never entered class that day at all, the report said.  The car was taken sometime between 8:45 and 10 a.m. and was bearing tag # K272RG, the report said.
Home burglaries
Homes were reported vandalized or burglarized at the following locations:
Biscayne Drive, Palm Coast, May 1. A rear window of a home was found broken but nothing inside was taken. The home was equipped with alarm system.

Arbor Avenue, near Bunnell, April 29. Three window air conditioning units and a computer monitor was takn. The items were valued at $800.

Richmond Drive, Palm Coast, April 29.  Two laptops, a computer monitor, a video game system, prescription drugs, and a class ring were taken.

John Anderson Highway, near Flagler Beach, April 29. A computer, monitor and laptop with a combined value of $800 were taken.

European Village, Palm Coast, April 27. The door of an apartment was kicked in. A television, DVD player, coffee table, dishes, microwave and chairs were taken.

Rymen Lane, Palm Coast, April 27. While the resident was away at work, someone broke in through a side window of the home. A television, two video game consoles and multiple pieces of diamond jewelry were stolen.
Car burglaries
 Vehicles were reported vandalized or burglarized at the following locations:
Red Clover Lane, Palm Coast, May 1, 2. The drivers side window of a Dodge Dakota was shattered and its mounted toolbox tampered with. 
Porpoise Lane, Palm Coast, April 30. An estimated $2,000 in damage was done to a Ford Excursion when someone used a key to scratch most every corner, door and panel on the vehicle.
Pinetree Drive, Palm Coast, May 1.  Three fishing poles, a tackle box and a set of golf clubs were taken from the bed of a pickup truck when the vehicle's owner, who was unloading the truck's contents into the home, wasn't looking.
DUI Arrests
In 2008, an estimated 11,773 people were killed in automobile crashes involving a drunk driver (someone with a blood alcohol content level of .08 or more), according to the National Highway Traffic Safety Administration.  Soon, a varying list of traffic and law enforcement agencies will begin releasing the DUI data they compiled in 2009. Whether drunk driving's annual death toll rose or fell last year, the number isn't likely to be the only acceptable one…zero.
 These reportedly impaired drivers were found driving on Flagler's streets this week and were arrested.
 Andrew J. Shiver, 19, Palm Coast.  April 29.
David L. Pirkle, 38, Keystone Heights.  April 29.