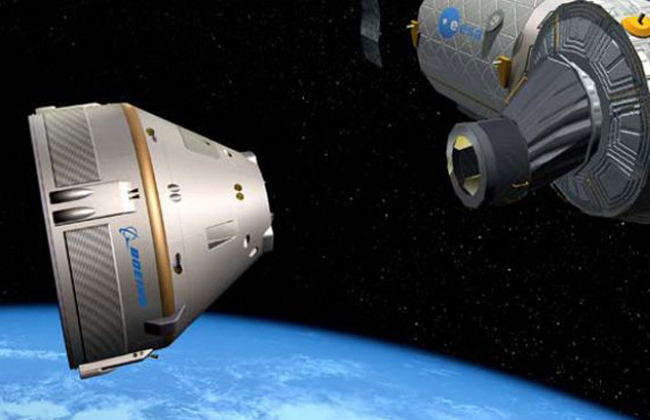 Nov. 1 update: A package of incentives totaling $16.6 million was offered to Boeing Corp. to bring the space giant to the Kennedy Space Center to build the next generation of manned space flight. Gov. Rick Scott announced this week that Boeing would build its spacecraft, dubbed Crew Space Transportation-100 or CST-100, with hopes of employing more than 550 workers by 2015, the year the new vehicle is scheduled to begin extensive flight testing and first commercial launch. The package of incentives includes $10 million over the next two years in Department of Transportation funds for road improvements. Another $6.6 million in incentives was also added to the mix. The company, which plans to put up about $163 million of its own money for capital improvements at KSC, said it hopes to have more than 150 workers in place by 2013. State officials say the average wage is $60,000, more than double the average annual salary in Brevard County.–News Service of Florida.

Call it a Constellation consolation, but Florida officials on Monday hailed a new space venture that will bring hundreds of jobs to the Space Coast, which has been looking for a new mission to replace the shuttle program.
Gov. Rick Scott, state officials and executives of Boeing announced plans to begin building the next generation U.S. manned space flight vehicles at the Kennedy Space Center, which had been home to the shuttle for three decades.
Boeing will manufacture and test its spacecraft, dubbed Crew Space Transportation-100 or CST-100, with hopes of employing more than 500 workers by 2015, the year the new vehicle is scheduled to begin extensive flight testing and have its first commercial launch. The company said it plans to have more than 150 workers in place by 2013.
Kennedy will also be home for the CST-100 headquarters, a designation that will bring administrative jobs to the region.
Boeing officials say they plan to ramp up testing of the new vehicle, which is being touted as a relatively inexpensive, reusable launch technology that can take up to seven members and cargo into space.
Its first recurring destination is expected to be the International Space Station, which until then will rely upon Russian rockets to ferry supplies and crew members to the orbiting station.
"Florida has five decades of leadership in the space industry, which makes our state the logical place for the next phase of space travel and exploration," Scott said in a statement released in conjunction with an event at the Kennedy Space Center. "Boeing's choice of Florida for its commercial crew program headquarters is evidence Florida has the world-class facilities and workforce expertise needed for aerospace companies to succeed."
Under an arrangement with Space Florida, the company will renovate a processing center previously used to perform maintenance on shuttle orbiters. The 15-year lease will help cushion the loss of thousands of jobs that left with the end of the space shuttle program.
"We selected Florida due to the cost benefits achieved with a consolidated operation, the skilled local workforce, and proximity to our NASA customer," said John Mulholland, vice president and program manager of commercial programs for Boeing Space Exploration. "Pending the continued selection of Boeing for future Commercial Crew development and service contracts, and sufficient NASA funding, we project a Commercial Crew program workforce ramping up to 550 local jobs by our scheduled operational date of December 2015. The CST-100 will provide NASA with reliable, safe, and affordable transportation to the International Space Station and other destinations in Low Earth Orbit."
The announcement comes as welcome news to the region following the end of the shuttle program and the cancellation in 2010 the Constellation project, a Bush-administration initiative to return to the moon and beyond. The Obama administration, meanwhile, is wrangling with Congress over NASA funding.
"The next era of space exploration won't wait, and so we can't wait for Congress to do its job and give our space program the funding it needs," President Barack Obama said in a statement Monday. "That's why my Administration will be pressing forward, in partnership with Space Florida and the private sector, to create jobs and make sure America continues to lead the world in exploration and discovery."
Boeing is working with Space Florida on agreements to use Kennedy Space Center's Orbiter Processing Facility Bay 3 (OPF-3) and Processing Control Center (PCC) facilities for Commercial Crew program execution. The OPF-3, previously used to perform maintenance on the space shuttle orbiters, features approximately 64,000 square feet of manufacturing and processing areas and about 64,000 square feet of office, laboratory and logistics areas. The PCC consists of approximately 99,000 square feet of control rooms and office space Boeing plans to use to support mission operations, training and program offices. The PCC previously supported shuttle orbiter testing, launch team training, and computer system software and hardware development and maintenance operations.
In partnership with Space Florida, Boeing plans to modernize the facilities to provide efficient production and testing operations that, the company says, optimize Boeing's best practices from satellite manufacturing, space launch vehicles and commercial airplane production programs.
The Commercial Crew program consists of developing, manufacturing, testing and evaluating, and demonstrating the CST-100 spacecraft, launch vehicle and mission operations – all part of Boeing's Commercial Crew Transportation System (CCTS) – for NASA's new Commercial Crew human spaceflight program that will provide flights to the International Space Station. The station is scheduled to be decommissioned in 2020 and dumped in the Pacific Ocean.
Boeing's system will also be capable of supporting Bigelow Aerospace's planned orbital space complex.
The CST-100 is a reusable capsule-shaped spacecraft based on proven materials and subsystem technologies that can transport up to seven people, or a combination of people and cargo. Boeing has designed the spacecraft to be compatible with a variety of expendable rockets and selected the United Launch Alliance's Atlas V launch vehicle for initial CST-100 test flights in 2015.
–News Service of Florida and FlaglerLive