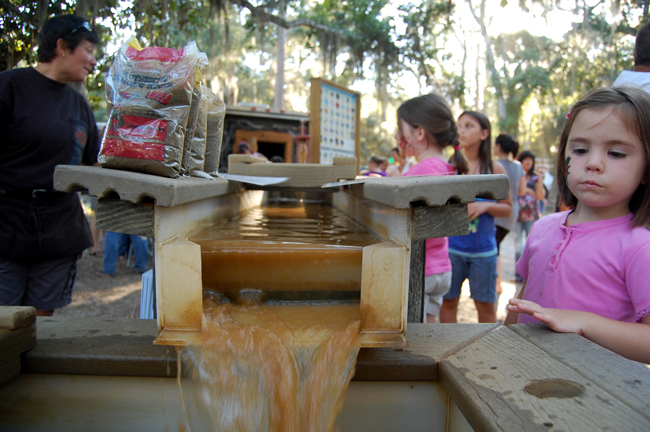 It took some people visiting the 6th annual Creekside Festival at the Princess Place Preserve about 45 minutes to make it through the two-mile dirt road, from Old Kings Road to what parking spots they could find under the pines at the peak of Saturday's attendance. Which was just fine for the organizers: it translated to a full house, with some food vendors actually running out of some items and the kind of cool, dry weather that makes for postcard moments all day. The festival will do it all over again Sunday from 10 a.m. to 4 p.m.
"We probably had as many people today as we had all weekend last year," said Doug Baxter, president of the Flagler County Chamber of Commerce, which organizes the event and uses it as one of its main fund-raisers. Last year the festival drew 11,000 people. "We're very happy. We've had no reports of anyone getting hurt; we had one man get sick. That's it." And one electrician getting at least seven appointments for next week, a reflection of some of the incidental benefits for merchants at the festival.
One of the main attractions was the Flagler Home Builders Association's 2010 Flagler Green Expo, which featured innovatively tiny (which is to say, hyper-efficient) water heaters and what looked, from ground level, like giant solar panels (the same solar panels that look like tiny reflectors when lined up in solar farms, though these could be fitted on homes). The expo wasn't the only place you could spy smarter toilets, too: the St. Johns River Water Management District unabashedly displayed one of its own as a throne all day (and will again Sunday).
Twenty-five percent of the proceeds (including from the $3-per-carload entrance fee) will be turned over to the Flagler County Commission to be spent exclusively on maintenance and preservation of the Princess Place, the county's most important historical and ecological park. The fee (similar to the one charged at last weekend's Hispanic Heritage festival in Palm Coast) rankled Jim Guines, the former school board member: "The chamber raises money in hard times by charging $3 per car to come in Princess Place and selling beer $3 a bottle at a family oriented affair," he said. "With already sold food and vendor spaces, Ford sponsored the thing along with others, you would think the entrance would be free." He added, wryly, "economic development, I guess."
The fee evidently did not discourage attendance. Three musical acts plucked away most of the day–Seminole Ridge, New River Bluegrass and Moors and McCumber.
See a photo gallery of the festival, and watch clips of Kort McCumber below the gallery.
[nggallery id=31]