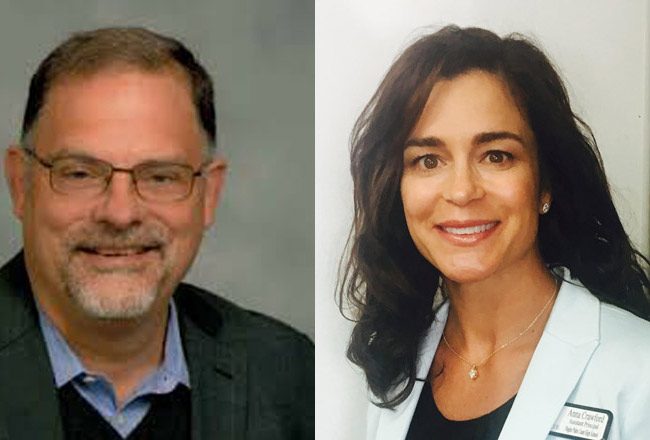 Wadsworth Elementary School and Matanzas High School have new principals: Flagler Schools Superintendent James Tager is promoting Anna Crawford from assistant principal at Flagler Palm Coast High School to principal at Wadsworth, and appointing Jeff Reaves, who'd been principal at Holly Hill High School in Volusia County, principal at Matanzas. They start work in less than two weeks.
Crawford is familiar to a few thousand families: she's been in education for 12 years in Flagler, 18 overall, having taught in Georgia before moving to Florida. Before moving to FPC she started her local career at Wadsworth, where she spent three years, then spent six years at Belle Terre Elementary as an assistant principal.
"I am proud to be a part of the Flagler Schools family and am excited about the opportunity to return home to Wadsworth Elementary to serve the faculty, students, and families," Crawford said.
Crawford replaces John Fanelli, whom Tager named principal at Buddy Taylor Middle School after moving Buddy Taylor's Nathan Lovelette, to take over the district's i3 Academy, an online hybrid school based at FPC.
Crawford received her undergraduate degree from Georgia College and State University and a Masters in Educational Leadership from Valdosta State University. She is currently pursuing a doctorate through Nova Southeastern in Distance Learning and Technology Education. She'll be paid $99,292 a year.
In Reaves, Tager is tapping his old grounds in the Volusia district, where Tager had been a principal and a deputy superintendent.
Reaves has been an educator for 12 years throughout Volusia. In 2013, he was named principal at Edgewater Public School. As principal, he led his school with a STEM focus (Science Technology Engineering and Math). Edgewater was the first elementary school in Florida to be certified by Advanc-ED in STEM. Adding Agriscience, Introduction to Computers, robotics and 3-D printing for career experiences in elementary, Reaves–who did in Edgewater much of what Fanelli did at Wadsworth–was recognized earlier this year as Florida's Innovative Principal of the Year by the Florida Council of Instructional Technology Leaders.
He earned his undergraduate degree from Warner Southern College (in Organizational Management) and post-graduate degrees from Liberty University and Nova Southeastern University. He replaces Earl Johnson at Matanzas (who had himself been a Volusia County import when he first arrived at Matanzas). Johnson was promoted to director of leadership development at the district level, the position vacated by Vern Orndorff.
"I am humbled and blessed to join the Flagler County Schools' family," Reaves was quoted as saying in a release the district issued this afternoon. "Matanzas High is an outstanding high school and I look forward to the opportunity to collaborate with the students, staff, parents, and community to help all our students achieve their best." (Reeve's salary has not yet been finalized.)
Tager described the two new principals as "rising, shining stars among educators" who have "proven at every stop in their careers to be forward-thinking and I am certain they will be great leaders for their two campuses."
Both appointments take effect July 1st, though neither name appears on tonight's list of personnel appointments, transfers, firings and retirements, which the school board, meeting at 6 p.m., is expected to ratify. The reason, a district spokesman explained: the current list was finalized before the appointments. So even though they begin work on July 1, their appointment will be ratified by the school board on July 18. Personnel decisions, at any rate, are in the superintendent's purview, not the board's.