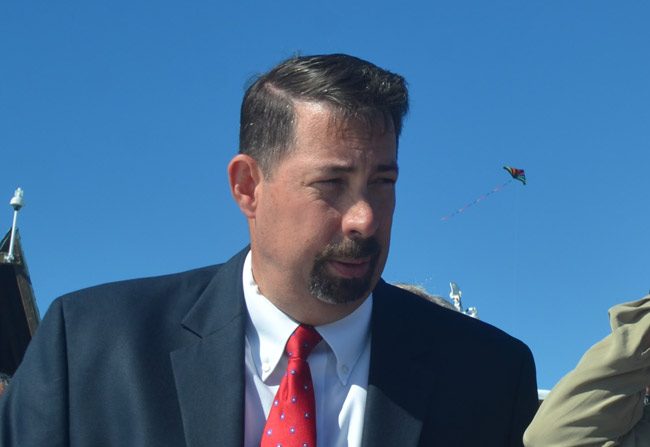 Flagler County Administrator Craig Coffey's 11-year tenure is ending.
Coffey this afternoon tendered what amounts to a resignation offer to county commissioners. The commission will meet in special session Wednesday at 5:30 p.m. to decide whether and how to accept the offer.
"It's my understanding that the administrator will offer a letter of separation," Commission Chairman Donald O'Brien said late this afternoon. "I think it's a separation agreement, which basically mean a termination of his contract." The separation would be effective upon the commission's acceptance, which would be Wednesday. Coffey is seeking 20 weeks' severance and health benefits.
Coffey himself told top staff members Tuesday afternoon that he was resigning.
Although a majority of commissioners is now ready to fire Coffey or accept his resignation, there is some disagreement about whether to end the contract immediately or to do so withing a few months, and whether to offer severance. Coffey's offer to resign is contingent on some severance: if he were to be fired outright, he'd be eligible by contract for 20 weeks' severance. Commission Chairman Don O'Brien and Commissioner Joe Mullins favor an immediate end. Commissioner Dave Sullivan, the key third vote, is willing to take a less radical approach. (A previous version of this story incorrectly stated the severance allowance as six months, rather than five.)
Coffey has been in talks with commissioners for the past several weeks, possibly looking for an exit strategy and hoping to avoid a public-circus showdown at the Jan. 14 meeting. He was at one point hoping to get an extension of about six months on the job, giving him time to line up something else and to transition current issues. Commissioners voted last December to talk about Coffey's fate at that meeting, which is expected to draw a large crowd and risks devolving into the sort of public flogging that led to the firing of Volusia County Manager Jim Dinneen last June. So far, the drive to fire Coffey has dovetailed the same template as in Volusia, with Flagler's sheriff, its public-sector unions and a social-media campaign all pushing for Coffey's dismissal.
By setting a special meeting before Jan. 14, Coffey may be better able to control the tenor of the public discussion. There was urgency to set the meeting on Wednesday for two reasons: an emergency meeting is required to be announced with at least 24 hours' notice. And it could not be set for Thursday or Friday, when some of the commissioners are scheduled to be in Gainesville for commissioner training. Just before 4:30 this afternoon, the county posted a notice of the special meeting on its website. The agenda: "Consideration of an Amendment to the County Administrator's Contract." One of the only relevant amendments feasible in the context of the last few weeks is to enable Coffey to resign and still be eligible for severance and health benefits.
Coffey did not immediately respond to a text, and his cell phone's mailbox was "full."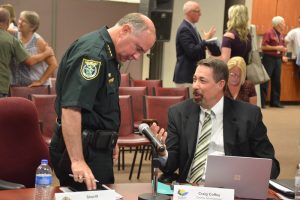 For Coffey, the end starting late last year increasingly became a matter of when, not if. He shepherded the county through two hurricanes in 2016 and 2017, but late in 2017 reports of sick employees at the Sheriff's Operations Center surfaced. Employees connected their sicknesses to the building. In 2018 almost half the 65-odd employees working in that building filed workers' compensation claims related to sick-building symptoms, and the sheriff evacuated the operations center in June. Sheriff's employees perceived Coffey's response to the crisis as dismissive and callous. Commission Chairman Don O'Brien was "appalled," in his words, at Coffey claiming some employees were faking their illnesses. Relations between the sheriff and Coffey broke down.
But it wasn't just the Sheriff's Operations Center. For Coffey, 2018 would prove to be a year of crises, but crises of his own making as his penchant for poor transparency, political misjudgments and deal-making that appeared to marginalize the commission caught up with him.
In February there was his re-hiring of Deputy County Administrator Sally Sherman a day after she "retired," a ploy around state law requiring government employees to stay off their former job for at least six months when they choose that particular retirement route. Until FlaglerLive reported it, commissioners were not aware that Sherman was being rehired at greater cost to the county than when she was an employee. They did not reverse the decision, and six months later, Sherman was re-hired as a county employee, her six-month stint having cost $99,000. She may yet be commissioners' pick as the interim administrator.
In summer O'Brien was displeased with Coffey's approach on the budget, which reversed some commissioners' directive to start with a baseline that did not assume a tax increase. The county tax rate is now the highest of any government in Flagler except Marineland, overtaking Bunnell, which managed to lower its rate this year. Instead, the budget started with Coffey's baseline of wish lists, moving backward, and ended with a tax increase anyway.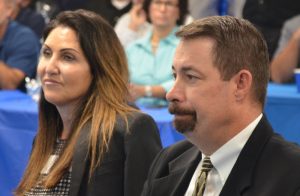 Between summer and fall a combination of action and lack of action on the Sheriff's Operations Center (some of it compelled by a judge's order forbidding structural work on the building) severely soured relations between the sheriff and Coffey. But relations also soured between Clerk of Court Tom Bexley and Coffey over a multi-million and major planned revamp of the county's accounting software. Bexley was displeased with Coffey imposing the software on the clerk's office rather than negotiating its application. Commissioners ordered Coffey to resolve the matter while putting approval of the revamp contract on hold.
In November, the Captain's BBQ issue at Bing's Landing exploded in commissioners' faces, the virulence of the public backlash to a planned expansion of the restaurant again taking commissioners by surprise as Coffey had muscled through a lease amendment rather than prepared the political grounds to make the amendment more palatable to the public–and to commissioners. It was only Monday that Coffey, at commissioners' urging, held an extensive workshop with commissioners on Captain's BBQ. The workshop detailed options that, had they been presented months ago, would likely have largely neutralized opposition and prevented the beating that Captain's BBQ's reputation took along the way.
And there appears to be further issues in waiting, such as accounting problems with the county's ambulance billing system, administered in part by the Tax Collector's Office.
The accumulation of the past year's problems made the commission look as if it was no longer in control of its administrator. It cost the election for one of those commissioners, Nate McLaughlin, an ardent supporter of Coffey, who was replaced by Joe Mullins. Mullins campaigned on a promise to fire Coffey. But the commission's most vocal Coffey sycophant, Greg Hansen, was re-elected, facing weak opposition. Hansen has maintained his support of Coffey. "Despite everything that's been said, I have not seen cause to terminate Mr. Coffey," he said at a December meeting.
The county commission in November 2007 selected Coffey as its administrator, replacing Doug Wright, who had resigned. But it was a divided vote: 3-2. Coffey was the DeSoto County administrator at the time. Then-Commissioner Milissa Holland, the current Palm Coast mayor, and fellow-commissioner Jim Darby tried to convince three other commissioners to pick Michael Wright, an assistant city manager in Tallahassee, instead. Holland never took to Coffey, tried to fire him in 2010, and last month was instrumental in meetings with local public sector unions that led to three unions' no-confidence votes in Coffey. Those votes added to mounting pressure on the county commission to fire Coffey.
Coffey for his part issued various defenses of his management, sending an 8-page, single-spaced letter to commissioners on Dec. 20, posting his Dec. 28 appearance on WNZF radio on the county's website (government executives at all levels–federal, state and local–routinely use their agency websites for PR), and soldiering on at workshops and meetings with county business. His method hasn't changed: as in 2010, when he countered Holland's attempt to fire him with a public statement, he acknowledges issues (if stopping just short of acknowledging missteps) then presents his own narrative of events that turns controversy into misunderstanding, and his own disputed actions as misperceptions. But the line between self-justifying explanations and condescending judgments of those who criticize him occasionally blurs.