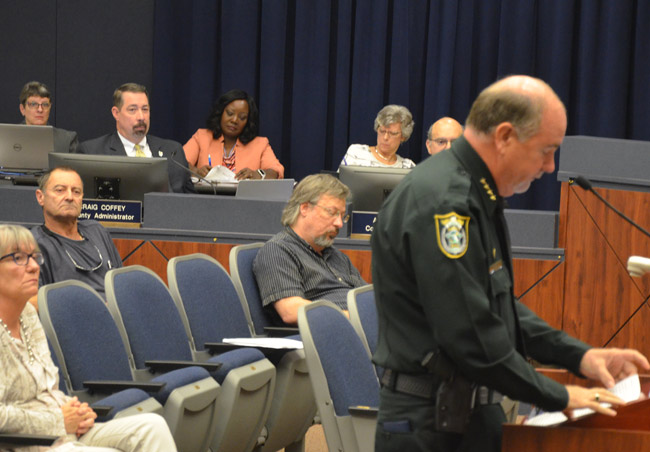 Last Updated: 3:09 p.m.
County Commission Joe Mullins tried to fire County Administrator Craig Coffey this morning and failed, but but what followed may have damaged Coffey beyond repair as County Commission Chairman Don O'Brien and Sheriff Rick Staly separately and publicly leveled what amounted to a searing indictment of the administrator's tenure on many grounds, and the commission agreed to set a January 14 meeting to discuss Coffey's fate.
O'Brien had been expected to provide a second to Mullins's motion, but said he was reluctant to decide Coffey's fate in the absence of Charlie Ericksen, who did not attend this morning's meeting. Commissioners Dave Sullivan and Greg Hansen were not interested in firing Coffey, and Hansen went as far as saying that the record doesn't warrant his firing. But by late morning, after others had spoken, and especially after the sheriff spoke, Sullivan's and Hansen's position looked increasingly isolated, their commission chairs beginning to resemble wagon wheels.
"This building issue is a crisis and it takes crisis leadership to solve it," Staly said, referring to the evacuated Sheriff's Operations Center, a still-unresolved problem with all the signs of a sick building. "In the 13-months I have seen virtually no leadership from the administrator on this crisis. What I have seen is resistance, denial, legal posturing, inappropriate and demeaning comments about my employees to county staff members and, from what I am told, to other elected officials and administrators in this county and at conferences and delaying tactics."
O'Brien provided a lengthier, point-by-point indictment of Coffey, who sat silent throughout at his usual desk to the right of the commissioners' dais. O'Brien cited the Operations Center, the re-hiring of Deputy County Administrator Sally Sherman, the Bing's Landing controversy over the Captain's BBQ lease there, the budgeting process that Coffey started in a place different from where commissioners wanted it (they wanted no tax increase), Coffey's lack of responsiveness from a customer-service perspective, the deterioration of relations between Flagler's legislative delegation and the administration, and the more serious deterioration of relations between Coffey and two constitutional officers: the sheriff and Tom Bexley, the clerk of court.
Describing Coffey, O'Brien used words like "combativeness," "bad judgment," "lack of empathy and caring," and "poor judgment" before describing himself frustrated. "And so I think about the big themes here," O'Brien said, "which are competency, empathy, decision making, future-focused and adapting to new ideas and technologies, and I arrive at a point where I am extremely frustrated with Mr. Coffey's performance." But he said "it's wrong to take an action when there's only four commissioners here."
He was especially critical about Coffey's management of the troubled Sheriff's Operations Center. "I am very frustrated with Mr. Coffey's performance," he said, calling the Operations Center issue "ground zero for my frustration."
"I can remember very specific conversations between him and I where," O'Brien said of his conversations with Coffey on the operations center, "what came across to me was, those employees were faking, they were not sick, there were no symptoms, they're just trying to further a worker's comp claim or whatever the case may be, and I was kind of appalled at that. I don;t think that's the right behavior that I want someone working for me to have."
Mullins then followed with remarks he'd prepared to go along with his motion: though it had failed by then, he made his points, saying the administrator's tenure was no longer tenable in light of other officials' refusal to work with him directly, or their difficulties doing so. Mullins's motion to have a future meeting on Coffey's fate, which was approved, was explicit: "To put the discussion of termination of our county manager."
O'Brien seconded it.
"I would not have made the motion, would not have seconded the motion, but given what's been said, I don;t have any problem discussing things," Sullivan said.
"Despite everything that's been said, I have not seen cause to terminate Mr. Coffey," Hansen said to disbelieving titters from the audience. "Would you all please be quiet? And I just want to state that, I think he's had problems and he and I have sat down and discussed them, and I've seen corrections. And I'm a leader and a manager, and that's the way I fix problems, is I teach, and I expect response, and I'm getting it."
Mullins wasn't mollified. "I'm very concerned moving forward with our elected officials, the sheriff and the clerk of court and many others not being able to work with him, and if we don't wake up and see this, this is something that's very clear in this community."
The vote was 4-0, including Hansen, who–like Sullivan–may be recognizing that tethering his fate to Coffey's may not be the sort of leadership other local politicians with more capital than he has are looking for. Hansen, no longer the commission's chairman, sat grim-faced for most of the meeting, either listening to speakers or looking down.
After the meeting, Coffey said he would continue working. "I take some exception with some of the things said here today," he said. "I will respond to those in due time, but obviously some things were new today, and simply, some things are not true. But you don't win battles arguing stuff totally in public like that. So I will take my time and make a calm, reasoned approach and defend myself and my integrity." He said he would respond to "clearly false accusations" from the sheriff, particularly regarding claims the sheriff made about Coffey interfering with hurricane relief missions by sheriff's deputies on the west side of the county. He said he'd not heard those claims before.
Coffey said he was not getting any pressure from commissioners behind the scenes to resign, though Sullivan, leaving the chamber after the meeting, said that approach may be preferable to Coffey getting fired.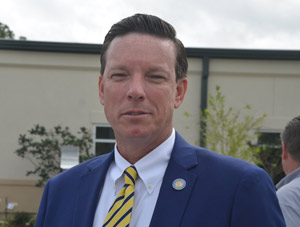 Bexley, speaking with a reporter, said the relationship with Coffey is not irreparable, but is significantly damaged. Bexley was initially hired primarily to deal with Coffey, almost a decade ago, because then-Clerk of Court Gail Wadsworth had an adversarial relationship with Coffey, he said. There's been improvements over time, he said, "and then I can say definitely since my election there's been some additional frustrations in place about certain issues like this," Bexley said, referring to the ongoing clash over the county administration plan for a new, $2 million software program to run the back end of county government accounting, along with constitutional officers' back-end systems. The clerk's office, Bexley said, "was not take into account" with that planned roll-out, causing the planned purchase to stall: commissioners don't want to alienate the clerk, and have required Coffey to work out his differences with Bexley.
"I'll just say it, there's some resentment from my office," Bexley said. "Is the relationship irreparable? Absolutely not. I will not put an absolute on it. But it's very stressed right now, to say the least. And I will tell you, I'll put this on the record, if the Board of County Commissioners moves forward with the software package as it sits in its current posture right now, the clerk's office will not participate in it."
The battle over the software system has taken place mostly in the background, spilling into the open only in mid-November. But it reflects the same sort of dysfunction that other issues bedeviling Coffey's administration have reflected–a lack of transparency coupled with a desire for more control on the county's part than its partners are comfortable with. The issue with the clerk has degraded so much that Bexley was now urging commissioners to start from scratch: "My recommendation to the board right now if they choose to listen to it, would be to start from scratch, to take this process, move everything off the table, to bring all five constitutional officers and county commissioners and county administration, and to start the process over with us all together, so we can make a decision that benefits the collective instead of just one or two."
Bexley, in other words, was no longer confident that dealing directly with the administrator, in the absence of the commission or other constitutional officers, would lead to a resolution. That's the sort of breakdown Staly and two commissioners were referring to when they said that working with the administrator, who should be a reflection of commission policy, was no longer what it ought to be.
About 100 people filled the commission chamber, a very high and unusual number for morning commission meetings that usually draw no more than the few usual gadflies and government staffers. Some 10 Sheriff's Office employees, many of them detectives, were in attendance (not including two security deputies). Two other constitutional officers (Bexley and Jay Gardner, the property appraiser, though both routinely attend commission meetings) were present in addition to the sheriff. The detectives' offices were among those most affected by the Sheriff's Operations Center's unhealthy air, making the building unsafe and causing its evacuation last June. It remains empty, sheriff's operations spread between the courthouse and other locations.
There was little doubt why the chamber was so full: the audience was anticipating a move to fire Coffey. Mullins said he'd make the move. O'Brien has been dissatisfied with the administrator. But Sullivan and Hansen have previously signaled that they had no interest in firing Coffey, as has Commissioner Charlie Ericksen, who was absent today, readying for a cruise.