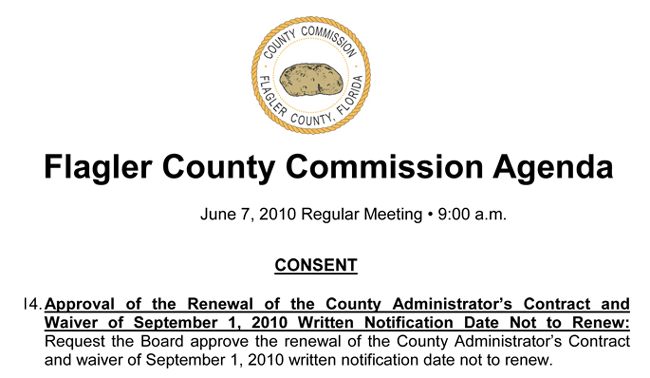 At the end of the Flagler County Commission's meeting on Jan. 11, most commissioners did what they always do: they took advantage of the portion of the meeting called "commissioners' comments." Two of them–Alan Peterson and Milissa Holland–had issues with the way County Administrator Craig Coffey put the agenda together.
Peterson wanted a policy "as to when the agenda is complete, and if the material is not given to us by a certain date, let's say by 5 o'clock Thursday, for a Monday meeting, then it must be pulled from the agenda." Peterson was complaining about so-called "slip-sheets," items that appear on the agenda at the last minute. Agendas are usually large and take commissioners a long time to go through, at least those commissioners who take the time to digest the material. Several of Flagler's commissioners are hands-on and go through the agenda in great detail.
"We've already said that," Holland said. "We did," Commissioner Bob Abbot, who rarely speaks at meetings, also added.
Coffey's response: "I think we're trying to abide by that, and if something can be postponed, I'd agree with you on that but we've had situations for example, recently we had some LAP agreements from FDOT. If we didn't approve them on that agreement you will have lost well over $1 million."
FDOT is the Florida Department of Transportation. A LAP is a "Local Agency Agreement" the transportation department prepares for every federally funded project to ensure that the money is spent in accordance with all applicable state and federal laws and regulations. The agreement also specifies how agencies are reimbursed. LAP agreements have been raining down on local governments rapidly, in conjunction with federal stimulus funds–funds that no local agency wants to be without–requiring administrations to act nimbly and, at times, creatively.
"In this particular case it was well over $870,000," Coffey continued. "The reason it wasn't on the agenda, we had three people from Tallahassee come visit with us to help us finalize the grants so we could get the grant. So before we do a blanket statement, I just caution the board: staff bends over backward to try and get the agenda items out, but occasionally it's held up for a legal reason or it's held up for a technicality. It's not the staff isn't trying to include it or the staff isn't being prepared."
Peterson: "There are exceptions to any rule, and if it means as you use as an example, loss of grant funds, that's fine, but a lot of these slip sheets that we get at the very last minute, there's no urgency to postpone by two weeks."
Commissioner Barbara Revels, who not only reads her agendas but also ends up wanting to talk to people in the community or to county administration staff about items on the agenda, said last-minute additions prevent that. "That's my problem with it."
Ironically, commissioners' portion of the agenda is nothing if not a slip-sheet parade: they use that portion to bring up matters, and sometimes vote on matters, that the public has no idea about ahead of time. Many a top administrator has been fired through just such last-minute maneuvers by commissioners, including one of Coffey's predecessors, David Haas.
When it was Holland's turn to speak, she brought up, after speaking on another routine issue, a more specific one relevant to today's (June 7) meeting item regarding Coffey's contract: "Mr. Coffey, I don't know when you're planning on bringing your contract back, or if you are, but if you do, in the future, can we put that on a 'general business' discussion in lieu of the consent agenda? I've had a lot of inquiries about that."
The administrator's contract had been placed then pulled from that day's agenda, but it had appeared only on the consent portion–that part of the agenda where numerous routine matters are stacked up to be voted on as a whole, with a single vote, by commissioners. Commissioners can always pull items from the consent portion and open them up for discussion, as they often do, but the placement of a top administrator or manager's contract on the consent portion–by those administrators or managers–is itself a routine attempt to avoid discussion on a sensitive issue. Some local governments want it that way, especially when they have no issue with their top manager: the elected would rather not face their constituents' questions about the manager's six-figure salary. But Holland and Coffey have a history of butting heads.
"We would have pulled it anyway, I mean we have to discuss things like that," Commission Chairman George Hanns said, responding to Holland. "You felt like it was an automatic?"
"Yeah," Holland said.
"No one gets a free ride here."
Coffey placed his contract up for discussion on today's agenda. It appears, again, on the consent portion.