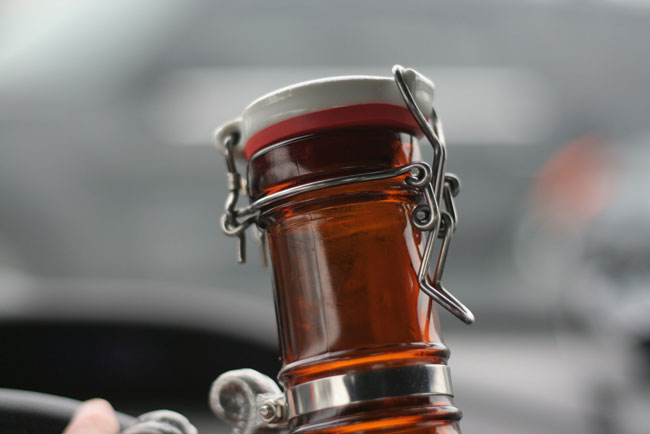 An effort that would allow small craft brewers to pour beer into half-gallon containers may advance during the 2015 legislative session without becoming part of a package of other beverage issues.
Proposals to end the state's prohibition on 64-ounce containers known as "growlers" have been blocked in recent years by large beer distributors claiming a need to protect the state's Depression-era three-tier regulation system, which requires the manufacture, distribution and sale of alcoholic beverages to be separated.
But an association of Florida's Anheuser-Busch beer distributors announced this week it wouldn't push lawmakers in 2015 to mix a variety of issues into any bill strictly seeking to end the state's decades-old ban on growlers.
However, a lobbyist for craft brewers isn't ready to swallow what the distributors are selling just yet.
"I think part of it is disingenuous," Joshua Aubuchon, a lawyer and lobbyist for the Florida Brewers Guild, said. "If they had been in support of the half-gallon size the past three years, it would have been impossible for the (half-gallon) sales to remain illegal."
Florida allows brew pubs to fill 32-ounce containers and gallon buckets, but not the 64-ounce growlers, which are considered the industry standard.
On Monday, the Florida Beer Wholesalers Association, in announcing it won't seek to add unrelated issues into 2015 growler bills, said mixing the issues has muddled all beverage measures.
"I want to make it clear that we have not changed our support for lifting the restriction on growlers, but we believe it is now time to separate the growler issue from the larger conversation," Mitch Rubin, a lobbyist for the distributors' Florida Beer Wholesalers Association, said in a prepared statement.
There have yet to be any beverage-related bills filed for the session, but the brewers and distributors say a number are in the works.
During the 2014 session, a growler measure died after language was added that would have limited how much beer a craft brewer could sell off property and how the product could be moved. Such issues are expected back in 2015.
Aubuchon said efforts to put caps on craft brewery sales are short-sighted.
"The problem is, for us, if I open a brewery, and I'm able to sell in my own tap room, that's great, it helps me build revenue and test product," Aubuchon said. "But if I have any business acumen at all, I'm going to want my beer to be sold at hundreds of locations. And the only way to do that with the current law is to go through distributors."
Amid the debate, Florida's growler ban faces a federal lawsuit from The Crafted Keg, a year-old Stuart craft-beer restaurant.
In October, the brewery and the Pacific Legal Foundation filed a lawsuit in U.S. District Court in Fort Pierce claiming the prohibition on craft breweries, restaurants and taverns selling or filling beer growlers is unconstitutional. They contend the ban arbitrarily prevents establishments from selling or filling the half gallon containers but not the less-popular sizes.
Other craft brewers haven't rushed to join the suit.
Aubuchon said the guild hasn't take a stance, but he'd prefer the issue be settled in the Legislature.
Also in October, the Beer Industry of Florida, a lobbying group for beer distributors including distributors of MillerCoors, announced an effort was underway to bring the suds industry together for the 2015 legislative session in a way that will help the "explosion of smaller craft breweries."
In a brief video posted online, the distributors' group said it wants "smart, modern oversight to keep craft brewers growing."
In the video, the distributors' association said it is "mobilizing an industry-wide coalition" to settle the long battle about allowing 64-ounce containers. And that offer, the narrator of the video said, comes with "no strings attached."
However, the narrator added that the industry doesn't want to see a return to the "bad old days when totally unrestricted breweries sold to the public and even delivered to homes."
The beer industry contends that allowing sales with fewer regulations will result in a "beer bubble," which would saturate the market, hurt businesses and increase public dangers through "over-consumption, increasing addiction, domestic violence (and) drinking and driving."
The Florida Beer Wholesalers Association in announcing it doesn't plan to make any growler bill an omnibus for alcohol-related issues, did offer a series of suggestions for lawmakers to tack on to any growler proposal.
— Create a new section of law that expressly authorizes and governs growlers —separate from manufacturer-sealed containers.
— Limit growlers to glass, ceramic and metal containers.
— Require proper seals and labels for product identity and health purposes.
"With these few logical suggestions for maintaining product integrity and public safety, the Florida Beer Wholesalers Association supports a stand-alone bill that would authorize a 64-ounce growler," Rubin said. "And, of equal importance, we hope lawmakers will consider such a bill as a stand-alone product to avoid the larger, more complex issues surrounding the manufacturing, distribution and sale of beer and other malt beverages."
Expect the craft brewers to fight such proposals.
Aubuchon said similar rules are not in place for beer sold in other sized containers, which he noted often include plastic containers.
–Jim Turner, News Service of Florida