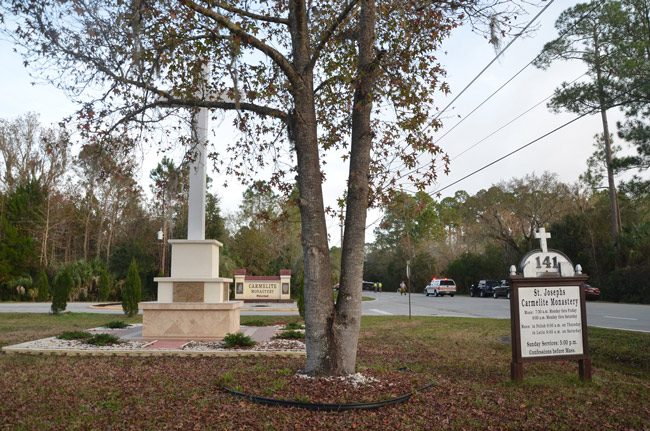 For the second time in four weeks in Flagler a person at the wheel of a car has led sheriff's deputies on a brief pursuit that ended with the person dying of a self-inflicted gunshot wound in the car.
In mi-afternoon Saturday, Maggie Olivera, 42, was found in her Toyota 4 Runner by the side of the road at Old Dixie Highway not far from and U.S. 1, just outside Palm Coast. The location of the car, 277 S. Old Dixie Highway, was between St. Mary's Catholic Church and St. Joseph's Carmelite Monastery.
St. Johns County Sheriff's deputies had alerted the Flagler County Sheriff's Office about Olivera, who earlier had been driving through St. Johns. St. John's emergency helicopter was able to follow Olivera from the air as she drove down U.S. 1, leading Flagler deputies to her location soon after she may have first driven on County Road 304.
But when deputies approached the vehicle, and after giving several unanswered voice commands to the driver, they noticed a person slumped over inside, leaning toward the passenger seat. A sergeant broke the rear, heavily tinted driver side window to attempt further contact. When the front driver's side window was opened, Olivera was found not to have a pulse. A Flagler County Fire Rescue paramedic pronounced her dead at 3:33 p.m.
Olivera had left a note on the dashboard with instructions for her family. A 9 mm firearm was on the floorboard.
The area turned into a crime scene for the next several hours as the sheriff's investigators converged, as they have with numbing frequency around suicide scenes for more than a year. The Palm Coast Fire Police reduced Old Dixie Highway traffic to one lane, occasionally closing the road entirely for 15-minute stretches whenever detectives had to work inside the vehicle, and when the medical examiner removed Olivera's body.
The vehicle, a 2018 model, was registered in Washington State, but Olivera's listed address was on Commons Drive in Destin, Fla.
Less than a month ago, early the morning of Jan. 9, a 36-year-old man took his own life with a gun after parking his car by roadside on State Road 100, near the intersection with I-95. Four months ago, a man who'd driven through Flagler County after shooting his stepdaughter to death in Brevard County crossed the St. Johns County line on U.S. 1, parked near a gas station there, and after a standoff with St. Johns deputies, shot himself.