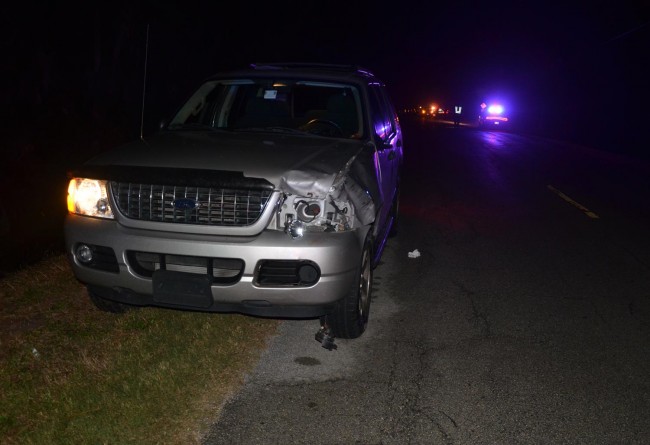 Last Updated: 10:38 p.m.
The latest road fatality in Flagler County, the seventh in four weeks, appears to have been the result of a tragic set of circumstances in the pitch darkness of County Road 302 on a rainy night.
According to the Florida Highway Patrol at the scene, Gary Skelton, 67, a motorcyclist from western Bunnell on his Harley Davidson crashed on CR302, less than a mile east from County Road 305. He had lost control and partly traveled on the shoulder of the road. No other vehicle was involved in that initial crash.
At that point Skelton may have been hurt, but not so severely that he couldn't stand up. He appeared to have been seeking help by the roadside. That stretch of road is unlit and dark even on cloudless nights. Tonight, with the low cloud cover, the darkness is entirely enveloping absent any light.
A Ford Expedition traveling East saw the motorcyclist on the road, likely at the last moment, and swerved to the right to avoid him.
Wayne Davis, 69, and Jeanette Davis, 62, both of Bunnell, were traveling in their Ford Explorer west at about the same time. Wayne was at the wheel. He did not see Skelton. The Explorer's driver-side front struck him, throwing him into a ditch several yards down from the motorcycle and killing him.
The two crashes took place just after 6:40 p.m. Sunday.
The Florida Highway Patrol, Flagler County Sheriff's units and Flagler County Fire Rescue are at the scene, as are the two Ford SUVs. The crash investigation at the scene was ongoing late into the evening. County Road 302 was closed past County Road 75 all the way to County Road 302, and remained closed for several hours. It continues to rain on and off at the scene, as it has since afternoon.
The medical examiner, who is required to examine the body and claim it for an autopsy as part of the homicide investigation, was been notified and arrived just before 9 p.m. The Medical examiner usually comes in from Volusia or St. Johns. The Florida Highway Patrol is combing the stretch of road for evidence and clues.
Saxon's towing hauled off the Explorer at 10:35 p.m. CR302 was to re-open just after 11 p.m.