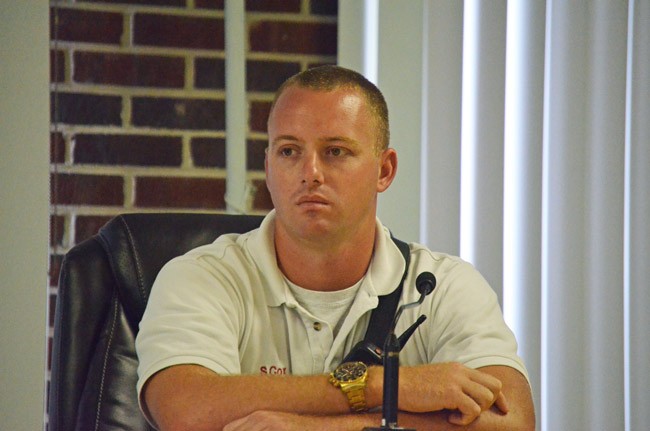 About a year ago Lt. Steve Cox of the Flagler Beach Fire department was mulling over ways to bring the county's fire departments together away from the job. When he proposed the idea to Kevin Guthrie, who heads the county's emergency services division, Guthrie proposed expanding the initiative to include all public safety agencies and services, including police. So it came to be.
Sunday evening at Palm Coast's Elks Club, with music provided by the Ancient City Pipes and Drums and a capacity crowd that brought together the county's volunteer and professional fire departments, its police forces, its emergency services personnel, 911 operators and medical providers, 10 individuals were honored by their peers. Winners included the Flagler County Sheriff's Senior Cmdr. Mark Carman, as the public safety law enforcement officer of the year, Flagler County Fire Rescue's Jon Moscowitz as the public safety EMS professional of the year, Bob  Pickering of Flagler County Emergency Management, and Cox himself as the public safety person of the year, an overall top award.
Cox was among the responders who played a leading role on Jan. 2 in the rescue of James Austin, 53, of Ormond Beach, who drove his car into the pond at the northbound exit off I-95, at State Road 100. Initially in critical condition when he was taken to hospital, Austin made a full recovery.
"I was shocked. It's an honor, it's a huge honor to receive that," Cox said, crediting a collective effort for the award ceremony. "Everyone helped put it together, everyone deserves credit. I think they gave it to me because I guess I had the idea." And that idea, he said, emerged from wanting to forge closer bonds among what he calls the public safety brotherhood locally.
"We have a different job than everyone else, we're not corporate America, we go to things, we see things, we essentially all put our live son the line to some extent," Cox said. "Sometimes all you have is the guy or the girl next to you." That's the bond he wants recognized.
Individuals were nominated by their peers and will have had to contribute to their service—and to services beyond their own—in a way that enhanced public safety of improved relations between agencies while maintaining high standards of conduct, ethics and capabilities. "I was adamant when this award was created that the individual selected must do more than just their day-to-day job," Guthrie, who served as emcee for the evening, said.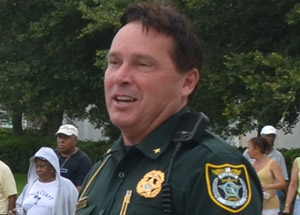 "Honestly, I'm extremely humbled and grateful," said Carman, who was not able to attend the ceremony (he was attending an uncle's funeral in New York). He had some difficulties accepting the award all to himself. "I don't know how to put it. I accept the award very graciously, but I'm really believing that Michael van Buren deserves the award," Carman said of the sheriff's sergeant, who was also nominated. Van Buren, one of the most senior members of the sheriffs's office, joined Carman in the Palm Coast precinct last year after two high-profile saves that earned him plaudits and awards of his own–the saving of a child from a locked car, controlling a situation with an armed woman who was pointing what deputies at the time believed was a gun at several deputies. Van Buren immobilized her with a Taser dart. "I accept the award but dedicate it to him, because he batted 1,000 this year in law enforcement," Carman said.
The Palm Coast Fire Department claimed two winners, Lt. Jennifer Fiveash, a 12-year veteran of the department who was named Public Safety Firefighter of the Year, and Palm Coast Volunteer Fire Police Capt. Steve Garnes, the Public Safety Volunteer Firefighter of the Year. Garnes has never missed a call for duty.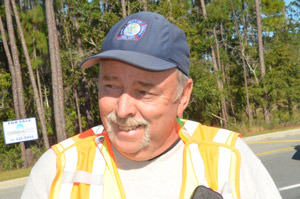 "It is dedicated people like Jenn and Steve who make our community what it is," said Palm Coast Fire Chief Mike Beadle. "We are like the postman: neither rain nor snow nor hurricane nor tornado keeps our responders from doing their jobs. I couldn't be happier or prouder of these two, and all the members of our department."
Cox and emergency management formed a committee to steer the effort through the year, collecting sponsors along the way to defray all costs (including FPL, Florida Hospital Flagler, Re/Max, and others.) Some of the categories drew more than half a dozen nominations each, with the final category—the public safety person of the year—being chosen from 10 selections.
Here are the winners:
Public safety emergency management person of the year: Bob  Pickering, Flagler County Emergency Management.
Public safety civilian employee of the year: Winnie Oden Flagler County School Board (just retired).
Public safety volunteer of the year: Mike Lee, Flagler Emergency Management Volunteer.
Public Safety law enforcement officer of the year: Senior Commander Mark Carman, Flagler County Sheriff's Office.
Public safety volunteer firefighter of the year: Steve Garnes.
Public safety health professional of the year: Dr. McCabe-Kline, Florida Hospital Flagler.
Public safety ems professional of the year: Jon Moscowitz, Flagler County Fire Rescue.
Public safety firefighter of the year, Jennifer Fiveash, Palm Coast Fire Department.
Public safety communications officer of the year, Amy Sisti.
Public safety person of the year, Lt. Stephen Cox, Flagler Beach Fire Department.
All images below courtesy of Bob Pickering and Maryann Pickering.