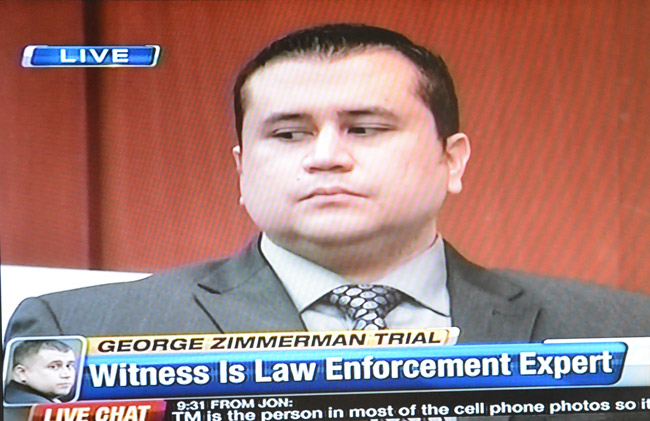 After watching George Zimmerman's murder trial in Sanford, Kathleen Parker—the former Orlando Sentinel writer and current Washington Post columnist—thinks it's time to take the television cameras out of the courtroom again. Not print or other types of reporters like her. Just television cameras. "The excessive coverage and commentary we've watched in recent years may be good theater but bad for justice," she writes, with virtually no evidence.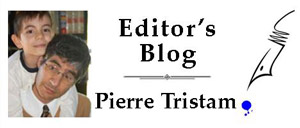 Cameras, she argues, change the way people behave in the courtroom—witnesses, prosecutors, the defense, even the jury, all of whom are susceptible to the way coverage permeates the media landscape and makes its way back to the courtroom one way or the other, influencing the outcome of the trial.
"There may be no way to quantitatively prove that cameras influence courtroom behavior and, possibly, a trial's outcome. But anyone who has ever sat in front of a camera knows that it is so," Parker writes. But there's also no way to prove that the absence of cameras may also influence behavior, not necessarily for the better: a judge may feel less restrained to be imperious, errors or abuse of judicial conduct could be more rife, prejudice may be given freer rein. In other words,  the distortions of cameras on justice are not nearly as dangerous as the distortions of masked justice. It cuts both ways. Trials are theater. They're meant to be. Public trials are a fundamental feature of civil society.
That some trials may be more public than others doesn't diminish the public's right to know, which Parker nevertheless belittles: "If our concern were truly to better understand the machinations of the judicial system, as some have argued, we would record and broadcast all trial proceedings rather than only the ones that involve key elements of modern tabloid storytelling, namely sex, drugs, rock 'n' roll — and race."
There are two tangled red herrings here. The first is that "the public's right to know" and concern to "better understand the machinations of the judicial system" are not the same. Whether people are watching the trial to better understand judicial machinations or not is irrelevant. They're watching because they want to, for whatever reason, including judicial voyeurism: it's not up to the court, or to alleged guardians of the court, to be gatekeepers of public proceedings. The aim is to be as open, transparent and accessible as possible. If three dozen people are allowed to attend the trial in person, by lottery, why not 3 million or 30 million by cable?
Parker's second clause is more pointed, but not in the direction she's aiming for. The question should be: why aren't all trials, all court proceedings, publicly broadcast? They can be. Modern courtrooms are equipped with cameras and sound systems. Proceedings don't have to be on CNN. They can all be webcast, through live feeds, cheaply and without intrusion. It's likely a matter of time when they will be, but too distant a time when Parker Praetorians pretend to be protecting the justice system while seeking to hide it.
"We can debate the point until we're all blue, but meanwhile, we can be fairly certain that the trial would not have attracted a single camera if not for the race element," she writes. Again: so what? The race element happens to be a running fault line through American history and society. It is riveting, it is relevant. Viewers should not be condemned for being more interested in that than in the protests in Egypt, as Parker wryly condemns them. The Paul Miller murder trial—going back to his murder of Dana Mulhall in Flagler Beach last year—did not attract television cameras. The trial didn't lack for tension as a result, or the great deal of theatricality that the prosecution put on for the jury. What difference cameras would have made seems irrelevant.
Parker is clearly annoyed at the incessant yammering of television talking heads trial day after trial day, and she has good reason to be. But the yammering of sports announcers can be just as infuriating. That's no reason to stop coverage of sports events. Just don't listen to the yammering. No one is forcing Parker to keep the volume up during recesses.
Her only supporting evidence for camera bans goes back to Judge Hiroshi Fujisaki's ban of cameras during O.J. Simpson's civil trial. That was in 1996, almost 20 years ago, when cameras were barely beginning to make their way into courtrooms, and when judges could still get away with penumbric pronouncements about creating a "neutral and detached environment," a meaningless phrase that would not sustain the barest analysis: Platonic bubbles don't exist, not even when judges try to control their courtrooms by excluding some media while including others. The distortions are all theirs more than the media's. They're presumptuous of their own power and contemptuous of public and evidence. Like Parker's argument.

Pierre Tristam is FlaglerLive's editor. Reach him by email here.