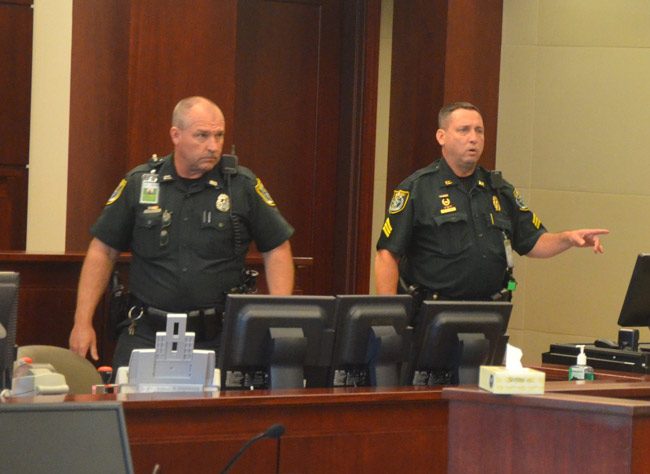 Last Updated: 4:10 p.m.
Warning: offensive language below.
What started last November with reports of Flagler County Sheriff's bailiffs using racial slurs, transmitting sexually suggestive or explicit images by phone and engaging in behavior deemed inappropriate for the workplace–in the chambers of Flagler County judges–has resulted in the firing of a veteran bailiff, the resignation of another ahead of being fired, and the reprimand and transfer of a commander from the courthouse to the jail.
Just as revealing as the personnel changes are the series of policy violations that had been taking place routinely and for an indefinite amount of time at the county courthouse, with some people being allowed to bypass security, inmates escorted through some premises without handcuffs, an inoperable back-up X-ray machine at the entrance, undercover cops walking in with their weapons without wearing an identifying marker for security purposes, and accountability procedures seemingly being ignored.
The violations were revealed when a new bailiff supervisor was appointed there earlier this year. She quickly inventoried the violations and recommended changes that were implemented. Her findings led to further disciplinary actions against supervisory personnel at the courthouse, suggesting that the disciplinary breakdown that came to light last year and earlier this year had been merely symptoms of much deeper and more serious laxity, irreverence and contempt for procedures among an entrenched corps of sheriff's bailiffs .
Sheriffs routinely shake-up their staff when they take office. This is the first broad shake-up in memory well into an administration, and one caused by a breakdown in discipline that had caught the attention of three judges late last year. The Seventh Judicial Circuit's Court Services, which is independent of the Sheriff's Office, had recommended the transfer of certain bailiffs. The shake-up's earlier indications were first reported by FlaglerLive in March. The Sheriff's Office issued a release about the completion of what it itself termed a "shake-up" at noon today.
Deputy Jon Freshcorn faces termination after 11 years with the agency. Sgt. John Bray, one of the longest-serving members of the Sheriff's Office–he was hired in 1992–retired just ahead of being fired. Cmdr. Brian Pasquariello, a 19-year veteran, has been transferred back to the jail, where in 2010 he had been indicted by a grand jury and targeted with criminal charges by the State Attorney's Office over the handling of an inmate (the State Attorney's daughter). The charges were dropped in exchange for an apology and other conditions.
Allegations were made against Deputy Edwin Velazquez in the incidents last fall but were not sustained. According to an agency press release, he decided to retire effective next week, though the release's mention of Velazquez downplays what an internal investigation does not: that he appears to have been severely and repeatedly bullied by his colleagues, particularly by Freshcorn, to the point of causing mental harm and extended stress-related sick days. One civilian employee at the courthouse described Freshcorn and others as "ball busters" who will pick on whom they choose. "That's typical Freshcorn and I think they said something in a joking manner in front of someone else that got blown way out of proportion," the employee said, though the same employee was concerned enough to tell her sheriff's interviewer: "I just hope that they do not make him work with Freshcorn."
---
"In this agency, I see bullying as being pervasive and I've seen it in many different levels, it's part of the culture."
---
What had been said "in a joking manner," by Freshcorn and Puritis, was that Velazquez had "child porn" on his cell phone. It was a false claim, and it wasn't made just once but repeatedly by Freshcorn, becoming "relentless," in Velazquez's words. It troubled the deputy to the point of being "hurt, betrayed and victimized," in the words of Cpl. Scott Wetherhold. "In this agency, I see bullying as being pervasive and I've seen it in many different levels, it's part of the culture." But in the same interview with the internal investigator Whetherhold, who's been with the agency since 2013, said the bullying is isolated to a few individuals.
Velazquez had been with the agency since 2000.
Deputy Jeffrey Puritis was previously transferred out of the courthouse, to road patrol, in a disciplinary move. Deputy Howard Underwood remains under internal investigation over allegations of inappropriate language. Nancy Birdsong, a civilian employee and clerk in the sheriff's court services and a 20-year employee, was fired in March and faces a grand theft charge over allegations of falsifying her time cards. Her case led to additional investigations that eventually implicated her supervisors' poor oversight, including Bray and Pasquariello.
The moves against Bray and Freshcorn were not a surprise, as it became clear after the reports in March that both were under internal investigation. Bray had been transferred from the courthouse to a desk job at the Palm Coast precinct, expressly to minimize his contact with the public. He'd been given the nickname "Crazy John Bray" even before his courthouse years–or rather CJB, the acronym for the name, applied when he became upset–according to one of the internal investigations. Freshcorn had remained at his job as a bailiff, working largely as a bailiff for Circuit Judge Terence Perkins, after working for Circuit Judge Dennis Craig. Craig was transferred to Volusia County in an unrelated court-administration move earlier this year, though a former assistant of Craig's had been at the center of the allegations against the deputies.
"Sgt. Bray had participated in and allowed an unacceptable work atmosphere to prevail in the courthouse," Chief Mark Strobridge was quoted as saying in the release. "Sheriff Staly expects all employees of the Flagler County Sheriff's Office to conduct themselves in a professional manner at all times. The use of racial slurs, racism, unbecoming conduct or untruthful behavior will not be tolerated."
"Racism and racist comments have no place in law enforcement or the Flagler County Sheriff's Office and will not be tolerated," said Sheriff Staly, who is attending his step-mother's funeral in Orlando.
Late last year Raul Zambrano, the chief judge of the Seventh Judicial Circuit–which includes Flagler, St. Johns, Volusia and Putnam–became aware of allegations of inappropriate conduct involving bailiffs in chambers, namely, Puritis sending of "lingerie" pictures to a court staffer, Bray and Puritis using racist language with the employees, and speaking rudely with them. That set a series of sheriff's inquiries in motion, with the Birdsong inquiry dovetailing into them.
The most damning investigation for the three employees who faced disciplinary consequences resulted in a 65-page document that included two dozen interviews and almost as many witnesses, though key witnesses–courthouse employees–declined to participate. The trigger of the inquiry was a memorandum by a court services employee in Daytona Beach describing the "untenable work environment" that had developed at the Flagler County courthouse, for courthouse staff over whom bailiffs have no authority.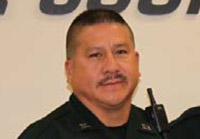 Some of those findings were previously reported. But the newer investigation is based on far more testimony–some of it corroborating the claims against the deputies, some of it not, much of it reflecting, in the words of one employee, that the "joking around got a little bit excessive, a little bit too relaxed." It wasn't all joking. One employee spoke of Bray's foul language as "nothing racial, curse words yes," though he'd been abusive to a cleaning woman to the point of later being forced by Pasquariello to apologize to her.
The lengthy July internal investigation (read it in full here) repeatedly focuses on the issues involving Velazquez, and at one point notes that Freshcorn had approached him and told him that he should be "on board" with the rest of the crew, so that everyone's statements matched, and even have the same attorney. (Some would eventually hire attorney Sharon Feliciano.)
Velazquez also corroborated what until now had been an accusation against some of the bailiffs that had been made by last fall by a courthouse employee–one of the employees who did not cooperate with the internal investigators: that they used racial slurs while speaking about people of color. Velazquez said Freshcorn did so: "He used the nigger word," Velazquez said. "Tell me exactly what you heard that upset you." Deputy Velazquez, "He was saying something about black people I don't remember the exact conversation, I brought it to John's attention and John addressed it." But in the earlier inquiries Bray himself had been accused of using racial slurs. Velazquez said at one point Freshcorn repeated the word over and over purposefully to upset him, then used a derogatory term he'd never heard before, while the men were having lunch: "blue gums," another demeaning way of referring to blacks.
Howard Underwood, the bailiff currently under investigation, also corroborated hearing Freshcorn using racial slurs, including the worst of them "just in every day talking or whatever the word may have come out." Underwood was asked if he thought Freshcorn was prejudiced against blacks. "No I don't think he's prejudiced towards African Americans knowing the guy, I'm not going to say everybody but a lot of people use racial slurs," Underwood said, a statement that alerted the investigator about Underwood's own attitude.
"Have you ever used that term?" the investigator asked him.
"Yes," Underwood replied. "I have never said to any African American to their face, I may have said it in talking with other people or if I'm angered at something I may have said the word." He said he'd also heard Bray use the word–more than twice, "I'm sure, yes," he said. (Underwood is a 15-year veteran of the agency.)
Most of the deputies interviewed by the investigators said they'd not heard racial slurs used.
Freshcorn denied ever using racial slurs.
"You're saying you never used the term? the investigator asked him.
"Absolutely not," Freshcorn replied. He also denied saying, as others claimed he said, that if he were to get fired, he'd take others with him.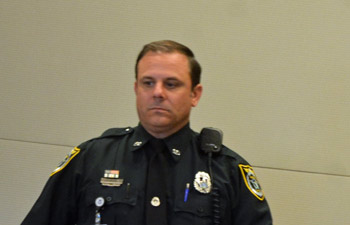 Puritis, the deputy demoted back to road patrol earlier this year, denied making derogatory or racial statements to the courthouse employee last fall, as she'd previously accused him of doing. He called all the allegations against him "one hundred percent lies."
"I am appalled to even be in this situation," Puritis said, "I've worked hard at my career, I didn't get here by chance this stuff is deceitful it's hurtful it's not only hurting me it's hurting my family my friends and my relatives you name it. I was moved from that side of the building and then put on the road which is a huge life changer and everything was just ripped from me from a bunch of false allegations which I don't know how this lady can sleep at night and I think it's absolutely terrible what she did what she's trying to do."
Bray was the subject of three internal inquiries since last fall, two of them internal investigations this year alone.
Early in the year Bray was interviewed for the Birdsong inquiry by detective Nicole Quintieri, but Bray's conduct during that interview proved problematic: he was resistant to her questions, according to the internal investigation involving Bray, acting "sarcastic and not what you would expect from a Sheriff's Office Sergeant," going on a "rant" against Staly's administration ("this administration is going to do whatever the fuck they want to do and they're already doing it"), then standing intimidatingly in the doorway as Quintieri was leaving and upbraiding her for recording the interview: "Somebody like you would fucking record all of that," he told her, according to the investigation, before storming away. That aside, the investigator concluded that, regarding the Birdsong case, Bray, who signed Birdsong's time cards as her supervisor, "appeared to be blindly signing the cards without actually having knowledge of what should or should not have been on them."
Bray later apologized for his comments about the administration but denied acting aggressively toward Quintieri. But the internal investigation also reveals that on two occasions and after hours he called Sgt. Kim Davis, who had replaced him at the courthouse as the bailiff supervisor, to express "his concerns and his contempt for what had been going on." Davis reported that she believed he'd been under the influence of alcohol at the time. He had likewise contacted a corporal.
The internal investigation sustained several violations of policy against Bray, including unsatisfactory or incompetent performance, conduct unbecoming, improper behavior and language, and lack of courtesy.
Davis–herself a former internal investigator with a reputation for directness–by June had written Undersheriff Jack Bisland a memo outlining a series of policy violations by courthouse staff: Some inmates were being walked through the courthouse without handcuffs. Cops were not signing in and out. There were no gun lockers in the inmate holding area. Certain employees were allowed to pass through security un-ckecked. And so on. Davis recommended changes.
The memo triggered additional internal investigations, including one targeting Bray in late July. He had allegedly put an end to following certain policies because he found them "stupid" (among them the requirement that undercover police officers were to wear armbands identifying that they carried a firearm as they entered the courthouse). He said the by-passing of security by attorneys and uniformed officers had been promulgated at former Sheriff Jim Manfre's suggestion, though it wasn't an actual policy in writing. Regarding other apparent violations, he said, "I was following practice."
That July internal investigation added to the weight of sustained policy violations against Bray, who had seen the writing on the courthouse wall: last September he'd entered the state's deferred retirement option program, starting a four-year clock at the end of which he would have to stop working in exchange for a hefty retirement payout. On Aug. 20, he ended his involvement in the program and submitted his resignation, effective Tuesday. Though that precluded further disciplinary action against him, it did not keep Bisland from signing the internal investigation the same day that Bray's retirement became effective.